Ad disclaimer: this post was sponsored by Warehouse. For our full privacy policy, click here.
It's official: the season of giving is upon us, which means that your diary is probably packed full of social soirées for the next few weeks.
Whether you're heading to a black-tie event for New Year's Eve or going out for a few casual drinks with your colleagues pre-Christmas, it can be challenging to find partywear that perfectly suits the occasion.
You want your outfit to turn heads, but you also want it to be comfortable. After all, with comfort comes confidence, and confidence makes you stand out.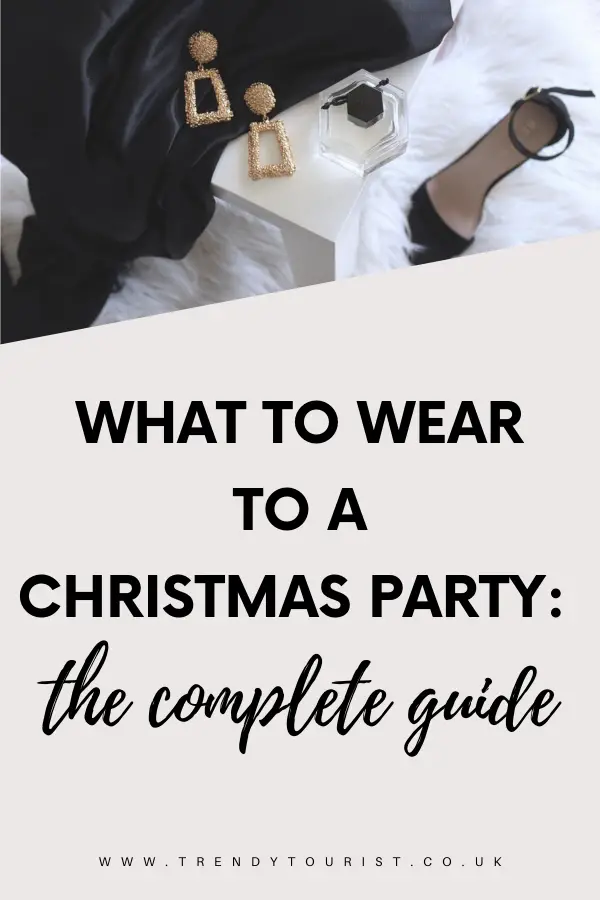 What to Wear to a Christmas Party: 5 Considerations
Before you even start putting together an outfit for a Christmas or New Year get-together, there are some questions that you need to ask yourself.
1. Where Is Your Christmas Party?
What to wear to a Christmas party 101: where on God's green earth is your festive bash going to be held? Because the answer to this question can determine how dressy you need to go with your outfit.
For instance, is it at a five-star luxury resort? If so, it's time to get your glam on in a get-up that would make the cast of TOWIE jealous.
Or is it at the pub? Because, in this case, you're probs going to want to dress down (unless you don't mind the casual stares).
2. Who Will You Be With?
Next, think about who you're going to be at the party with.
Is it your bestest mates who have known you since you were 12? If so, you're probably good with whatever.
However, if it's a work-related event or family that you only ever see at this time of year, perhaps it's better to keep your outfit PG-13.
3. What's the Weather Forecast?
Is your festive function outdoors or indoors? Either way, be sure to check the weather forecast beforehand.
If the majority of the party will be held indoors and you don't need to walk anywhere, you might be okay ditching the layers.
That said, if you're going to be outside for a good amount of time, you might want to wear a jacket. After all, nobody wants to be THAT lass who is dressed for summer on the cusp of winter when the temperatures are below freezing. Brr.
4. How Long is the Event For?
If the seasonal soirée in question is an all-day gathering where you're mostly sat around your Uncle's house, you might want to skip the tailored two-piece that is only going to crumple and make you feel uncomfortable.
On the other hand, if it's a couples catch-up dinner that's likely to only last an hour, it's totally acceptable to choose FASHUN over practicality – and there isn't anything that anybody can say about it.
5. What Will Everyone Else Be Wearing?
Finally, if all else fails, consider everyone else when you're trying to figure out what to wear to a Christmas party.
Are you going to be with your immediate family who always keep their looks super casj? Or are you going out with your girls from university who always seem to be in competition with each other when it comes to who can look the most like a Kardashian?
If you're still not sure, just ask someone else who you know will be there. (Or turn to your WhatsApp group chat for help!)
5 Christmas Party Outfit Ideas
Now, onto the nitty-gritty. Opt for one of the following timeless Christmas party outfits that you can keep coming back to every year.
1. An Elegant Dress or Jumpsuit
What to wear to a Christmas party where the theme is dress to impress 101: an elegant one-piece.
Whether it's a show-stopping dress or a tailored jumpsuit, a tasteful one-piece works pretty well for nighttime events held in a function room, bar or club.
In fact, if you really want to dazzle, choose a sequin, metallic or glittery fabric as per the sparkle and shine trend of Autumn/Winter 2019/20. Then team it with a cute clutch and barely-there heels to stand out for all the right reasons.
2. A Plain Top with Statement Bottoms (or Vice Versa)
If you're wondering what to wear to a Christmas party that's not as dressy, like dinner and drinks, then consider this smart-casual option.
Pick one key piece that makes a statement, such as animal print flared trousers, and then play down the rest of your outfit with understated separates. In this case, a plain blouse in a single hue that complements the print would work quite well.
Alternatively, if you want a top to take centre stage that has a pretty pattern, fabric or detailing, choose a solid midi-length skirt.
Either way, finish off your look with heeled sandals or boots and a classic-coloured leather jacket or blazer for a stylish yet sassy ensemble.
3. Jeans and a Nice Top
Wondering what to wear to a Christmas party that's more relaxed? Well, you can never go wrong with jeans and a nice top for a post-work drink with colleagues or a festive family lunch.
What do we mean by "nice top," you ask?
We're talking about a feminine cami or blouse that's just as cute as it is chic. You know, the kind that you can put with a sharp-looking pair of black or blue denim jeans and appear instantly sophisticated? Yes, that kind. Warehouse has some super adorable ones at the moment.
Oh, and the jeans and a nice top combo is always a winner if you finish it off with heels, demure jewellery and a dinky crossbody bag.
4. Two-Piece Tailoring
For work Christmas parties, an on-trend two-piece suit is an ideal outfit.
Whether it's an occasion where your boss just wants to grab a quick festive lunch or a full-on function-room party, you can easily attract compliments when you dress professionally (like you would on any given workday) but then step it up a notch.
If you feel like this look is too serious, simply amp up the fun factor with a printed top underneath the jacket or a colour-clashing handbag.
Now, that's what we call power dressing at its finest.
5. Black Leggings and Chunky Knitwear
Last but not least, wondering what to wear for the occasions where you're just popping round to your friend's house for a girly festive get-together or having Christmas Day at your boyfriend's house? Try black leggings teamed with a snug jumper or sweatshirt and flat shoes.
This cute and cosy combo will make you feel like you've made an effort without sacrificing the comfort factor.
In other words, it's a win-win.
What to Wear to a Christmas Party Other Than Your Outfit
Figuring out what to wear for a Christmas party can be challenging, but all you need to do is put some thought behind it.
As well as the outfit itself, be sure to wear shoes, accessories, makeup and a hairstyle that ties in with the rest of your look. If you don't feel dressy enough, throw on a pair of sparkly earrings or a statement necklace. Similarly, if you feel too dressy, mute down your outfit with flats or simple accessories.
And if you're still feeling uncertain, just remember that it's Christmas. Therefore, pretty much anything goes!
Katie Davies is the Yorkshire-based freelance writer who founded Trendy Tourist. Since 2017, she has written for over 100 companies on a range of subjects, from fashion to marketing. When she's not producing content, you can find her shopping, exploring a new place or sitting somewhere having a cup of builder's tea.