Getting on a plane in the middle of a pandemic isn't ideal. After all, being confined to a small space for multiple hours at a time puts you at a higher risk of contracting (or spreading) the virus.
That said, for some people, it's a necessity. Whether you have loved ones in another country or you have to travel for health reasons, getting from A to B is important if it's not possible to take a car, bus or train.
For example, my American fiancé recently came to the end of his tourist visa in the UK. This meant that we had to travel to Ireland so we could be together while we plan our next move.
Did I want to travel while the world is battling a deadly virus? No. But did I feel like I had no choice because it was either that or not see my fiancé for potentially months on end? Yes. And I know a lot of people are facing similar challenges.
If you're one of them and you're wondering: what's it like to fly right now? Here are 10 things you need to know.
1. It's Not As Nerve-Wracking as You May Think
First things first, my travel experience from Manchester to Dublin wasn't as nerve-wracking as I thought it was going to be.
I was very apprehensive beforehand.
However, Manchester airport wasn't as busy as it usually is at this time of year.
Overall, the number of people travelling is significantly lower; therefore, the number of scheduled flights is significantly lower.
And other travellers are generally being very respectful. They're practising social distancing, washing their hands regularly and wearing masks as instructed by the government.
You can't ask for much more than that.
2. Be Prepared for Plans to Change
Before you even head to the airport, you need to be aware that flights are being rearranged all the time.
With profits being practically non-existent, airlines are essentially struggling to trade right now.
For instance, Nathan and I had originally booked a flight from Leeds Bradford Airport (LBA) to Dublin (DUB) with Aer Lingus. This got cancelled a few weeks before the date we travelled.
We then realised that no flights were departing from LBA to DUB on our travel date and had to rearrange to fly to DUB with Ryanair from Manchester (MAN).
Ryanair then cancelled our rescheduled afternoon flight a week prior to our travel date.
Having said that, luckily, they put us on the early morning flight from MAN on the same day.
Moral of the story? Flight dates and times aren't set in stone and you need to be aware of this if you're trying to schedule one around work. Phewf.
3. You Have to Wear a Mask in the Airport and On the Plane
The main difference in terms of what it's like to fly right now compared to pre-pandemic? You have to wear a mask at all times.
I'm not talking about just on the plane. No, you have to wear a mask from the moment you enter the departure airport to the moment you leave the arrival airport.
You can only take it off when you're eating or drinking.
Because of this, I'd suggest investing in a high-quality mask that is breathable and offers maximum protection.
As I mentioned in this blog post, a triple-layer cotton variety with the proper filtration or a surgical, disposable version tends to work best.
4. There's Always One Person Who Won't Be Wearing a Mask
Granted, there's always going to be one person (or maybe even more than one) who won't be in a mask.
(Or they might be wearing their mask completely wrong. You know, with their nose out or it placed underneath their chin. Sigh.)
That said, this might be for personal reasons. 
It's the airline's (or airport's) responsibility to enforce the mask-wearing rule. If you're concerned, you could always politely enquire with a member of staff.
Or just keep your distance (when possible).
5. The Plane is Likely to Be Busy
Remember me saying that fewer people are travelling right now?
Well, even though this is true, your plane is still likely to be busy.
Why? Well, a lot of airlines are combining flights to save money.
(To be honest, I think this is why our first Ryanair flight was cancelled and we were rescheduled onto the earlier flight.)
This means that social distancing has to go out of the window for the duration of the time that you're in the air.
Struggling to accept this risk? I get it. But you might want to avoid flying, if so.
6. There Are One-Way Systems in the Airport
What's it like to fly right now 101? Long.
Think of the usual time it takes to fly somewhere and then add on some more for before and after your flight.
Let me break it down for you.
Because of the one-way and queueing systems in every airport, you definitely need more time to:
Check in
Sit down to eat or drink pre-flight in a restaurant
Go to the toilet before boarding
Head to the toilet after disembarking
Go through immigration upon arrival
Keep this in mind when you're arranging the time you want to set off to the airport or be picked up by a loved one.
7. Airports Are Discreetly Checking Temperatures
Did you know that many airports now have thermal surveillance cameras in place? These handy devices cleverly check the temperatures of people as they walk through the airport. 
Anyone who has an elevated temperature is identified and told that they have to leave and they're unable to fly.
Even though I didn't see the cameras myself, I was told by a friend that they are in MAN. (She saw signs indicating that they were in the check-in area.)
I don't know about you, but knowing they were there put my mind at ease a little bit more.
8. There Are Hand Sanitisers Everywhere
As well as thermal surveillance cameras, both MAN and DUB airport had hand sanitisers around every corner.
In DUB this was a little excessive.
I mean, on the walk to the immigration section, there was like one every ten feet.
I appreciated their efforts nonetheless!
And to be fair, it did encourage you to hand-sanitise when you got off the plane at least once.
9. You'll Likely Have to Fill in a Passenger Locator Form Upon Arrival
Every country has its own rules for travellers arriving from overseas.
For example, in Ireland, you have to fill in what's called a Passenger Locator Form.
This must have the details of where you'll be staying for the next two weeks so they can contact you to verify them. They may also want to use this information for contact tracing in relation to confirmed or suspected cases of coronavirus.
It's a legal requirement to complete this form.
If you fail to do so, you could be fined up to €2,500 or face imprisonment of up to 6 months (or both).
Be sure to check the government website of the country you're visiting so can comply with similar requirements.
10. You'll Likely Have to Quarantine for Two Weeks
Likewise, you'll need to go to the government website of the country you're visiting to check the quarantine rules.
In Ireland, we're requested by the government to restrict our movements for 14 days. This is because we arrived from England, which isn't on the country's COVID-19 "green" list.
You may also need to check whether the country you're going to is on your country's "must quarantine upon return" list.
After all, this could determine whether you decide to travel there at all. Right?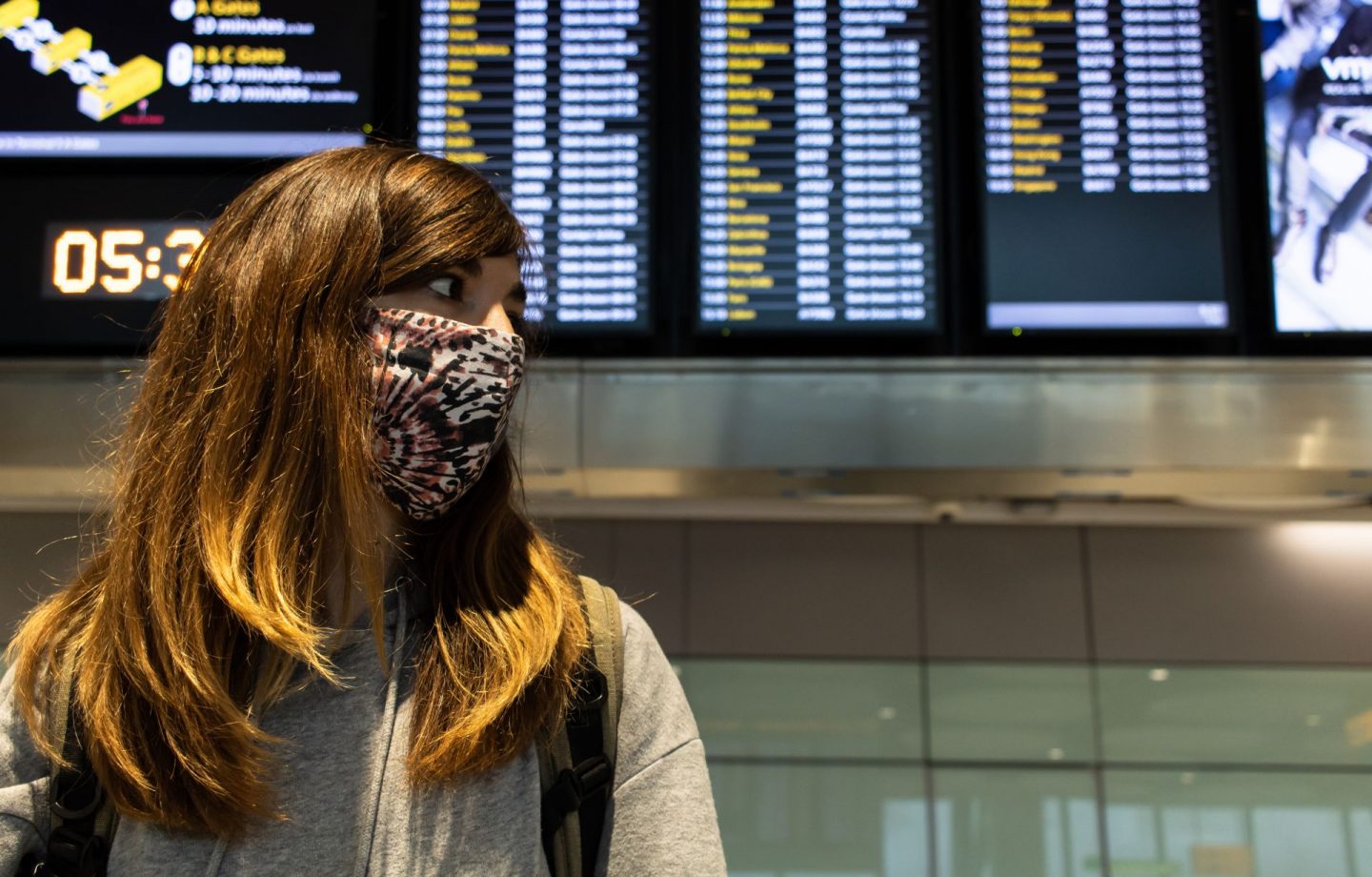 What's It Like to Fly Right Now? Weighing Up the Risks
If you've been wondering "what's it like to fly right now?" I hope I've managed to answer all your questions.
To sum up, it probably makes sense to avoid plane journeys given the current situation.
However, it's completely up to the individual to weigh up the risks and your personal situation and ultimately decide for yourself.
Either way, stay safe!
Have you travelled anywhere recently? How would you answer the "what's it like to fly right now" question?
Katie Davies is the Yorkshire-based freelance writer who founded Trendy Tourist. Since 2017, she has written for over 100 companies on a range of subjects, from fashion to marketing. When she's not producing content, you can find her shopping, exploring a new place or sitting somewhere having a cup of builder's tea.