Disclaimer: this post contains affiliate links, which means I receive a small commission when you purchase the product at no extra cost to you! All affiliate links will be marked with an asterisk (*) and help us to run this site so we really appreciate your support. To read our full privacy policy, click here.
With the number of COVID-19 cases rising globally, there's new evidence to suggest that face coverings can offer significant protection against the spread of coronavirus. As a result, Prime Minister Boris Johnson has made mask-wearing indoors around other members of the public mandatory in the UK.
Given that those who fail to do this will be fined up to £100 on the spot, mask-wearing is now a habit that we all have to adopt to keep ourselves, and others, safe.
That said, you don't have to stick with the clinical-looking coverings if you don't want to. Read on to find out where to buy fashionable face masks that also get the job done.
Things to Consider
First things first, keep in mind that a good cloth mask should filter air well and also be comfortable to breathe through.
According to the World Health Organization, it should have three layers:
An inner layer near the mouth that can get moist
A middle filtration layer that is high-quality and breathable
An outer layer that is exposed to the environment
In fact, always double-check that a mask has three layers before you even about buying it. This will ensure that you're getting triple the protection.
Different Types of Cloth Face Masks
There are several different types of cloths that are being used to manufacture face masks.
However, the most popular ones are:
Polypropylene, which is also known as a professional-grade or surgical mask. This fabric is extremely effective at filtering out at least 95% of virus droplets and includes the N95. That said, it's recommended that you don't re-wear this type of mask.
Cotton (knit), which is the softest kind. In its 100% variety, this fabric is unlikely to cause any dryness or irritation to the skin.
Polyester (knit), which tends to be cheap and consequently not as gentle on the skin. It's a better option when blended with cotton.
Cellulose, which is the sponge-like fabric that moulds to your face. However, this kind of mask is the least effective for filtering out virus droplets.
The types of face mask that are considered "stylish" tend to be the cotton and polyester varieties.
Why? Well, both of these fabrics can be printed on and they are machine-washable.
That said, we highly recommend sticking to mostly-cotton masks because they're much kinder to your skin. They're also higher in quality and will last longer (no matter how many times you put them in the washing machine!).
Where to Buy Fashionable Face Masks
Without further ado, here's where to buy fashionable face masks that can finish off your outfit perfectly while keeping you protected.
Etsy
American vintage marketplace Etsy has numerous sellers offering face masks. Having said that, you have to dig around to find high-quality cotton varieties.
We searched "triple layer cotton face mask" and found the following:
Cute, reversible printed designs by TreasureUKDesign for £6.50 (*)
Simple yet stylish options by Menique for £7.99 (*)
(Thank us later!)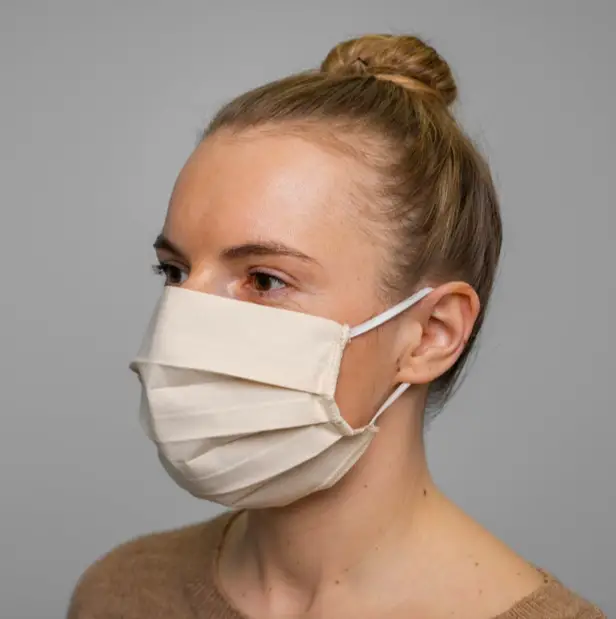 Liberty of London
Designer department store Liberty of London is known for its luxury fabrics, quirky homeware and quintessentially British prints. And they certainly haven't strayed too far away from their values with their fashionable yet functional face masks.
Made from 100% tana lawn cotton that's been treated to be water-repellent and breathable, their face coverings can be washed up to twenty times without any degradation to its anti-bacterial properties.
However, at the time of writing this, the individual options are out of stock. You can only purchase the Set of Five for £40 (*).
But, rest assured, these high-quality face masks would be worth the cash!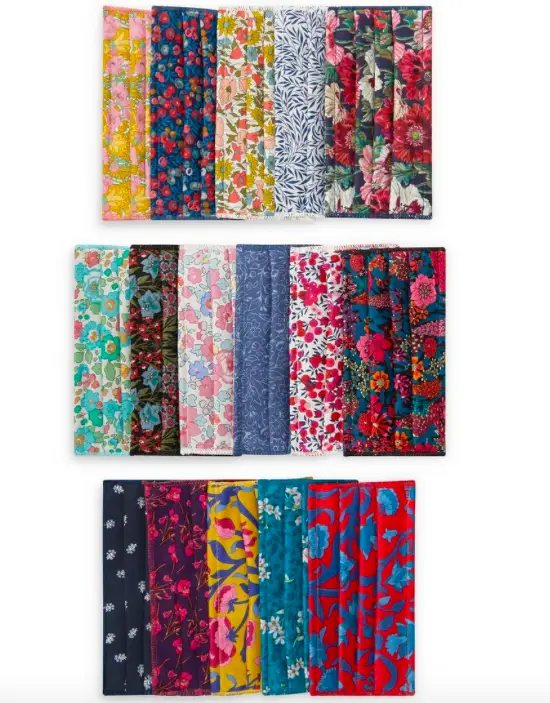 ASOS
Known for their affordable on-trend pieces, online retailer ASOS is offering a super pretty yet practical face covering bundle.
This ASOS DESIGN Pink Floral Face Covering (*) is made from 100% cotton and comes with a matching pouch and scrunchie. And did we mention that it's only £12? Winning.
Casetify
Another place where to buy fashionable face masks that you might not expect is Casetify.
This phone case and tech accessories brand currently has a "buy a mask, donate a mask" scheme. So far, they've donated over 35,000 to Direct Relief and frontline workers. Awesome, right?
In addition to being made fro breathable cotton, Casetify's reusable cloth covering (*) comes in a range of sleek colours.
Personally, we're loving the pastel pink one as a summery addition to our wardrobes!
Amazon
Multinational online retailer Amazon has a couple of triple-layer 100% cotton face coverings that can be classed as stylish. Although, we honestly thought they'd have more options.
If you want to opt for cheap and classic, this black SHATCHI face mask (*) is only £3.29.
On the other hand, Canifon (*) has a range of patterned varieties that can inject personality into your outfit for £6.68.
Either way, whoever said that you needed to break the bank to stay safe?
eBay
Lastly, second-hand marketplace eBay is another option in terms of where to buy fashionable face masks. Like with Etsy and Amazon, just search "triple layer cotton face mask" for the best results.
We managed to find the following:
Tons of patterns with a flexible nose wire from FairTradeGB for £6.99 (*)
A funky geometric printed option from GoldenGrassUK for £3.29 (*)
Lots of printed designs with nose clip from Sharobenne0 for £6.99 (*)
The choice is yours!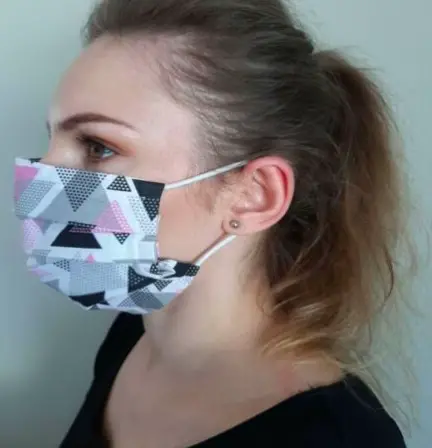 Tips for Buying Fashionable Face Masks Online
It's all well and good knowing where to buy fashionable face masks in the UK. Having said that, you have to be careful with any online purchase.
Here are our top tips for when you're shopping for face coverings digitally:
Read the small print. Check the product description for fabric details and care instructions to guarantee that you're buying the right thing.
Make sure it looks like a good size on the model. Some face masks are smaller than others. You don't want to risk buying one that arrives and then doesn't fit your face properly.
Check the straps pull over the ears. We've recently seen reviews of masks that look like they fit the model on the product images. However, customers have received the mask and realised that the straps pull over their head instead of the ears. Not ideal.
Check that the ear straps don't have to be tied up every time you wear it. This is just a daily inconvenience that you don't need.
Don't just buy the prettiest thing. It helps if it's machine-washable, durable and high in quality.
Check product delivery times. A lot of mask sellers are currently struggling to keep up with demand and this can mean long waits and disappointment.
And remember, even when you're wearing a mask, you still need to practise good hygiene. Social distance, wash your hands frequently and follow government guidelines so we can work together to put an end to this pandemic.
Protect Yourself in Style
Even though it initially seems like fashionable face masks are out of reach, there are several places to buy them online from the UK. Be sure to spend the time searching for the one you really want.
In our opinion, a printed, triple-layer, 100% cotton face covering will last the test of time and still look fabulously stylish.
Do you know any other places where to buy fashionable face masks in the UK?
Katie Davies is the Yorkshire-based freelance writer who founded Trendy Tourist. Since 2017, she has written for over 100 companies on a range of subjects, from fashion to marketing. When she's not producing content, you can find her shopping, exploring a new place or sitting somewhere having a cup of builder's tea.