A lack of time or money may prevent you from enjoying a two-week vacation in the coming months. However, you can still have plenty of fun in the form of a short break.
When only spending a short amount of time away from home, though, it's imperative that you make the most of your adventure. Here is a quick and easy checklist to ensure that you do!
The Journey
In truth, you'd like to avoid difficult journeys when going on any holiday, right? That said, when you're only spending a few nights away, stressful journeys will take an even greater toll. That's why opting for staycations or trips to European cities with short flights and little onward travel may be the way forward. 
For most people staying in the UK makes a lot of sense. It's familiar, it's not as expensive to get around if you already have a car available and you just can't beat a good old-fashioned road trip with loved ones. Plus, when you travel by car, you're not limited on baggage (perfect for all my overpackers out there!).
The Accommodation 
Accommodation choices are important for any type of trip. Nevertheless, their importance is arguably even greater when only spending a night or weekend away. Let me explain.
The briefness of your trip means that you'll be eager to squeeze more into each day. So, if you're going to the Lake District for example, you need a comfortable setting like Ambleside Hotels that makes the accommodation an added highlight. 
Peaceful luxury surroundings coupled with a restful night's sleep will provide the perfect platform for building a memorable vacation.
The Food
There are many things we all love about holidays, but letting our hair down regarding diets is at the top of the list, let's face it. Better still, you're not likely to cause too much damage in just a couple of days. Result.
Conduct some research to locate the best local restaurants before you arrive and book ahead so you don't miss out. Fighting the crowds to get a table at the last minute can cause stress you don't need when you're trying to relax.
A bonus is finding one that has a nice view and window or outside seating. There's nothing quite like breakfast with a beautiful sunrise or dinner with a sunset. (Just think of the Instagram photos!)
The Activities
In my opinion, every holiday should provide at least one experience that you'll treasure forever. Most destinations will have at least one must-see attraction so do some Googling before you get there to find the most popular activities.
You can also create magical moments with activities that you wouldn't necessarily get to do back home. Think snorkelling, horse riding on the beach and helicopter tours. It's experiences like these that can be once in a lifetime and extremely bonding if you share them with family or friends.
If you can afford to, push yourself out of your comfort zone with something special you'll always associate with the trip and look back on and smile.
The Outfits
Finally, you deserve to look and feel your best during a short break. If you're a fashion fanatic like me, you're likely to be planning your outfits weeks before you even arrive at your destination.
A good way to go is building a travel capsule wardrobe consisting of a few items that you can mix and match to create multiple outfits for your time away. Consider:
The weather forecast
The time of year
Activities
The dressiness of the location
Don't forget comfy footwear if you're walking around a lot and a bag to carry around during the daytime that's big enough to fit all your belongings.
I love to use my phone notes to plan my itinerary day by day and then note down the outfits I'm thinking for each day (and potentially nighttime too!). You can also try on options and take photos or videos.
Aside from enhancing your travel experiences, locking down your travel capsule will allow for incredible photos that you can cherish forever, and use to decorate your home space. Who's with me?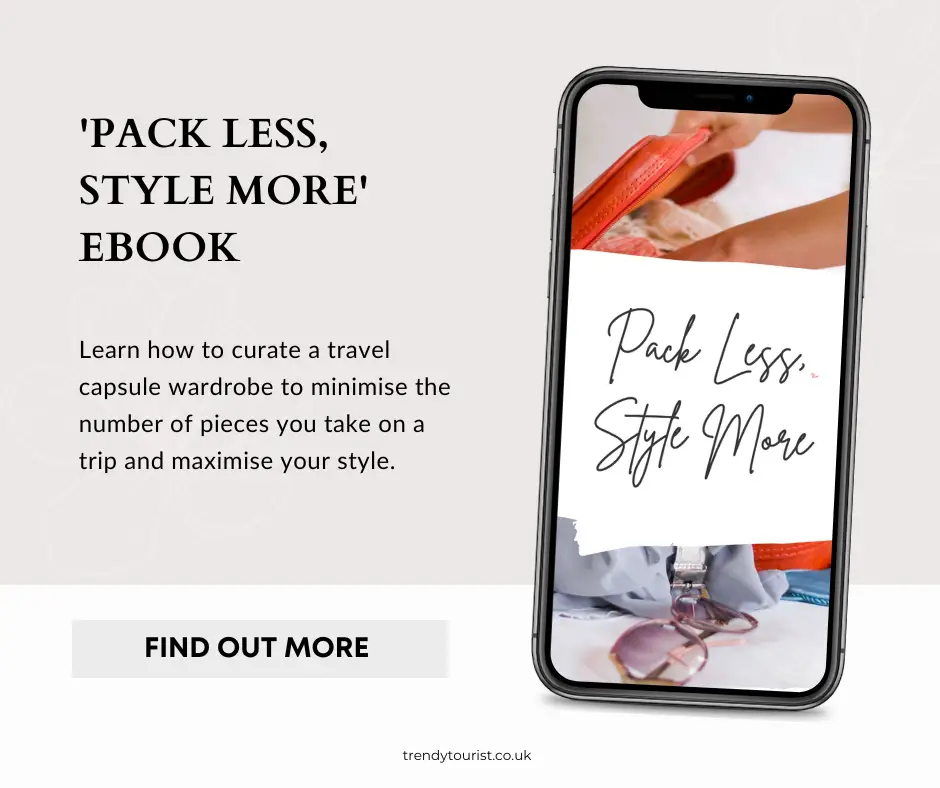 Final Thoughts on a Successful Short Break
Just because you're going on a short break doesn't mean it still can't be the amazing holiday you've been craving. Be sure to do all the necessary planning and preparation and your hard work will ultimately pay off resulting in a vacation that's everything you ever wanted and more!
Let me know if you need any further help outfit planning — I offer virtual styling services and can put together looks that are ideal for your destination, activities and the vibe you're going for.
Enjoy your time away!