A plain white t-shirt is a wardrobe staple for every woman. Not only is it completely timeless, but it's also versatile. You can wear it with many different outfits for various occasions — and it will still work (mainly because of its simple cut and neutral colour).
If you're building a capsule wardrobe or a travel capsule wardrobe, this key piece can form the basis for you to create looks around. Even if you're not, it's still worth investing in a plain white tee.
Simply put, you can dress a white t-shirt up or down, wear and rewear it, and it will continue to be fashionable for seasons to come.
What Type of White Tee Should I Go For?
First things first, I'd recommend investing in a plain white tee in a higher-quality fabric so that it lasts the test of time. 100% cotton varieties are soft, sustainable and wash well so that you get your money's worth in the long run.
You can either go with a round-neck or V-neck depending on what neckline you prefer. I like this basic H&M 100% cotton white tee* or this slightly stretchier Supima cotton option* from UNIQLO.
Also, note that because the white tee that we're talking about has short sleeves, it's best to wear it during the spring/summer months. It can be used as a transitional piece for autumn but only when layered with other pieces (otherwise, you may be a bit chilly!).
How to Wear a White Tshirt for Every Day
Now let's take a look at how you can wear the humble white tee for every day. Specifically, I'm talking about those casual occasions where you're just running errands, grabbing a coffee or popping to the supermarket.
1. With Loungewear
Throw on your white tee with sweat shorts or joggers and your fave fluffy slippers for chilling at home. Want to look extra cute for the couriers? Add a soft headband that coordinates with the outfit.
Product details:
2. With Jeans
If you're heading out of the house and need a quick, straightforward-to-put-together outfit that's still super stylish, the plain white tee and high-waisted jeans will serve you right. Add flat sliders or sandals and an oversized tote bag for casual chic at its finest.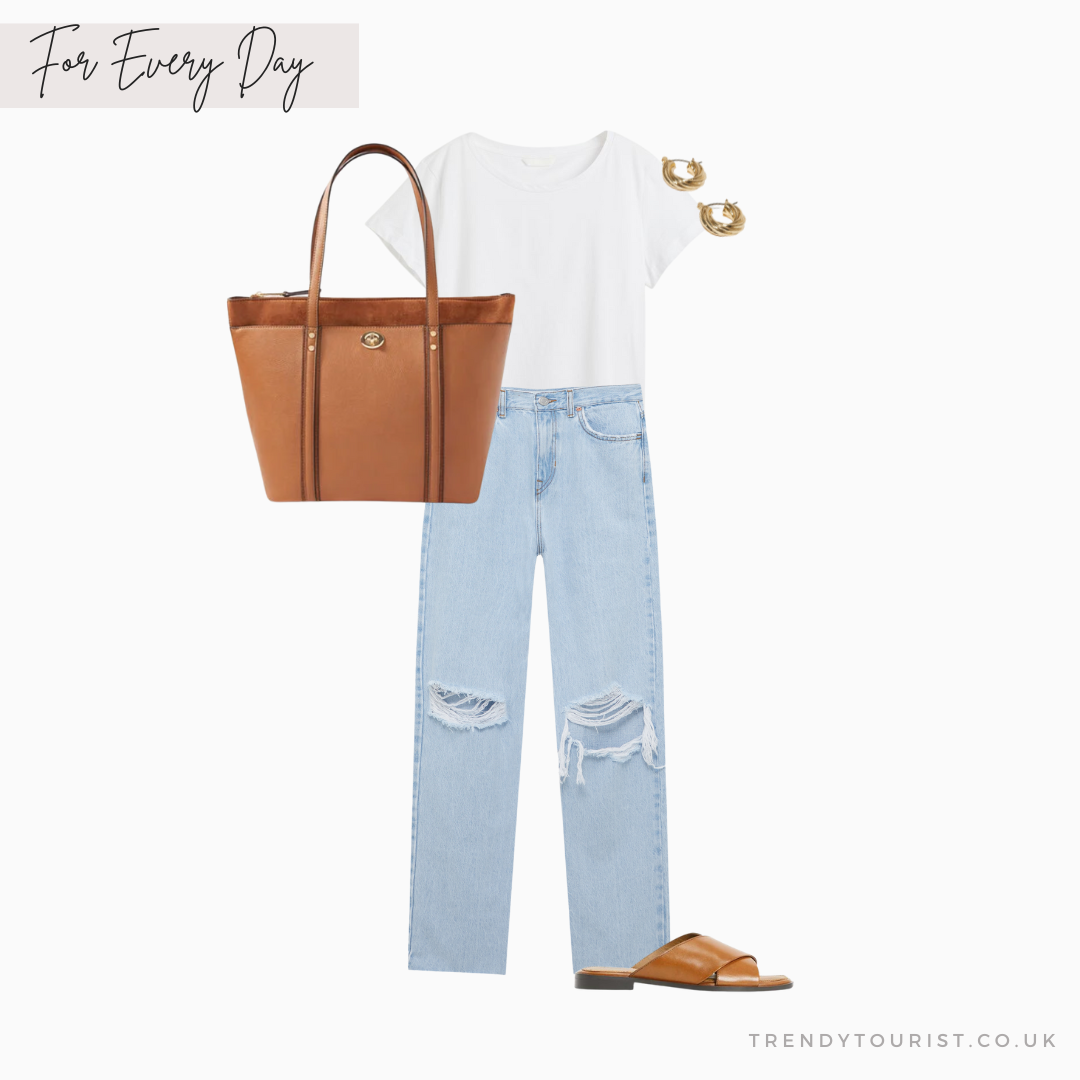 Product details:
3. With Shorts
Another great summer outfit option for the white tee when you're not up to too much is the shorts-and-trainers combo. The idea is that your shorts are the comfiest and softest pair you can find for being on the go, like bike or linen shorts. Don't forget your crossbody bag to epitomise easy, effortless style.
Product details:
How to Wear a White Tshirt for Smart-Casual
The white tee is generally considered a casual staple. However, you can also take it up a notch with other smarter separates for exciting social events in your calendar such as a meal out with loved ones or shopping in a big city.
In those instances, here's how you can style it effectively.
4. With Wide-Leg Trousers
Pick some printed wide-leg trousers to add depth and interest to your white t-shirt outfit. Make sure they're high-waisted and tuck them into your tee to define your silhouette. Add sandals, a layered necklace and a luxe-looking grab-bag to finish things off with finesse.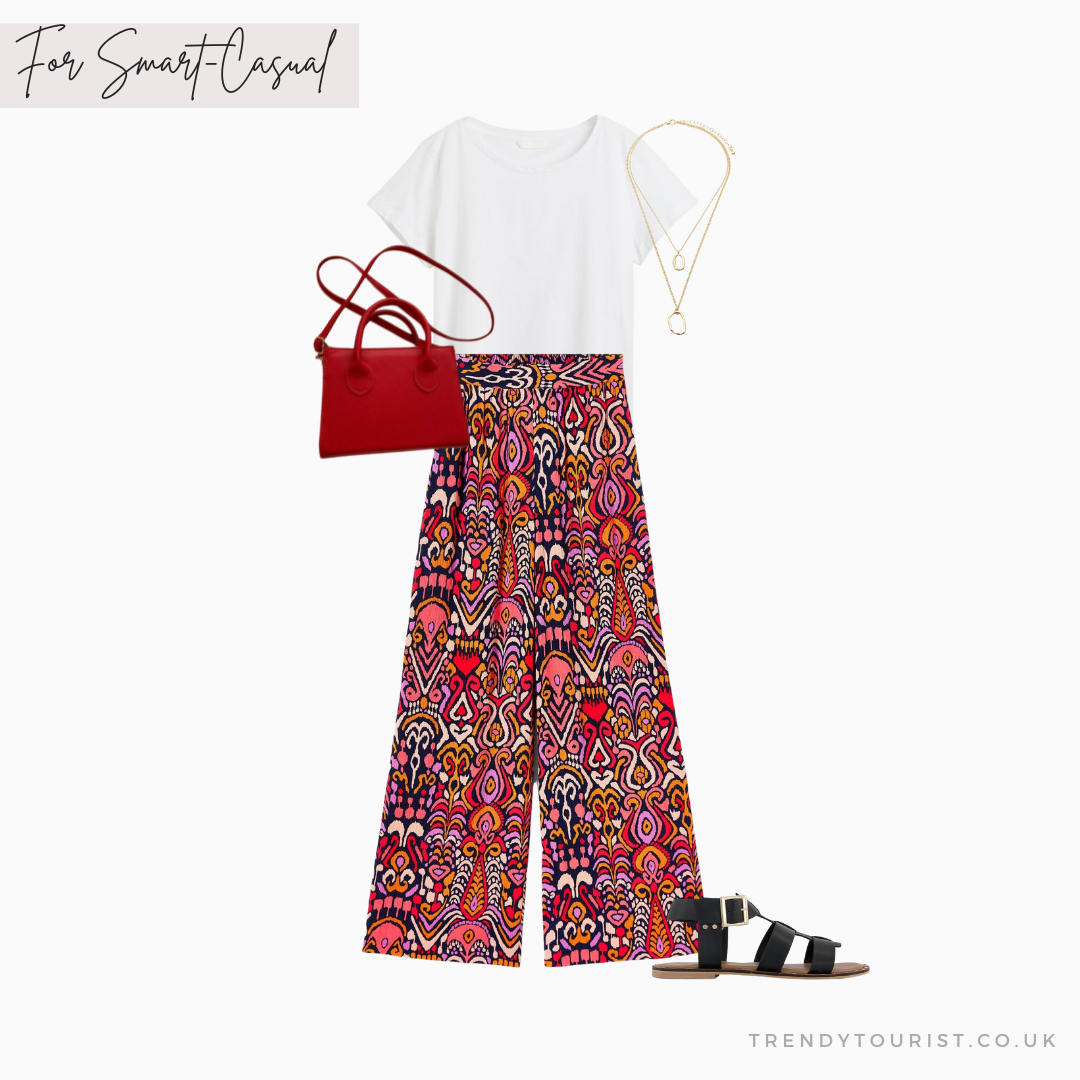 Product details:
5. With a Dress
Can you seriously wear a white tee with a dress, I hear you ask? Well, the answer is yes! You can layer one underneath a dress and waist-belt for a flattering, blogger-inspired look. Put a stamp of attitude on this outfit option with Dr Marten boots, a simple shoulder bag and statement earrings for grunge-cool.
Product details:
How to Wear a White Tshirt for Dressy Occasions
Lastly, it can be kind of challenging to make a white tee look dressy for when you're going OUT out, date night or even the office. That said, if you go totally extra with the rest of your outfit, it can be done. Trust me.
6. With a Suit Set
A white tee coordinates perfectly with a shorts-and-blazer suit set. The fact that it covers more skin makes it workplace-appropriate (compared to a lace-trim cami or crop top, for example). Opt for a bright colour to indulge in dopamine dressing and team with high heels and a designer (or dupe) bag to show you mean business for work or play.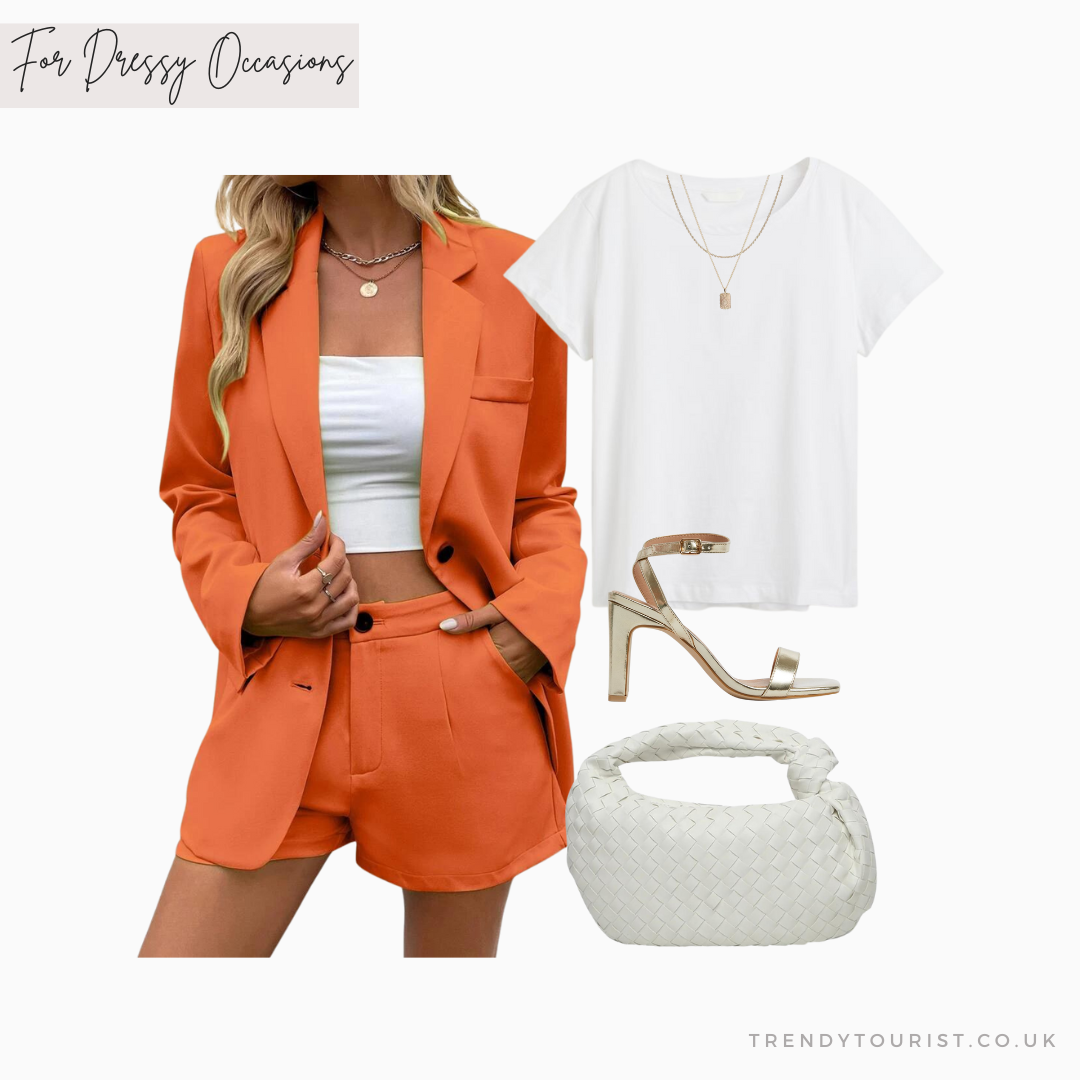 Product details:
7. With Tailored Trousers
As well as rocking the white tee with suit shorts and a blazer, you can also swap the shorts for tailored trousers. This is an ideal outfit for a brisker day spent grabbing drinks or going for a fancy meal. Add a straw bag, standout necklace and espadrille wedges for a summer aesthetic that sizzles.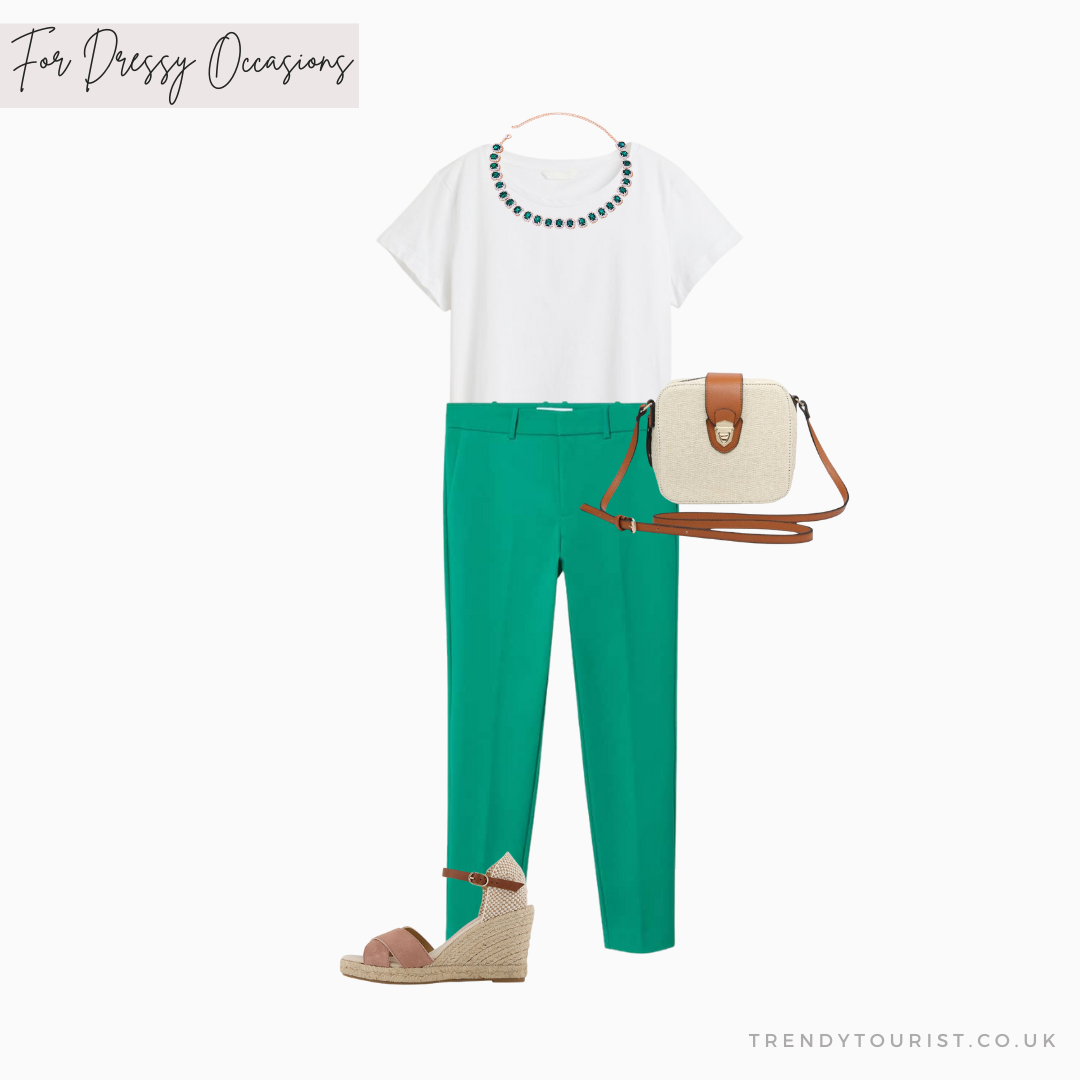 Product details:
8. With a Skirt
Finally, a white t-shirt can look totally glam for a night with the girls or spending time with a new romance. Just team it with a satin midi skirt or a ruffled mini skirt and the strappiest heels you can find. Polish off this pretty, feminine outfit with glitzy jewellery and a quilted bag to turn heads whatever you're up to.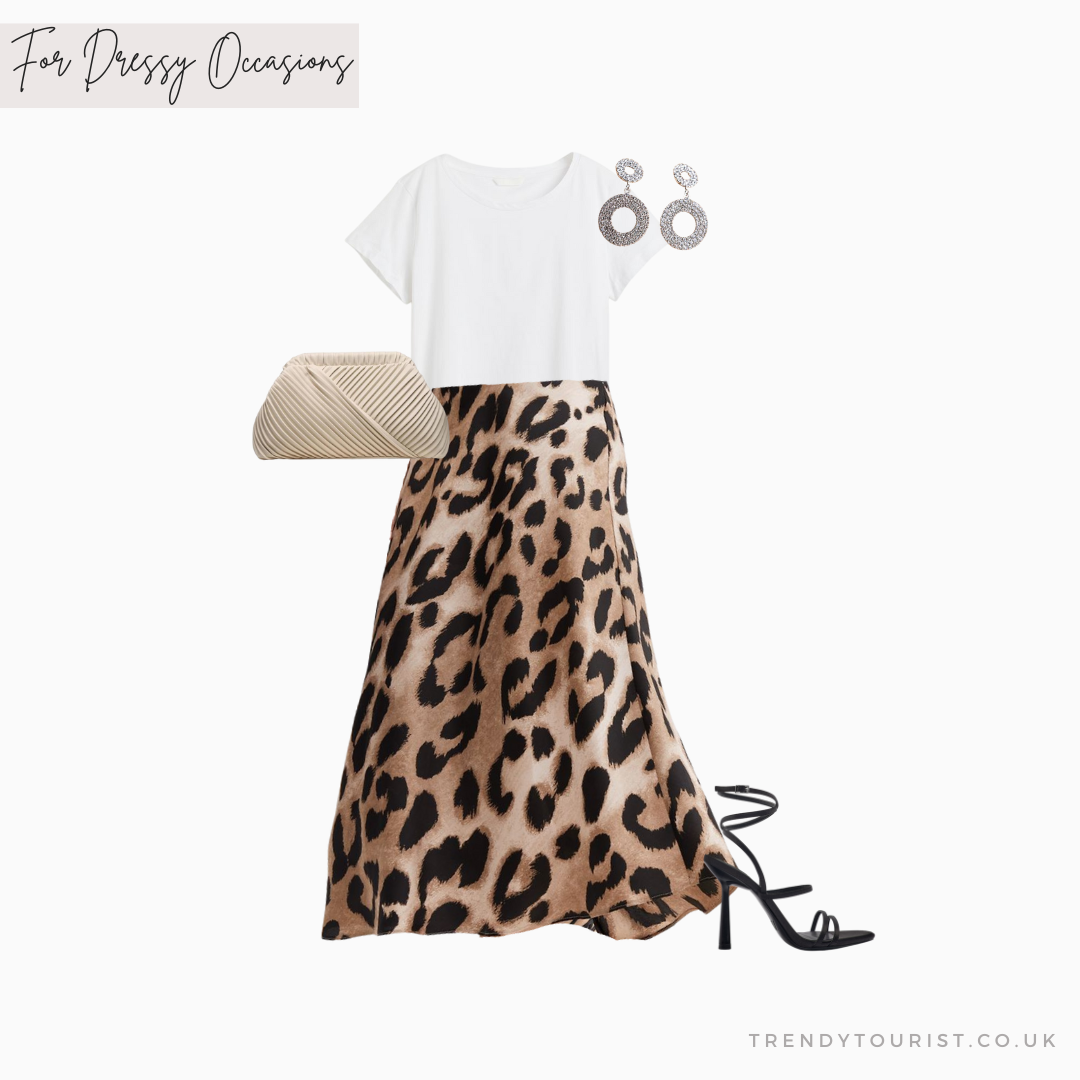 Product details:
Final Thoughts on How to Wear a White Tshirt
The possibilities are endless when it comes to how to wear a white t-shirt. Don't forget that it's not just about the rest of your outfit, too! Accessories can easily transform a plain white tee from daytime to nighttime with minimal fuss.
Happy styling!
Pin this article and share with friends: