Disclaimer: this post contains affiliate links, which means I receive a small commission when you purchase the product at no extra cost to you! All affiliate links will be marked with an asterisk (*) and help us to run this site so we really appreciate your support. To read our full privacy policy, click here.
With "Freedom Day" fast approaching in England, our summer social calendars are starting to fill up entirely. (For those of you based elsewhere, "Freedom Day" is July 19th when all current lockdown restrictions are being lifted. Hurrah!)
Do you realise what this means? That's right — we need to get some outfits organised that will help us to look stylish and feel comfortable for a number of occasions.
After all, thighs rubbing together and armpit sweat marks aren't ideal when you're just trying to live your best life. Right?
The good news is that these 12 simple summer outfit ideas work for day or night and don't take too much effort to throw together.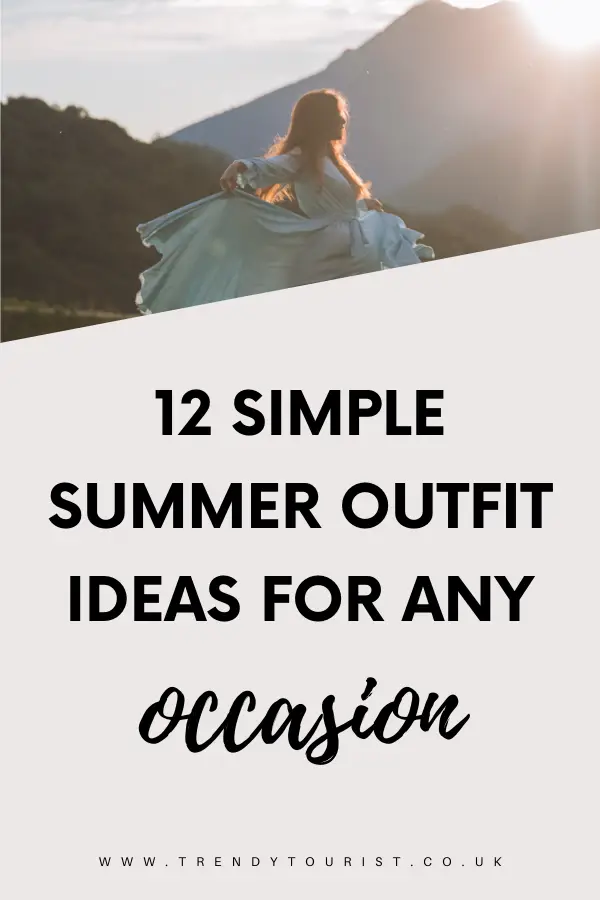 1. The Romantic Long Dress
Firstly, the SS21 runways were full of romantic silhouettes and accents that gave the phrase "ladylike luxe" a whole new meaning. That said, nothing was more elegant than the elongated dress, whether it was maxi or midi form.
Opt for ruffles, puffed sleeves or slits (or perhaps all three) for a garden party, wedding guest outfit or day drinking with the girls. Then just add heeled sandals and a chic clutch or twee crossbody bag for minimal styling with maximum impact.

(*)
2. The Comfy Shorts and Sleeveless Tee
Simple summer outfit ideas 101: the lightweight shorts and soft tee combo that you can just throw on in a hurry.
Not only will this combo prevent you from overheating when the temperatures are high, but it also doesn't take up much suitcase space for holidays or staycations. Result!
For SS21, a sleeveless tee is the go-to design for optimal comfort. Likewise, high-waisted "mom" shorts are still popular for defining your waist and creating a stunning hourglass silhouette.

(*)
3. The Patterned Co-Ord Crop Top and Skirt
Even though it was a micro-trend that first found its feet thanks to the Kardashians and Instagram influencers, two-piece co-ords are continuing to dominate the street style scene.
Feeling brave? Consider loud patterns in keeping with SS21 trends, such as animal, gingham and floral prints, along with bold hues that will stop traffic. 
In terms of cut, the nineties influence still reigns supreme with short-sleeve crop tops being a firm favourite when paired with a high-waisted mini skirt or shorts. 
However, if you're concerned about showing too much skin, simply swap short sleeves for long sleeves and a mini skirt for a longer style. At the end of the day, it's important that you feel confident in whatever you're wearing!

(*)
4. The Milkmaid Mini Dress
The milkmaid mini dress is one of the most darling pieces to enter the fashion-sphere this season.
Let's face it, the milkmaid dress isn't a new notion given that it was the type of work clothes worn by milkmaids in Europe dating back to 1660. Even so, SS21's version involves an A-line skirt, a sweetheart or square neckline and—most importantly—puffed sleeves. 
And can we just say that we're a little bit in love? Especially with the gingham variety.
Pair yours with trainers for a fresh daytime aesthetic or block-heeled sandals for nighttime poise.

(*)
5. The Wide-Leg Trousers and Bougie Blouse
Another of the most simple summer outfit ideas is wide-leg trousers teamed with a pretty blouse.
Actually, we're obsessed with the stretchy jersey options that make you feel like you're roaming around in your joggers or pyjama bottoms. Couple a pair of these with chunky sandals or trainers for carefree cuteness.
Having said that, tailored wide-leg trousers can easily be dressed up for fancier events if you swap for sling-back stilettos and sparkly jewellery. 
Either way, opting for a fitted top will ensure your trews don't hog all the attention and effortlessly flatter your figure in any situation.

(*)
6. The Bodysuit and High-Waisted Denim
A look that was first made famous on Love Island, we lost count of the number of times that Amber Gill and Maura Higgins rocked the strappy lace bodysuit with denim bottoms.
If you want to play it safe, stick with a neutral or pastel bodysuit that has a high neckline or short sleeves and pair it with high-waisted jeans. Otherwise, you can add some sass to your look with a banging bodysuit in a popping colour and high-waisted shorts.
Oh, and teaming either outfit with heels, big hair and Instagram-worthy makeup will turn heads for all the right reasons.

(*)
7. The Cute Tee and Satin Midi Skirt
Some of the most stylish simple summer outfit ideas include the satin midi skirt.
Originally arriving on our fashion radar in SS19, this versatile separate can be skilfully dressed up or down depending on the occasion.
One of the most up-to-date aesthetics is putting a satin midi skirt with an adorable tee and trainers or platform sandals. This looks dreamy for grabbing coffee with friends, a lunch date or shopping in the sunshine until your heart's content. Sold.

(*)
8. The Cowl Neck Satin Dress
Although a cowl neck satin dress has been given queen status for several seasons now, some fashionistas are only just discovering its lushness.
If you're looking for a contemporary way to revamp the Little Black Dress for a special event, then this is it. Alternatively, pick a jewel tone that will pop against a starry nighttime sky.
As a finishing touch, combine your cowl neck satin frock with strappy heeled sandals and a metallic clutch for a smart-casual appearance that's guaranteed to impress.

(*)
9. The Waist-Defining Playsuit or Jumpsuit
Some of the most simple summer outfit ideas involve a one-piece. Our preference is a playsuit or jumpsuit that nips you at the waist so you can flaunt what your mama gave you.
Invest in a fun pattern for a casual summer garden party or a plain tailored number for a sophisticated meet-up. Either way, use footwear and accessories to add interest to your ensemble and take it from day to night in a fashion heartbeat.

(*)
10. The Oversized Shirt or Blazer Dress
The oversized shirt or blazer may have been worn as a dress in previous seasons, but it's never been more refined for SS21.
From sumptuous fabrics to razor-sharp cuts, this key piece projects the boss babe aesthetic and elevates it to another level of fierce. Add pointed court shoes with stiletto heels or metallic wedges with a small-scale shoulder bag to polish things off nicely.
Bonus points if you can create a long, slick ponytail and swish it around fabulously like Christine from Selling Sunset.

(*)
11. The Tailored Shorts and Blazer Co-Ord
Sure, we've already mentioned the co-ord being a summer wardrobe staple. That said, we have to talk about the tailored alternative.
Essentially, tailored shorts teamed with a matching blazer and heels work for both the office and summer evening soirées.
Just make sure that you add a loose-fitting button-up shirt or feminine blouse underneath to make this outfit appropriate for the workplace. You can then whip this off for playtime and produce a stylishly sultry look.

(*)
12. The Tiered Smock Dress
Lastly, the tiered smock dress has been picking up momentum for SS21, whether in mini or maxi form.
Great for when you're having a big meal, it's loose-fitting and flouncy so you feel like you've made an effort without being trussed up. Plus, you can just throw it on at a moment's notice.
Add Dad sandals or sports sliders for running errands or even switch to wedges for dressier occasions. Either way, it's never been more straightforward to nail summer fashion.

(*)
Simple Summer Outfit Ideas That Never Go Out of Style
Given that we haven't been able to experiment with clothing since the pandemic began, there's no better time to step out of your comfort zone.
Having said that, these simple summer outfit ideas are fashionable yet functional for SS21 if you're rediscovering the joy of getting dressed.
And the good news? You can love and re-wear them for many seasons to come!
Katie Davies is the Yorkshire-based freelance writer who founded Trendy Tourist. Since 2017, she has written for over 100 companies on a range of subjects, from fashion to marketing. When she's not producing content, you can find her shopping, exploring a new place or sitting somewhere having a cup of builder's tea.