Summer heatwaves are something that we're having to get used to in the UK. After all, with every summer that rolls around, the temperatures are rapidly rising.
And our country just isn't built to handle it. Thanks to the lack of air con in our houses and buildings, we have no idea what we're supposed to wear to prevent chafing thighs and armpit sweat marks.
Luckily, I have you covered with the latter. Whether you're meeting loved ones, running errands or heading to work, here are 16 simple summer outfit ideas that will keep you looking and feeling cool all season long.
You can also take any of these on a summer holiday if suitcase space allows!
Simple Summer Outfit Ideas for Heatwaves
The following outfit ideas are ideal for throwing on when it's super hot, as well as when it's moderately hot. They're fuss-free yet full of pizzazz.
1 & 2. The Romantic Long Dress
First things first, you can't go wrong with a pretty midi or maxi dress in summer, especially if it's made from a breathable fabric like cotton or linen.
Opt for ruffles, spaghetti straps, slits or puffed sleeves (or perhaps a combo) for a flirty, feminine look that's perfect for a garden party, wedding or bottomless brunch. Then just add heeled sandals and a chic clutch or twee crossbody bag for minimal styling with maximum impact.
Alternatively, dress it down for shopping or a date in the park with sliders and an oversized tote bag.
Product details:
3 & 4. The Comfy Shorts and Cami
Simple summer outfit ideas 101: the lightweight shorts and soft cami combo that you can just throw on in a hurry. Not only will this combo prevent you from overheating when the temperatures are high, but it also doesn't take up much bag space for holidays or staycations. Result!
A cropped or full-length cami tends to be the go-to top for optimal comfort. Likewise, high-waisted "mom" shorts are still popular for defining your waist and creating a stunning hourglass silhouette.
Experiment with patterns or special detailing to add interest to this outfit on your top half or bottom. (Both together can look too much.) This could be in the form of a lace-trim cami or floral-printed denim shorts.
Add wedges, big hoops and even bigger hair for a smart-casual occasion. On the other hand, chunky sandals and a straw bag takes it from night to day faster than you can say "summertime luxe"!
Product details:
5 & 6. The Linen Mini Dress
You just can't beat a barely-there sundress or a cute short-sleeved number when temperatures are high but your effort level is low. All you have to do is throw on this beauty, style minimally and off you pop.
A linen summer frock is a must-have wardrobe staple for any woman due to its breathability and how it cools you down in the heat. Team it with Birkenstock-inspired sandals and oversized sunglasses for the days where it's hotting up too much for your brain to function properly.
Alternatively, add heeled sandals and a luxury-looking grab bag for a summer date night or fancy dinner with friends. Either way, fabulous will be your middle name. Trust me.
Product details:
Simple Summer Outfit Ideas for Moderate Heat
The following outfit ideas are more complicated and involve a little bit more material. That said, don't be fooled, you can still rock them in a heatwave if you wear the right fabrics.
7 & 8. The Crop-Top-and-Skirt Co-Ord
Even though it was a micro-trend that first found its feet thanks to the Kardashians and Instagram influencers, two-piece co-ords are continuing to dominate the street style scene.
Feeling brave? Consider loud patterns such as animal, gingham and floral prints, along with bold hues that will stop traffic. Alternatively, you can opt for something plain and minimal in a neutral colour palette so that you can mix and match the top and bottom with other pieces for maximum rewearing opportunities.
In terms of cut, the nineties influence still reigns supreme with short-sleeve crop tops being a firm favourite when paired with a high-waisted mini skirt. Oh, and did I mention that this allows optimal tanning opportunities? (Just be sure to load on the SPF to avoid sunburn and skin damage.)
Dress down your captivating co-ord with chunky trainers and a Y2K-inspired shoulder bag. Or you can dress it up with heeled sandals and a glitzy grab bag for that special social event you've been looking forward to.
Product details:
9 & 10. The Wide-Leg Trousers and Simple Tee
Another of the most simple summer outfit ideas is wide-leg trousers teamed with a no-fuss tee.
Actually, I'm obsessed with the stretchy jersey options that make you feel like you're roaming around in your joggers or pyjama bottoms even when it's 24 degrees out. Couple a pair of these with slip-on sandals or sliders for carefree cuteness when grabbing coffee with friends or shopping in the sunshine until your heart's content.
Having said that, the same wide-leg trousers can easily be dressed up for fancier occasions if you swap the sliders for sling-back stilettos and sparkly jewellery. (And spoiler alert: they're super comfy!)
Either way, opting for a fitted top will ensure your trews don't hog all the attention and effortlessly flatter your figure in any situation.
Product details:
11 & 12. The Waist-Defining One-Piece
Some of the most simple summer outfit ideas involve a one-piece. My preference is a playsuit or jumpsuit that nips you at the waist so you can flaunt what your mama gave you.
If I was you, I'd go for the jumpsuit if temperatures are pretty cool and the playsuit if things are hotting up. Both options aren't exactly suited to 30-degree heat (no one wants to have to undress and faff in the toilet in that kind of humidity). Right?
Invest in a fun pattern for a casual summer garden party with mules, oversized sunnies and a crossbody bag. The same piece would work for a sophisticated meet-up and can be taken from day to night with heels instead of flats, a clutch bag and statement jewellery. I love!
Product details:
Simple Summer Outfit Ideas for Mild Heat
Lastly, the following outfits work best when it's warm in the sun but quite a bit cooler in the shade. They have longer sleeves and can be layered for in-between days where you want to prioritise both fashion and function.
13 & 14. The Oversized Button-Up or T-Shirt Dress
The oversized button-up or t-shirt dress is always a winner for temperatures in the early twenties. Just sling it on and leave your legs out, keeping things feeling light and airy down there. (Ooh-er!)
I prefer this summery look for every day, with strappy sandals, a playful bandana and a colour-blocking bag. On the other hand, you can belt it, add block heels and pop on some big earrings to dress it up for drinks or a nice meal.
Bonus points if you can create a long, slick ponytail and swish it around fabulously like Christine from Selling Sunset.
Product details:
15 & 16. The Tailored Shorts and Blazer Co-Ord
I've already mentioned the co-ord as being a summer wardrobe staple. That said, we have to talk about the tailored alternative.
Essentially, tailored shorts teamed with a matching blazer and heels work for both the office and summer soirées when the temperatures are dropping.
Add a loose-fitting button-up shirt or feminine blouse underneath to make this outfit appropriate for the workplace. You can then swap this for a lace-trim cami or fitted bodysuit to produce a stylishly sultry look for when it's time to play.
Want to wear this outfit for shopping in a big city or a lunch date? No one's stopping you! Just dress it down with Converse, a plain white top and sunglasses for easy daytime glam.
Product details:
Pin this article and share with friends: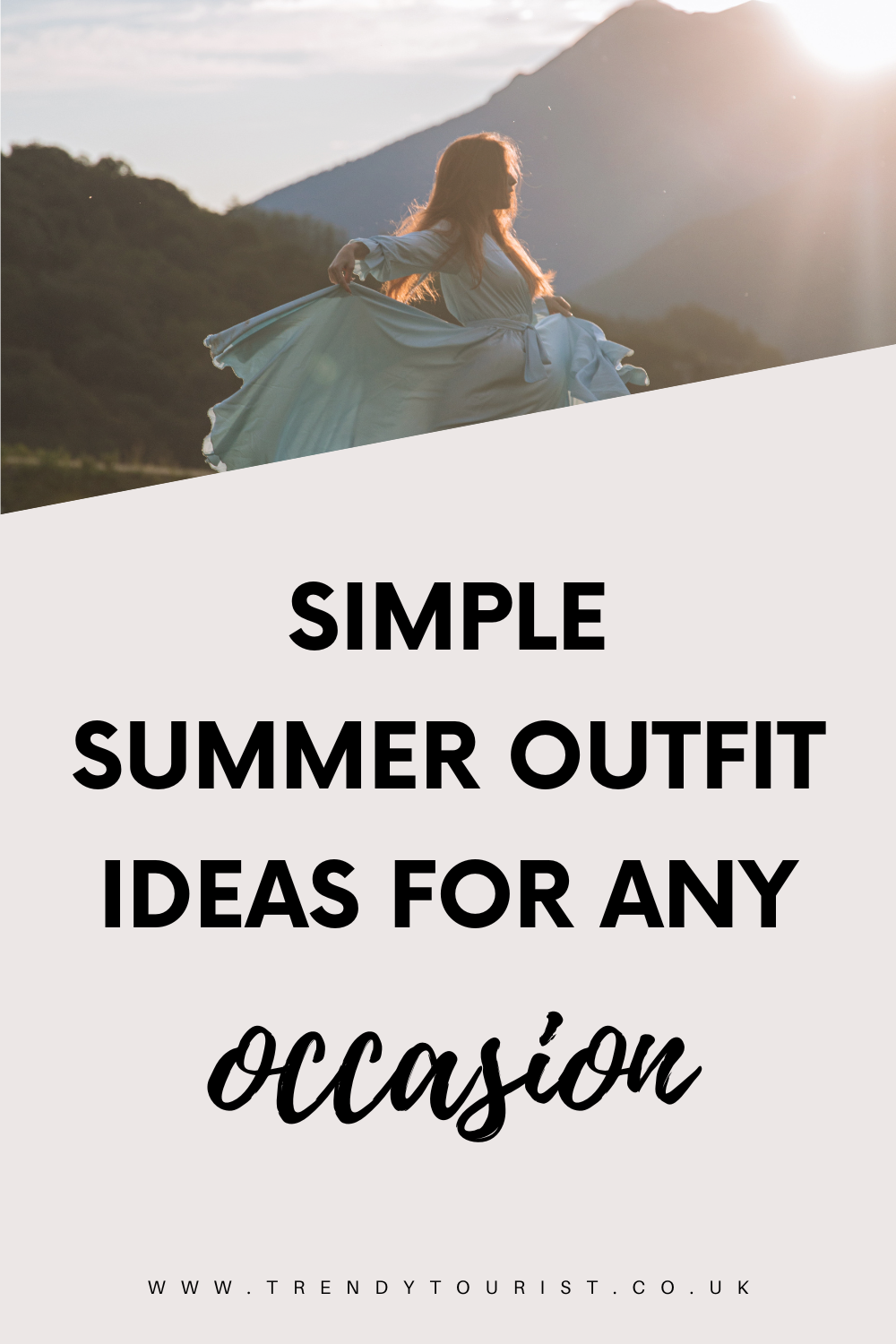 Final Thoughts
It's challenging to know what to wear when the weather is so hot that you feel like you're abroad (or you're actually abroad). These simple summer outfit ideas are just as versatile as they are timeless. In other words, you can style them with a variety accessories to get a number of different looks for seasons to come.