If you're anything like me, you probably binge-watched the first season of Wednesday on Netflix in a matter of days. Not only did Tim Burton's TV adaptation of the famous Addams Family give us a tortuous plot, entrancing visuals and that unyielding dark sense of humour, but it also served us with fashion.
Case in point: Wednesday herself, played by Jenna Ortega.
The character has notoriously always had a gothic style to match her sadistic personality, but it's almost like there's been a significant glow-up for this series.
Let's take a look at her fashion revival and how to dress like Wednesday Addams to create an effortlessly edgy aesthetic.
Pin this article and share with friends:
The Wednesday Addams Glow-Up
First and foremost, Wednesday's signature look is a black dress or skirt and blouse. In the Netflix show, the character has a more modern and edgy appearance, mixing both vintage and contemporary styles.
She's regularly seen in her Nevermore Academy school uniform, which consists of a grey-and-black striped blazer that would make even Beetlejuice jealous teamed with a black pleated maxi skirt. These statement pieces are thrown over a classic white button-up shirt, black tie and dark grey jumper, complete with black lace-up Oxford shoes.
When Wednesday isn't attending school, she still sticks to a mostly black colour palette with hints of white, navy and grey. She loves to play with layers, and favours tailored pieces with a vintage feel juxtaposed with current oversized silhouettes. She's also not afraid of a daring accessory, like an add-on collar or antique brooch.
And then there's that dress that she wears to the dance. It's feminine, it's frothy, it's dramatic — it's everything I'd expect to see in a Tim Burton extravaganza and more.
How to Dress Like Wednesday Addams: 10 Tips
Here are some tips on how to dress like Wednesday Addams from the Netflix TV show and make an impact wherever you go.
Outfit Tips
1. Try to incorporate vintage and retro elements in your outfits, such as a tailored blazer and high-waisted trousers, or a plaid blazer and a pencil skirt. You can also add a white collar shirt, a classic piece of Wednesday's wardrobe, to give you a more traditional Wednesday Addams look.
2. Stick to black or dark-coloured clothing to stay true to Wednesday's gothic style. A hint of colour can add depth and interest to your outfit, such as a red bag or purple scarf. Patches are also a great way to accessorise your clothing. If you need some individual and unique patches, Patches Co have uniquely designed custom patches with vintage and gothic elements.
3. A black cardigan, jumper or blazer provides a layer of warmth and sophistication to your outfit. You could even throw on a black coat over the top for those especially chilly days.
4. Wear black tights with black skirts and black dresses to complete the monochromatic look.
Shoes and Accessories Tips
5. To add a touch of edginess to your look, try pairing your outfits with chunky boots, combat boots or Doc Martens. These shoes are perfect for creating a rebellious and gothic feel to your outfit.
6. Accessorising is key to polish off Wednesday's look. Carry a black leather handbag or satchel and wear a black beret or hat to elevate the pretty-in-punk aesthetic.
7. Don't be afraid to layer distinctive jewellery pieces, such as a choker, a quirky ring or a pair of oversized earrings.
8. Embrace Wednesday's love of all things macabre by adding a skull or other eerie accessory to your outfit. A small, unusual touch like this will give off Wednesday Addams vibes like nothing else.
Hair and Makeup Tips
9. Makeup is an important aspect of Wednesday's appearance. The character often wears dark lipstick and smoky eyes to deliver a dramatic and mysterious look.
10. Wednesday always wears her hair in two pigtail plaits but don't be afraid to experiment with a myriad of hairstyles, such as braids, a low ponytail or a sleek bun, to give you a different look each time.
And if you're passionate about hairstyling, explore hairdressing jobs on Jooble for a rewarding career in this field!
5 Wednesday Addams Outfit Ideas
Get the Wednesday Addams aesthetic with these easy-to-put-together outfits.
1. School Uniform Chic
Replicate the Nevermore Academy uniform by throwing this Elena Miro Pinstripe Blazer* over an M&S White Collared Shirt* tucked into this H&M Pleated Skirt*.
Team with H&M's Derby Shoes*, a Shein Heart Shaped Bag*, Flongo Heart Choker Necklace* and Etsy's Heart Dangle Earrings* for the office, a business meeting or after-work drinks.
2. Casual Punk
Copy Wednesday's off-duty attire by donning this River Island Black Turtleneck Top* underneath this Etsy Checkerboard Vest* and tucking it into M&S' Lily Slim Fit Jeans*.
Add a stomp of attitude through Matalan's Black Leather Combat Boots*, a Shein Studded Backpack* and Shein's Moon Drop Earrings*.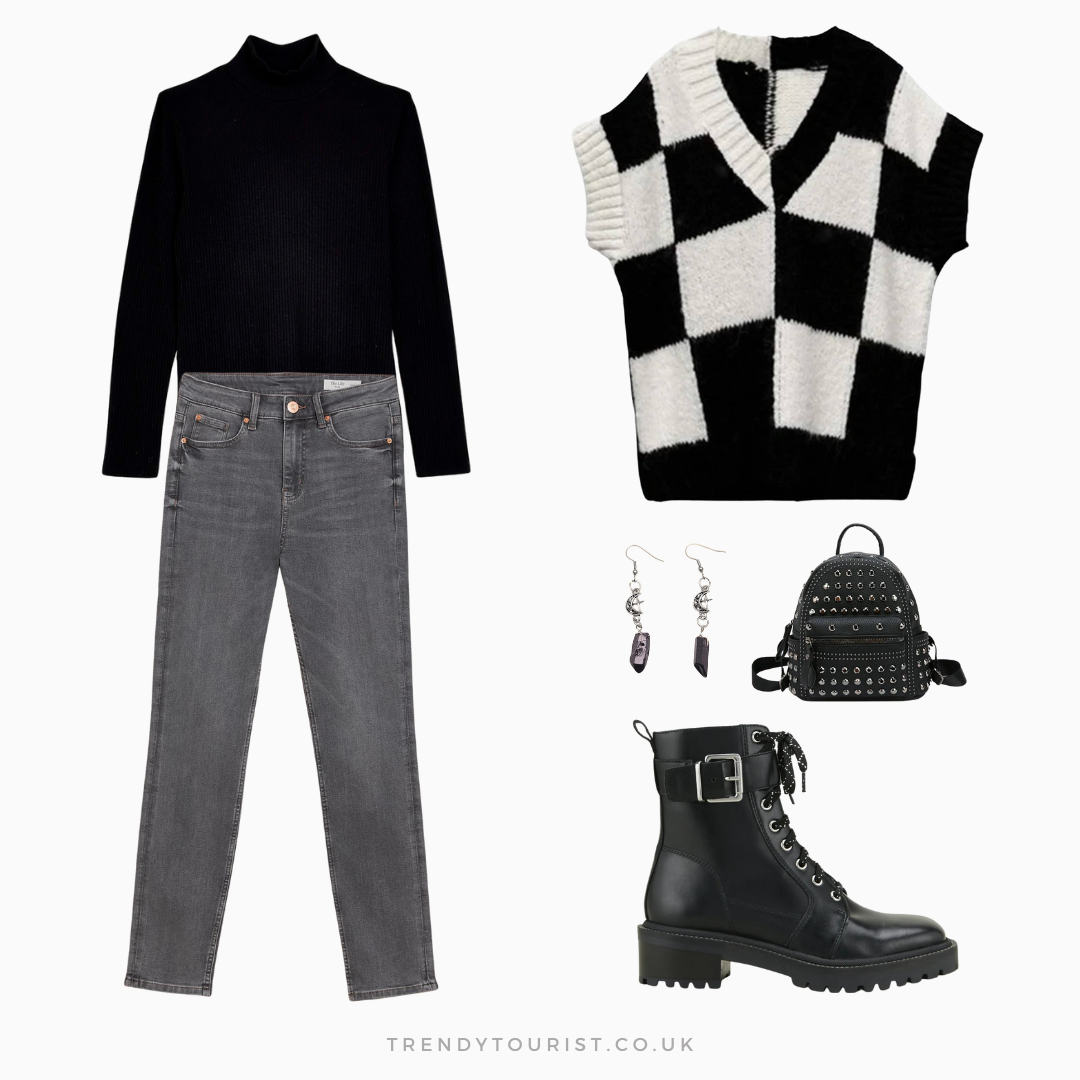 3. Classic Smart-Casual
Champion Wednesday's conventional smart-casual outfit by rocking this Shein Contrast Trim Bodycon Dress* with H&M Black Opaque Tights* and River Island Platform Boots*.
Throw on this Wednesday-inspired Pretty Little Thing Plaid Teddy Coat and add a Flintronic Tote Bag* in the same black-and-white colour palette. Luxe up the look with this Etsy Gold Black Stone Necklace and Earrings Set* to prevent it from being too youthful.
4. Everyday Edge
For running errands, shopping or catching up with friends, try this TU Sainsburys Mono Striped Cardigan* paired with River Island's High Waist Wide Leg Trousers* for comfortable elegance. This La Redoute Navy Duffle Coat* will ensure you stay warm and stylish, while matching the exact design Wednesday wears in the TV show.
Add more of Wednesday's personality to this laid-back ensemble through these Deichmann Lace Up Brogues* and this Shein Crocodile Hobo Bag*. Finally, this Claire's Navy Celestial Layered Necklace* and these Etsy Star Huggie Earrings* can dress up the look for a fancier lunch or dinner date.
5. Glamour Goth
This Boden Ruffle Maxi Dress* is the perfect dupe for Wednesday's iconic dance dress. Just add these Linzi Bluebell Heeled Boots* and a tailored wool coat to combat colder temperatures.
Accessories-wise, this Chikencall Envelope Studded Skull Clutch Bag* and these ChicSilver Skull Hoop Earrings* both undoubtedly scream Wednesday.
Final Thoughts on How to Dress Like Wednesday Addams
By following these tips, you'll be able to emulate Wednesday Addams' gothic and edgy style in the Netflix TV show Wednesday. 
Remember that her outfits are playful and eclectic so be sure to have fun with the creative process. And above all, don't be afraid to add your own personal touch to it. Happy dressing!