As the weather starts to warm up, it's only natural to begin thinking about refreshing your wardrobe for the spring season.
Autumn/Winter 2022/23 brought us fun and frivolity when it came to fashion, with nineties and noughties nostalgia reigning supreme in dopamine-filled hues like hot pink and jade green. This was juxtaposed with the serious nature of all-black ensembles and a minimalist style doing the rounds on the influencer scene.
Spring/Summer 2023, then, is set to feature more of the same contrast with a few new surprises thrown in. You ready?
Whether you're looking to update your current wardrobe or try something new, here are the top 10 SS23 trends you need to know about.
1. Sleek Basics
First things first, have you seen the elevated basics that have been all over social media for the past couple of seasons? Well, the good news is that these timeless investments are sticking around.
However, instead of being solely nineties-influenced (think tube dresses and baggy jeans), silhouettes are cleaner and the colour palette is more luxe. This is courtesy of SS23 shows by The Row, Dries Van Noten, Tibi and Max Mara.
Shades of teal, camel and navy reigned supreme, as well as the traditional bright white that we usually see this time of year. Summer black will even come out to play, taking inspiration from Chloe, Dior and Louis Vuitton (and Wednesday Addams, of course).
2. Sheer and Sultry
In keeping with the hot temperatures that we are sure to experience again in the UK this year, sheer fabrics dominated the SS23 runways of Prada, Molly Goddard and Bottega Veneta. Whether it was in top, dress or even skirt form, these fabrics are just as lightweight as they are sultry.
In fact, "night meets day" was a general theme for SS23, with lingerie, nighties and boudoir detailing being put on show for all to see. Think standalone bras, sexy slips and lace gloves in excess.
Corsetry is also having a big moment as a way to take an evening outfit to the next level and make it flirtatiously fabulous.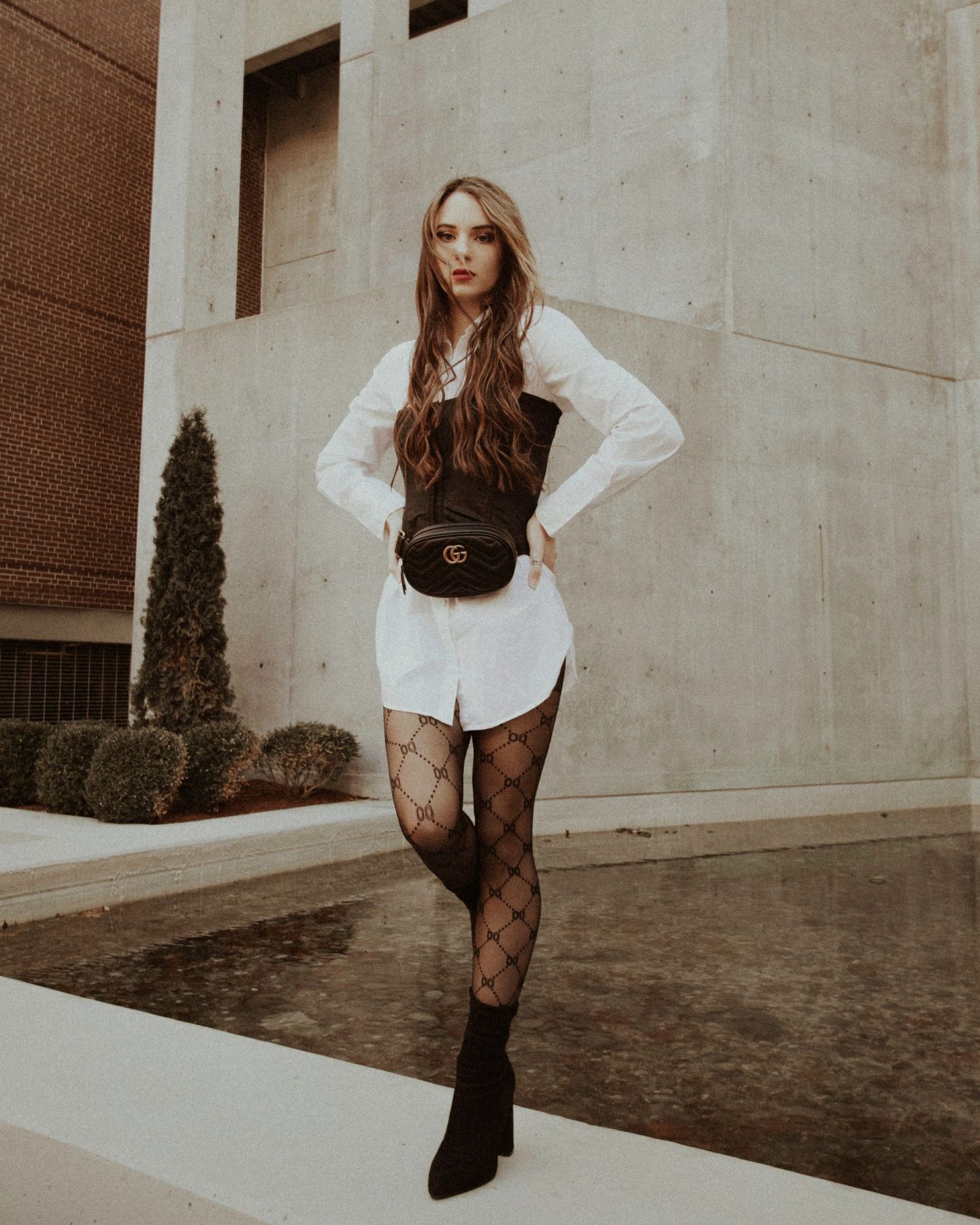 3. Mesmerising Metallics
I know what you're thinking — metallics? For spring/summer? Alas, yes — don't put them to the back of your wardrobe just yet.
Instead, follow the lead of Jil Sander, who showcased some standout pieces in silver sequins and metallic chenille for SS23. Likewise, a gold lamé coat was the hero of the Tory Burch catwalk, with updated chainmail also being spotted at Christopher Kane and Chloe.
Regardless of your chosen type of glitz, it's time to rewrite the rulebook when it comes to colour. Alongside the traditional silver and gold aesthetics, pale pinks, nudes and pastels put a pretty spin on the trend for spring/summer. Thanks, Nensi Dojaka and Huishan Zhang!
4. Crochet Cutie
Knitwear is vastly becoming a staple all year round off the back of the pandemic when cosy loungewear became prolific. That said, it's been adapted for SS23 trends into chic crochet that helps you look and feel cool for the warm months ahead.
This time around, leave tight purles and moss stitches behind. Instead, embrace open, cobweb-like weaves à la Victoria Beckham, Gabriela Hearst and Lanvin.
Either way, layer up your crochet ensemble with neutral basics or invest in crochet accessories for a stylishly subtle take on the trend.
5. Low-Rise Life
Fellow curvy gals, you may want to look away now. The low-rise fit is back and I'm personally not too happy about it. 
I remember trying to rock low-rise skirts and jeans in the noughties and it just didn't work for me. I much prefer the comfort and flattering silhouette of a high waist, but each to their own!
If you're open to the long-slung waist, you can rock it in the form of jeans, suit trousers, shorts and skirts and flaunt your midriff for good measure. According to Givenchy, Stella McCartney and Proenza Schouler, anything goes.
6. Nineties Grunge
Cor, we just can't seem to get rid of nineties fashion at the moment, can we? And do you know what, I don't mind a bit. It gives me all of the nostalgic feels!
This season, it's all about distressed denim, army jackets, chunky silver hardware, flannel shirts, cargo trousers and maxi denim skirts. Balenciaga and Erdem led the way on the denim front, closely followed by Miu Miu, Fendi and Blumarine, who advocated cargo trousers and oversized pockets.
Embrace your inner indie kid to relive your youth in a traffic-stopping, head-to-toe ensemble. Or, pick one or two key pieces and integrate them into your everyday look for a personalised update with pizzazz.
7. Rainbow Brights
Dopamine dressing has been around for a few seasons now and is showing no signs of going out of style.
Newsflash: acid green is the colour of SS23 as seen on the runways of Victoria Beckham, Miu Miu and Proenza Schouler. It makes the most impact when worn as a head-to-toe ensemble, whether it's in the form of a maxi dress, suit jacket-and-trouser set or top-and-skirt co-ord.
Whatever your preference, team with black, white or metallic shoes and accessories to keep the emphasis on this eye-popping colour.
Similarly, cobalt blue has main-character energy for SS23. It was splashed across everything from jackets to skirts, dresses and even boots at the likes of David Koma, Alexander McQueen and Richard Quinn respectively.
8. 3D Florals
Florals for spring/summer aren't exactly groundbreaking, right? No, but what about flowers that are more dramatic, three-dimensional and bound to be the centre of attention?
Physically blooming from skirts, dresses and tops, the likes of Loewe, Roksanda and Carolina Herrera have played with proportions with powerful results. Think appliques and fabric structures that are uniquely built and designed to impress.
Although there are no style rules with SS23 trends such as these, one thing's for sure: you need an occasion to wear such a high-profile outfit. A quiet dinner simply won't do.
9. Bring on the Blur
Not a floral fan? I have good news for you — there's a new print in town that's like tie-dye's more chilled little sister. Enter, the blur.
The blur is a digitally manipulated pattern that is bold and distinctive, yet still screams spring/summer when teamed with bright hues. 
Designers such as Ferragamo, Altuzarra and Jonathan Simkhai have proudly paved the way, with some even using sunset shades to stun. These ombre reds, yellows and oranges were reminiscent of summer holiday skies, making many of us want to pack our bags and book the next flight pronto.
10. Eighties Party Girl
Lastly, I had to end on one of the SS23 trends I'm most excited about. If you know me well, you'll know that I adore everything eighties, from the music to the movies and even the clothing.
Well, one of my biggest dreams is about to come true as current fashion experiences an eighties makeover. Remember drop-waisted dresses, frothy fabrics, leopard print and puffball skirts galore? They're making a comeback according to Halpern, Emporio Armani and Ulla Johnson — Molly Ringwald-style.
This is an excuse to play dress-up with your wardrobe and not take yourself too seriously as we head into the warmer months. I think I'll draw a line at the big frizzy hair though.
Final Thoughts on SS23 Trends
As you prepare to update your wardrobe for spring, remember that fashion is all about having fun and expressing your individuality. Don't be afraid to experiment and mix and match staples with more trend-driven pieces to create unique looks that reflect your personality. 
By incorporating some of these SS23 trends into your wardrobe, you'll not only look great but also feel confident and stylish as you step out into the world.
Pin this article and share with friends: