Golf is a sport that requires both skill and style. While the focus is on the game, you may be wondering what type of clothing is appropriate for women.
You're not alone — there aren't any hard and fast rules when it comes to women's golf attire. That said, there are some guidelines that you can follow to stay comfortable and stylish while playing your best round. 
From choosing the right fabric and fit for maximum performance, to selecting colours and patterns that align with your personal style, here are some outfit ideas and tips on what women can wear to play golf so you can look and feel your best on the course.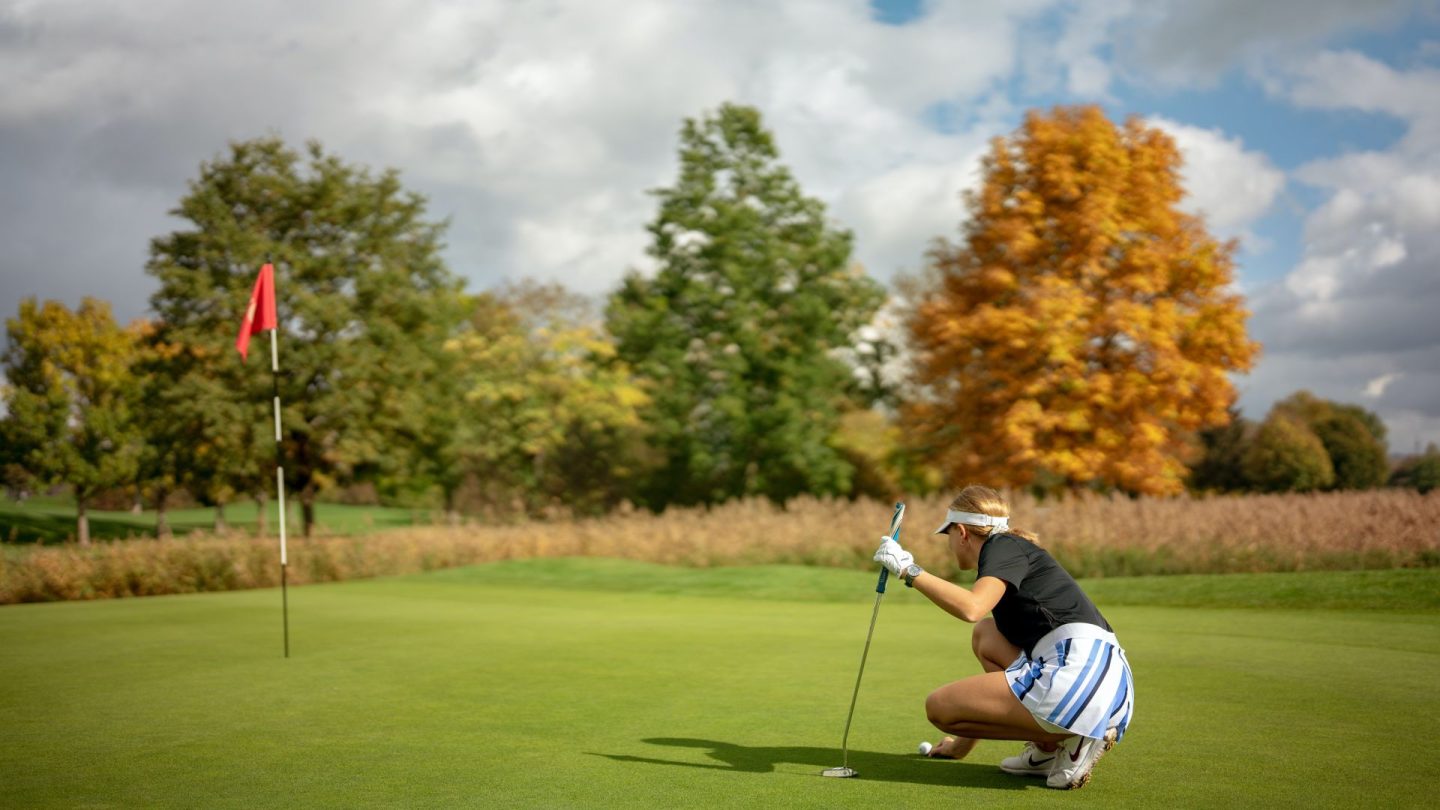 Tops
What do women wear to play golf in terms of tops? Well, there are a few things to consider. 
Comfort
Comfort is the main factor when choosing a top. The ideal piece won't be too hot or too cold, will wick away sweat and won't restrict your movement. For example, collared, short-sleeved and long-sleeved shirts are all popular choices.
Many golfers also prefer to wear lightweight layers or vests with their golf tops for extra warmth when the weather is unpredictable.
Fabrics
Look for golf tops made out of fabrics that are breathable and comfortable, such as cotton, polyester and spandex blends.
You'll also want to look for quick-drying fabrics that won't cling when you sweat. Say it with me now "comfort is key to performing optimally"!
Fit
Tops that fit snugly without being too tight or too loose help you stay comfortable and won't restrict your range of motion while playing.
Design
When it comes to colours and patterns, the options are endless! From bright colours and bold prints to classic solids and stripes, there's something for every taste.
Pick a colour or pattern that you love to create a fashionable yet functional look that makes you feel fabulous on the course.
Having said that, remember that plain neutral hues (like black, white, grey, navy and beige) are more versatile and timeless. They offer mass style appeal for endless seasons to come.
Bottoms
What do women wear to play golf in terms of bottoms? The best option is typically a pair of golf trousers, or shorts if the weather is warmer.
However, it's best to avoid short shorts and opt for longer athletic shorts that will provide plenty of coverage while still allowing your legs to move freely.
Golf Trousers or Shorts
Golf bottoms are designed to provide plenty of freedom of movement while allowing you to look stylish on the course. 
You can choose between regular fit and slim fit styles depending on your preference and what looks best with your other pieces. 
Be sure to pick something that is made of a lightweight, breathable fabric to keep you cool and comfortable during your round. 
Skorts
Skorts are also becoming more popular amongst female golfers. They offer the comfort of shorts with the coverage of a skirt, making them perfect for a day on the course. 
You can choose between athletic skorts or dressier skorts, depending on the style you're going for.
No matter which bottom option you choose, make sure you try it on before buying to ensure the best fit and comfort level.
Jackets
A women's golf jacket can provide warmth, protection from the elements and help regulate body temperature during a round of golf.
Layering is generally a good idea when golfing so you can add or subtract a layer during unexpected weather changes. (Let's face it, this happens a lot in the UK!)
Here are a few things you should consider when choosing a golf jacket.
Material
The material of the jacket should be lightweight, stretchy and comfortable, while also providing warmth and protection from the elements. Materials like polyester, nylon, and spandex are commonly used in golf jackets.
Fit and Flexibility
A good fit is crucial when it comes to golf jackets. It should not be too tight or too loose, and provide enough room for layering.
The jacket should also be flexible enough to allow for a full range of motion during the swing. Look for jackets with stretchy materials or those designed with special features like stretch panels in key areas.
Breathability
Golf can be a physically demanding sport, so it's important to choose a jacket that is breathable to prevent overheating and moisture build-up.
Water Resistance
Golf is also played in varying weather conditions, so it's important to have a jacket that is water-resistant or waterproof to keep you dry and comfortable on rainy days.
Shoes
What do women wear to play golf in terms of shoes? Well, there are golf shoes available that are designed specifically with the female foot in mind. These provide arch support and cushioning while taking into account the shape of a woman's wider foot. 
Even so, many people feel comfortable just wearing their favourite pair of trainers for golf. It's whatever works for the individual.
Either way, there are several important factors to consider when picking out your golfing footwear.
Purpose
They are different types of shoes that are designed for the style of golf you prefer. 
If your course requires a lot of walking, shoes with extra cushioning and arch support can be a life-saver! 
If you have orthotics or special inserts, check that the shoe has enough room for them. 
If you drive a golf cart, you may prefer more traditional spikeless shoes with lightweight construction and good traction. 
Materials
In addition to the design, materials are important when selecting a pair of women's golf shoes. 
Look for waterproof or water-resistant options if playing on wet grass is common in your area. 
Leather is the most popular choice for upper shoe construction, but synthetic materials are becoming more common and offer more breathability than leather.
Design
Above all, select a style and colour that appeals to you. With so many varieties available, it's easier than ever to find something fashionable and comfortable. 
Features like lace-up or slip-on designs, extra cushioning and adjustable straps offer a personalised fit to enhance your performance further.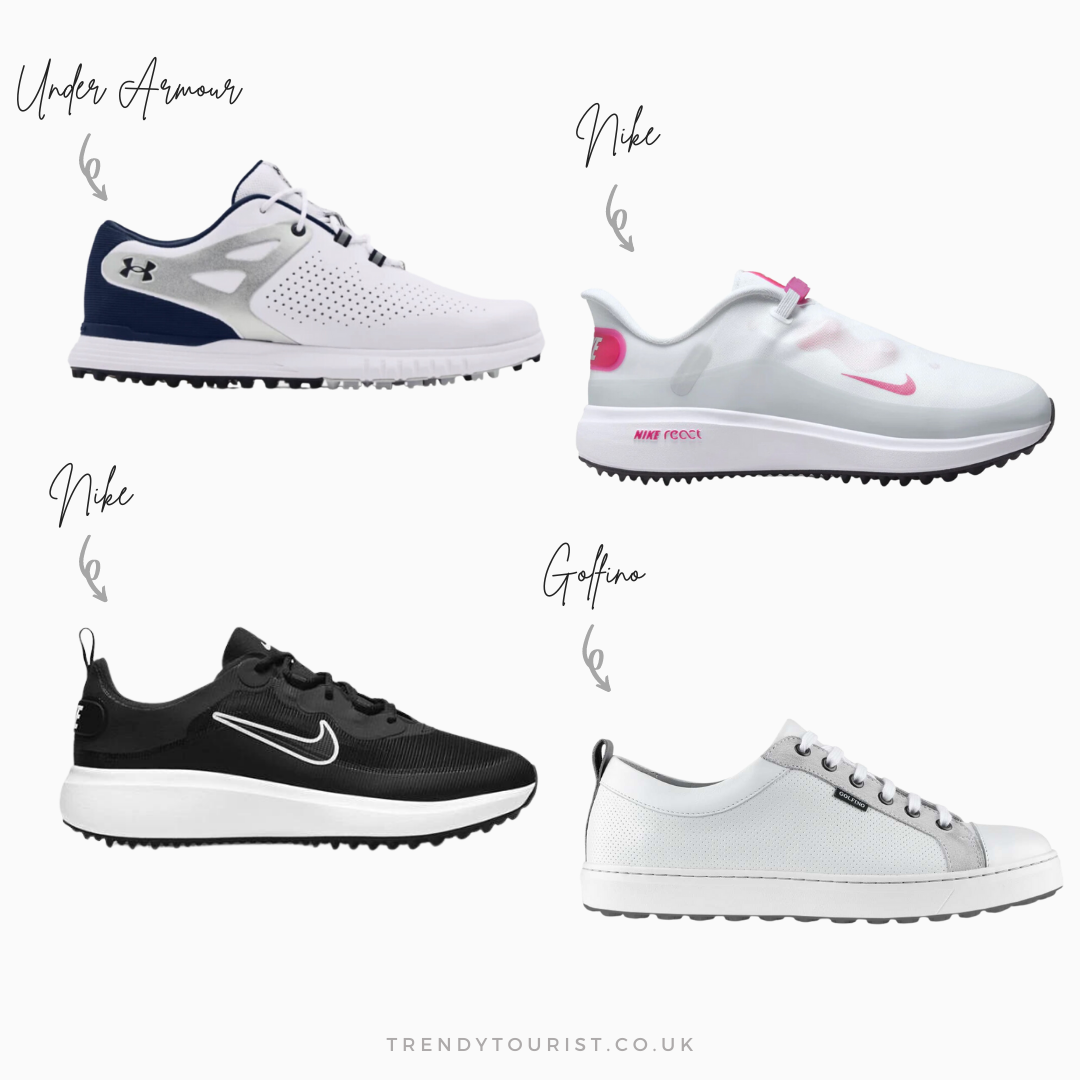 Accessories
An outfit isn't complete without a few well-chosen accessories! Golf accessories can not only improve how you play but also provide extra confidence on the course. 
Here are some of the most essential pieces for female golfers.
Golf Gloves
Golf gloves are essential for preventing blisters and ensuring good grip on the club. Look for a pair that fits snugly (but not too tightly) and is designed to be breathable. 
Golf Hats and Visors
A golf hat or visor is ideal for shading your face from the sun and adding a touch of effortless chic to your outfit. It helps to keep you cool and protect your eyes from harmful UV rays. 
Choose a breathable style with a wide brim and adjustable straps for the perfect fit. 
Golf Sunglasses
Like hats and visors, golf sunglasses help protect your eyes from pesky sun and also provide extra confidence when it comes to making those tricky shots. 
Look for styles with lenses offering 100% UV protection as well as light-filtering technology for brighter days on the course. 
Golf Bags
A good golf bag is essential for providing a safe and comfortable way to store your golf clubs and other accessories.
Try a light and durable option with plenty of storage compartments for separating your clothing, balls and more. This will make it quick and easy to find what you need with minimal fuss.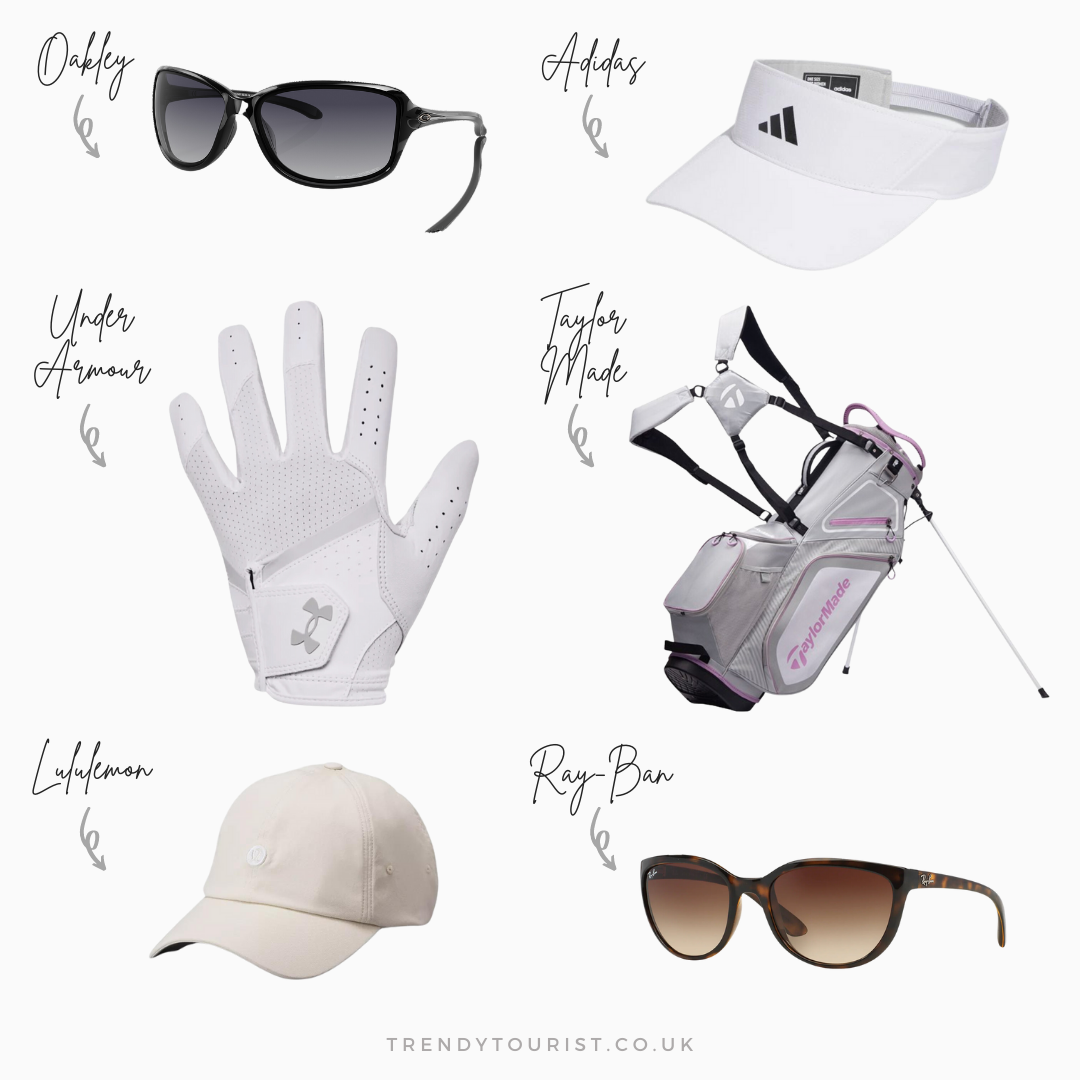 Final Thoughts on What Do Women Wear to Play Golf
Golf is a sport that requires comfortable clothing to stay focused and perform well, whether you're at home or away.
In terms of what do women wear to play golf, choose your outfit carefully. Consider your personal style as well as the weather conditions on the course.
Even if you're looking for something more trend-driven or traditional, there are plenty of options available to help you look your best while playing golf. And don't forget to bring along some extra layers in case it gets chilly during your round!
Pin this article and share with friends: