Disclaimer: this post contains affiliate links, which means I receive a small commission when you purchase the product at no extra cost to you! All affiliate links will be marked with an asterisk (*) and help us to run this site so we really appreciate your support. To read our full privacy policy, click here.
Just because gyms are finally open again (hello post-workout vending machine) it doesn't have to mean the end of outdoor exercise.
In fact, as the weather gets warmer and the evenings get longer, now is the perfect time to swap out spin class for some al fresco cycling. 
You'll need a totally different set of activewear for cycling outdoors. Not sure where to start or wondering whether clothing for cycling that's both fashionable and functional even exists?
Don't worry, we've got you covered.
Here's our ultimate guide for what to wear cycling featuring expert tips from Catherine Ellis, founder of cycling bag brand Hill & Ellis, and Catherine Bedford, founder of cycling helmet brand Dashel.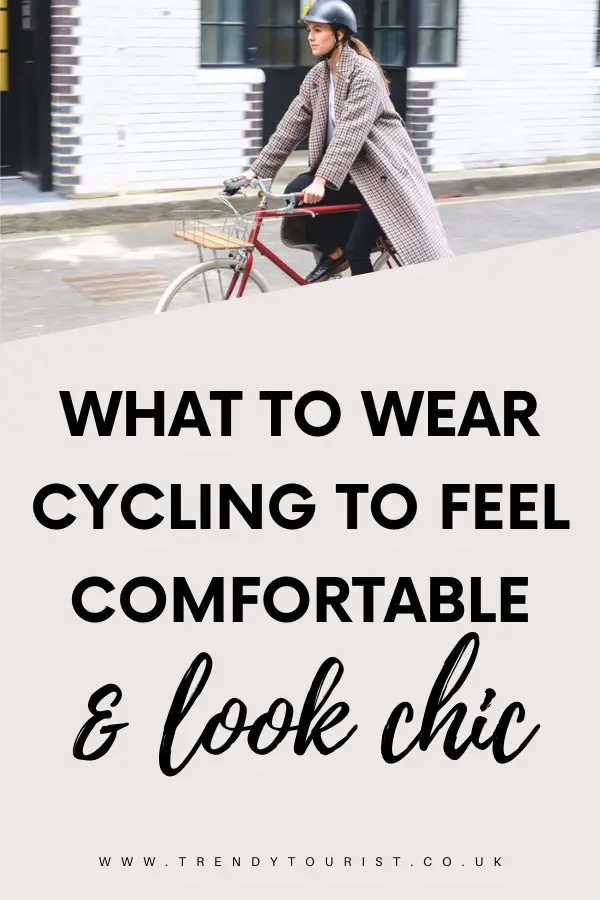 A Hard-Wearing Wind-Breaker Jacket
First up, anyone looking for what to wear cycling to strike the balance between comfort and style should add a hardy wind-breaker jacket to their wardrobe immediately.
Don't be fooled by the light weight of a wind-breaker. The high-quality thin fabrics will keep you warm and dry in wind, showers and cooler temperatures. 
Here are our top recommendations:
(*)
A Rain Poncho
According to Ellis, a poncho is an essential for cycling in rainy conditions (which let's face it, is a regular occurrence for us Brits even in the summer months!). 
Ponchos are super breathable and portable. They also actually offer better wind protection than traditional rain jackets, as they cover both your upper body and legs in a tent-like fashion.
For cycle-friendly unisex ponchos with a pop of colour, Ellis recommends looking at independent brand Otto London. She says: "These ponchos have lots of neat detailing for the cyclist and they can double up for the 2021 festival season."
Stretchy Leggings or Jeggings
So you've got your upper body sorted, now what about the bottom half? 
A pair of stretchy leggings or jeggings is a staple for any outdoor exercise. Both options provide support and comfort during rides, and also help compress your muscles and prevent uncomfortable chafing. (Thank goodness…)
With summer on the way, get ready by buying some good-quality, moisture-wicking cycling shorts. Here are some good places to look: 
H&M's Seamless Biker Shorts (*) are made from quick-drying fabric and are designed to maximise comfort and mobility.
Another great M&S basic, the Go Move Gym Shorts (*) are super supportive and also feature a hidden inner drawcord so you can find the perfect fit for you.
Or you can even go bare legged in the summer for total freedom!
(*)
An Attachable Cycling Bag
When it comes to finding a trusty attachable cycling bag, you need something lightweight yet big enough to safely store all your belongings. Step forward, the pannier. 
Unlike traditional backpacks, panniers are carried on the bike rather than on your body, meaning no post-ride aches and pains.
Featured in Vogue and Esquire, Hill & Ellis' range of stylish and durable British-made satchel panniers are the perfect companion for any fashionable cyclist.
Handmade using locally-sourced materials and quality leather, each bag also comes with a waterproof rain cover so you can use it whatever the weather.
Choose from striking colourways including racing green, navy and tan and chocolate brown. The bags can also be personalised with your initials embossed into the leather.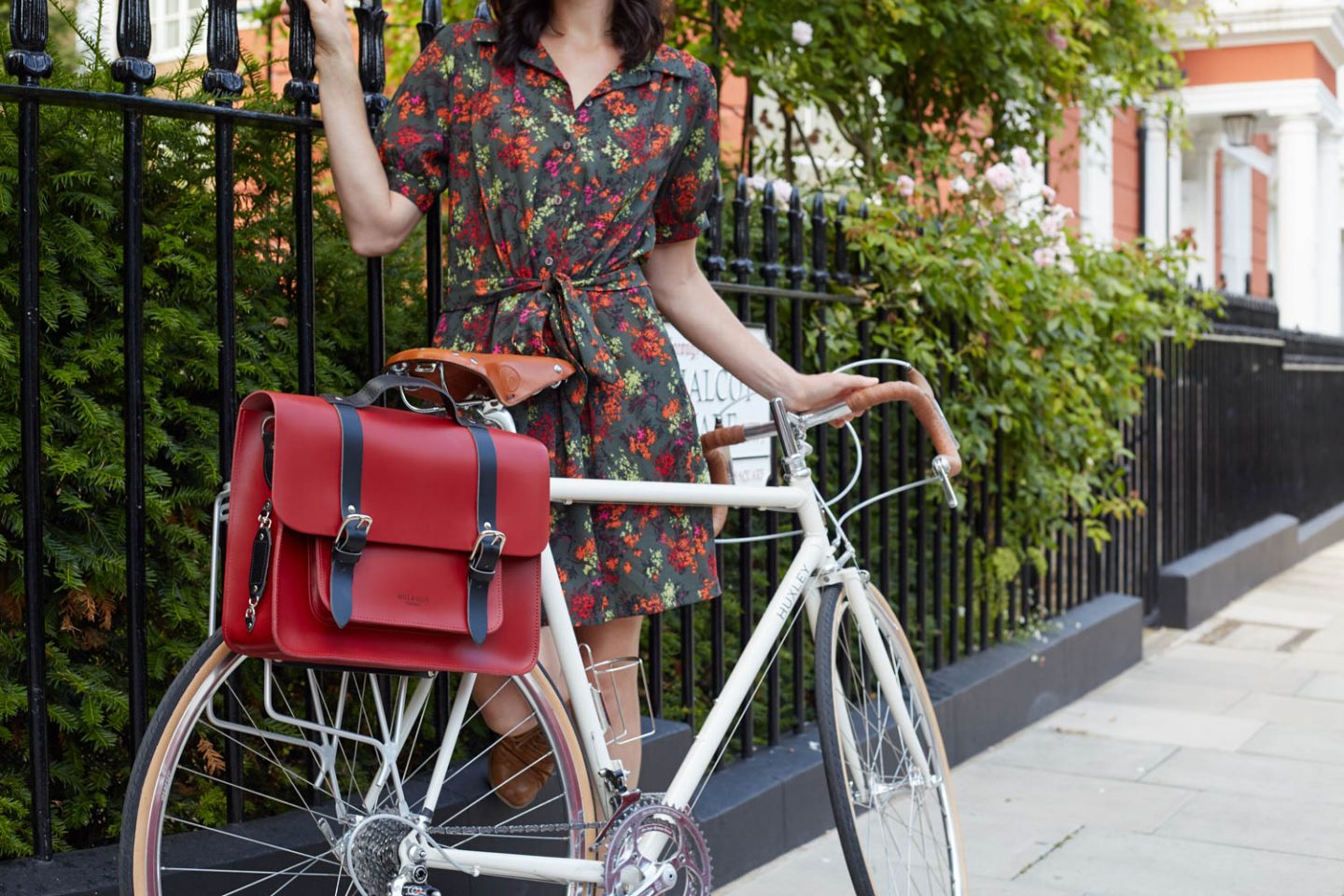 Appropriate Shoes
You can't talk about what to wear cycling without mentioning footwear!
To reduce your risk of injuries, it's so important to choose trainers or similar flat, sturdy shoes that keep your feet, knees and ankles properly aligned. 
For stylish and sturdy shoes you can wear from pedal to pavement, Ellis recommends Tracey Neuls' collection of reflective cycling shoes.
"They're crafted in reflective fabric that is a matt grey during the day and glows under lights at night. These shoes also have a rubber sole for comfort and better wear on the bike pedals," she says. "They are stylish and perfect for cycling… and clubbing when that time comes." Result.
A Practical Neck Warmer
A good neck warmer not only guards your neck, chin, nose and ears from adverse weather, but protects your lungs from the initial shock of freezing air when worn over your mouth.
Bedford explains: "Any clothes made from natural fabrics allow breathability when cycling and merino wool is prized by cyclists for its warmth."
For practical neck warmers in a wide range of stylish colours, Bedford likes Findra. This is a Scottish company that uses ethically sourced Australian merino wool. "Their neck warmers are more practical than a traditional scarf when cycling and have no seams for the ultimate in comfort," she says.
High-Vis Accessories
Wearing high-vis accessories helps you stay safe and visible when riding at night or on busy roads during the day. 
For something a little different to the usual high-vis bib, our experts recommend not-for-profit enterprise Glow and See's range of comfy knitted hats and neck warmers made from sustainable wool and reflective yarn. 
A Protective Cycling Helmet
The top priority for any new cyclist should be getting a good-quality helmet.
Dashel's new Re-Cycle helmet is perfect for any cyclist wondering what to wear cycling to look and feel great. Safe, lightweight and ventilated, the helmet is available in a range of attractive colourways. These include sage green, sky blue and classic black. 
Manufactured using recyclable materials wherever possible and sold inside a handy rucksack and no superfluous packaging, the Re-Cycle helmet is a more environmentally-conscious choice. 
Better yet, customers can even return their helmets to Dashel for recycling at the end of their life in exchange for money off their next purchase!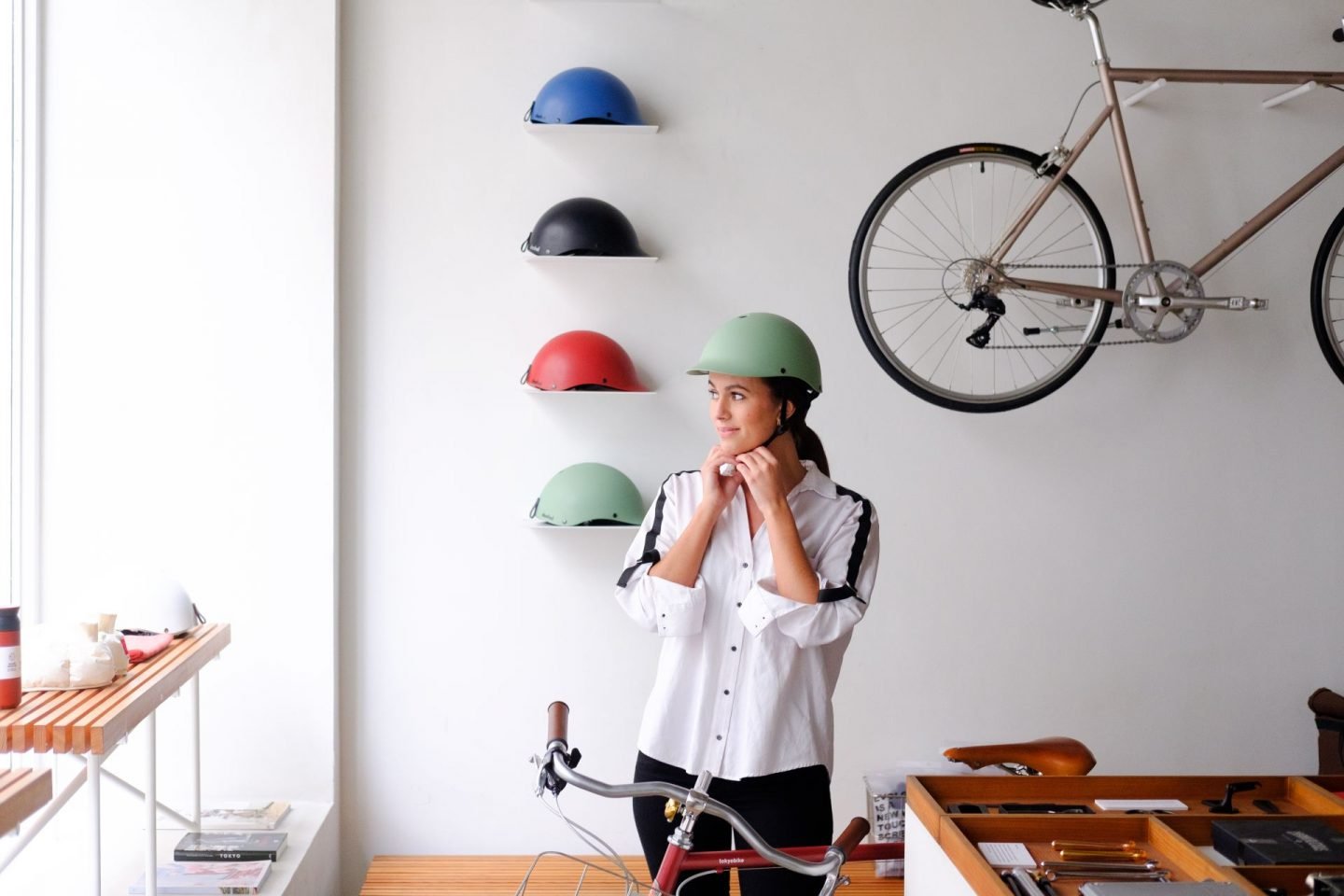 What to Wear Cycling For the Long-Term
Whether you're hoping to give cycling a go for the first time this summer or you're a keen cyclist already, choosing the right clothing is so important.
With these cycling essentials, you will feel safe, supported AND stylish while you work out.
"There has never been a better time to dust off your bike and get in the saddle," Ellis says. "And with such cool, fashionable cycle gear now available, you can look fabulous whatever the weather and wherever you're going."
Katie Davies is the Yorkshire-based freelance writer who founded Trendy Tourist. Since 2017, she has written for over 100 companies on a range of subjects, from fashion to marketing. When she's not producing content, you can find her shopping, exploring a new place or sitting somewhere having a cup of builder's tea.