Dressing for autumn's in-between temperatures can be tricky when you're staying local — never mind if you're about to travel to another city for multiple days.
After all, you have to consider the activities on your agenda and the weather forecast. It's easy to get it wrong, pack the wrong outfits and be stuck with a wardrobe that isn't suitable for the entirety of your trip. (I've been there.)
Not to mention, everything you want to take has to fit into one bag (or maybe two at the most), which can be a struggle with the bulky knitwear and outerwear you need to tackle the temperatures. Help!
If you're currently staring at your wardrobe wondering where on earth to start, don't worry. I'm here to help you build a super simple travel capsule that will serve you well for the short time that you're away.
What's In This Autumn Travel Capsule: Clothing
For the purpose of this autumn travel capsule wardrobe, I'm going to assume you're staying in a city for a few days maximum. I'm also going to assume that the temperatures are in the low teens (Celsius). Think: Paris, London, Edinburgh, etc at this time of year.
That said, in terms of what to pack for a city break in autumn, the quantities I would suggest are as follows:
The top and bottom pieces would make four outfits for four long days of shopping and sightseeing as follows:
Top 1 and bottom 1
Top 2 and bottom 1
Top 1 and bottom 2
Top 2 and bottom 2
You're likely going to need to wear the layer for practicality (as well as style appeal) for the entire time you're away.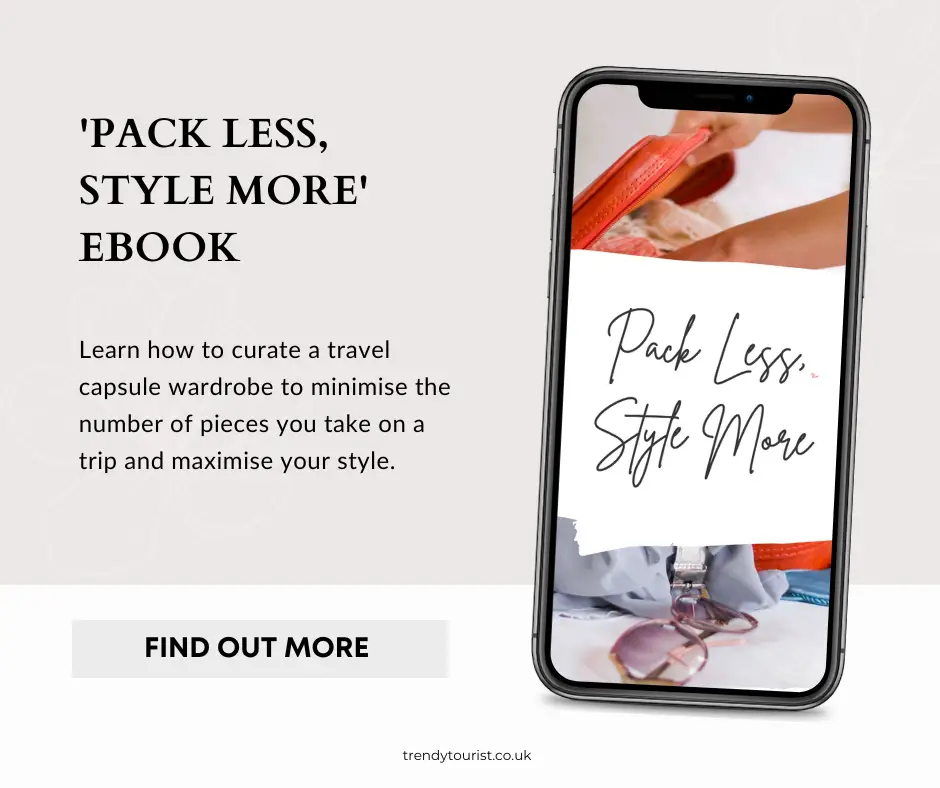 What's In This Autumn Travel Capsule: Shoes and Bags
To save packing space, you could take one pair of shoes and the same bag to wear with every outfit. Alternatively, you could take an extra pair of shoes with heels and one smaller, smarter bag if you plan on going for nice evening meals.
For the sake of this example, I'm going to assume that you plan to keep things pretty casual on your trip. Rather than heading back to your accommodation and getting changed for a fancy dinner in the afternoon, you're going to wear the same clothes all day long.
In other words, you need a pair of comfy trainers that will keep your feet warm and dry in cold or rainy weather but look slick for the city. In this case, I'd opt for the Converse All Star Hi Tops* in Sand Dune (or similar).
Bag-wise, try something like the Aspinal of London Pebble Leather Hobo Bag (or similar*) in Black. It's big enough to hold all your daytime essentials and can comfortably be worn on the shoulder, yet undeniably chic.
What to Pack for a City Break in Autumn: Clothing Pieces
Let me break down what to pack for a city break in autumn by each clothing piece. These suggestions are influenced by both AW22 trends and timeless wardrobe staples.
Ready? Let's go!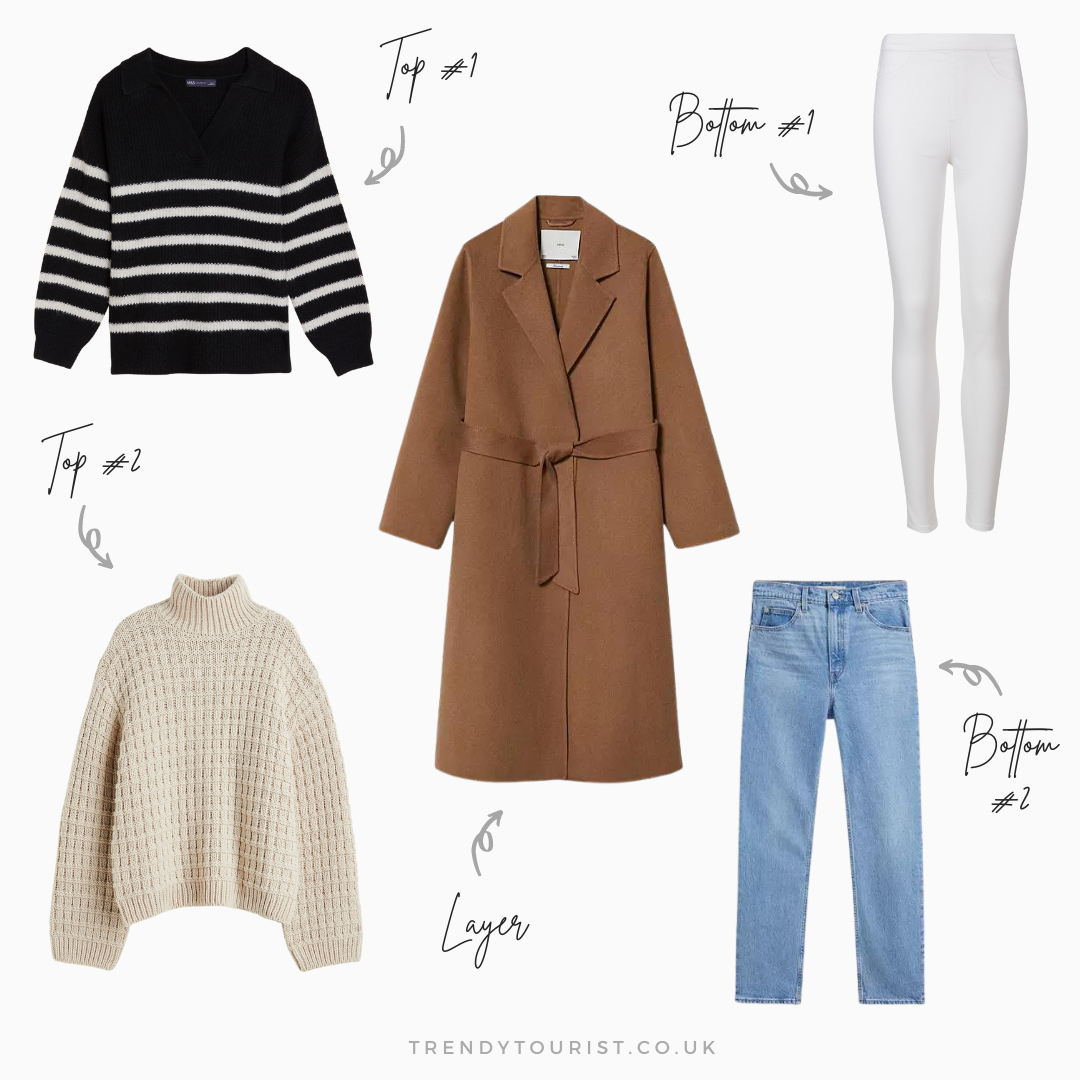 Top 1: Collared Jumper
Collared jumpers are all over the high street at the moment and I'm 100% here for it. I love how an extra little detail (the collar) can update a classic autumnal piece and make it more modern.
Stripes are also a super popular pattern, and you can't go wrong with an ageless black-and-white colour palette.
Example product: M&S Collared Jumper in Black Mix – sold out (similar*)
Top 2: Roll Neck Jumper
Roll neck jumpers are so snugly and great for keeping your neck warm, especially if they're of the oversized variety.
Choose a neutral hue, like beige, black, white, cream or grey, so you can easily mix and match this item with others in your travel capsule.
Example product: H&M Oversized Turtleneck Jumper in Light Beige – sold out (similar*)
Bottom 1: Jeggings or Leggings
Jeggings (or leggings) are one of my must-have travel fashion staples. They're so comfortable and stretchy, allowing movement without clinging too tightly to the body. 
I pretty much live in jeggings when I'm travelling — go for traditional blue denim or black for optimal versatility. Or, add a fresh, contemporary feel to your travel capsule with a white, ivory or cream hue.
Example product: M&S High Waisted Jeggings* in Soft White
Bottom 2: Jeans
Jeans are jeggings' thicker, sharper counterparts. But this comes at a price — they're not as comfy as they don't allow as much stretch. Even so, I do love to take them with me on city breaks.
I love high-waisted styles because they nip you in at the waist and create a stunning silhouette. You can also tuck in your tops and then pull out the fabric a little bit for that effortless yet flattering blogger-inspired look.
Example product: Levi 70s High Slim Straight Jeans* in Marin Park – sold out (similar*)
Layer: Coat
While a jacket could probably suffice for temps in their early teens, especially on top of knitwear, keep in mind that you'll be out in the elements all day long. The longer you spend outdoors, the colder your body will become — and you need to be careful. Hypothermia happens in extreme cases when your body temperature drops below 35 degrees Celsius.
That's why I'd recommend a long coat for exploring trips in autumn. I adore the camel and caramel colours that are currently in fashion, but you could also pick another neutral that will complement the rest of your capsule.
Example product: Mango Tailored Coat in Brown – sold out (similar*)
What to Pack for a City Break in Autumn: Outfit Itinerary
Now for the fun part! Let's take the clothing pieces we've just discussed and curate them into outfits that will keep you looking cute but feeling cosy for those brisk temperatures.
Here's my recommended outfit itinerary for each day that you're away.
Day 1
This ensemble is giving me Parisian vibes with a playful edge thanks to the Converse. (Anyone else?)
Day 2
Whoever said brown had to be boring? The different tones here add depth, while the jeans add an air of casual-cool to the aesthetic.
Day 3
Various fashion influences from around the world merge in this outfit with the striped top epitomising France, white bottoms screaming British, the coat and bag representing Italian craftsmanship and the Converse adding an American touch.
Day 4
This final look is very on-trend, using neutral separates to project cushy sophistication that will refresh your autumn wardrobe.
Other Things to Take on Your Autumn City Break
As well as the suggested clothing pieces, shoes and bags, don't forget any of your favourite accessories that will pack small, such as jewellery, belts and headbands.
Example products in the pictures above: H&M Silver Three-Strand Necklace (sold out – similar*) and Ralph Lauren Silver Hoop Earrings*
You're also going to need to take a bag or suitcase that is big enough to hold everything. The good thing about building a travel capsule wardrobe is that it minimises the number of items you take so you can maximise your bag space and your style.
Then there are the other travel essentials to think about like pyjamas, underwear, toiletries and electronics. If you need any further help, you know where I am!
Final Thoughts
Figuring out what to pack for a city break in autumn can be difficult, especially when the weather can be so hit or miss. The key is to take tops that can be layered with outerwear so you can easily remove or add a layer if you need to.
Another option is to take thermal clothing that you can wear on your top and bottoms to combat the chill.
Either way, taking the time to think through your travel capsule wardrobe ahead of the four days (max) that you're away is worth doing. It ensures that you pack the right items that will see you through your trip and take up as little bag space as possible. It also ensures that you will only wear pieces that you love while you're on holiday, boosting your confidence so you can feel just as amazing as you look.
Pin this article and share with friends: