Before we dive into this Wellington travel guide, here are some fun facts…
"Windy Welly" is the capital of New Zealand. It's situated near the North Island's southernmost point. And in addition to its strong gales, it has an impressive waterfront, quaint bays and golden beaches.
I know this because I was lucky enough to live in the city centre for six months in 2019.
In fact, from the friendliness of the locals to its indescribable beauty, there are many reasons why you should also visit "the coolest little capital in the world." (Especially if you're a Lord of the Rings fan!)
How Do You Travel to Wellington?
Granted, Wellington isn't the easiest city to get to from the UK.
I mean, you'll probably have to take three flights — two of which are long haul.
You'll have to connect initially at either Doha, Dubai or Singapore, and connect again to Sydney, Melbourne or Auckland.
Then, and only then, can you go onwards to Wellington. 
That said, Singapore Airlines does offer a direct flight from Singapore to Wellington if you can afford this option instead.
Either way, I know it sounds like a lot of effort to get to Welly, but it really is worth it. I promise!
Where Should You Stay in Wellington?
Depending on your budget, there are many options when it comes to where you can stay in Wellington.
Hostels — Nomads, YHA and Base
Hotels — The Intercontinental, ibis, Quest Apartments and Sofitel
Airbnb — from studio apartments to five-bedroom houses, there are plenty of different types to choose from located in the CBD (Central Business District)
In terms of key areas, the CBD is going to be your best bet for ease of getting around.
That said, the surrounding suburbs of Oriental Bay, Te Aro, Mount Victoria and Thorndon still offer walking access to the CBD.
How Do You Get Around in Wellington?
How useless would a Wellington travel guide be without telling you how to get around?
The good news is that central Welly is very walkable. However, you can also opt for one of the following modes of transport:
Uber — very affordable to and from the CBD, convenient and reliable
Car rental — Apex and Go Rentals are the most popular companies, but another affordable option is Omega Rentals
Bus — the various routes will take you all around the greater Wellington area
Taxi — more expensive than Uber, but useful as a last resort
Mevo — this service offers car rental by the minute, hour or day for a trip to the supermarket, across town or a weekend away 
Another note on Mevo: this is such a unique and convenient service that my fiancé and I had never come across before.
Essentially, it works like this:
You download the Mevo app where you will be shown available vehicles in your area
You rent a vehicle — either a Volkswagen Polo or an Audi A3 e-tron — and pick it up using an electronic key on the Mevo app
You use the vehicle for as long as you want and then drop it off in a Mevo zone around the city and lock it using the electronic key on the Mevo app
Prices start at 60 cents per minute, 15 dollars per hour or 75 dollars per day.  Included in this price is 200km per day, but it will then cost you 25 cents per additional km.  The fuel and insurance is also included in the pricing.
How handy is that?
What is There to Do in Wellington?
Well, how much time do you have? 
I'm asking because you could easily fill 10 days with Wellington activities.
However, most people spend a good 5-7 days in the Windy City and manage to have a fun, action-packed itinerary during this time.
Either way, make sure you tick off the following items on your Wellington to-do list.
1. Ride the Wellington Cable Car
Unlike any other New Zealand city, Welly is home to the Wellington cable car, which originally opened for service in 1902.
This funicular railway goes between Lambton Quay (the city's main shopping street) and Kelburn (a suburb in the hills that overlooks the CBD).
Even though the total trip time is about five minutes one way, it's still an enjoyable thing to do for the interesting, illuminated ride and sublime views when you reach the top.
2. Visit Wellington Botanic Garden
Another reason why you should ride the city's cable car is that the journey from Lambton Quay ends at the top of the Wellington Botanic Garden.
Situated on the side of the hill between Thorndon and Kelburn and covering 25 hectares of land, this garden is super pleasant to walk through thanks to its abundance of different plants, flowers and trees.
And it's also home to Space Place at Carter Observatory, the original astronomical observatory in New Zealand.
Pretty cool, right?
3. Walk Around the Harbour and Down Oriental Parade
From the rich blues of the sea to the greenery of the hills, Wellington is a hybrid of captivating colours. 
This is especially obvious when you walk around the harbour front that features shops, cafes and restaurants, as well as stunning views of Welly.
Make sure you also venture down Oriental Parade until you reach Oriental Bay Beach.
In addition to being able to see the colourful houses on the hills up close, you can also marvel at the city's very own stunning sandy beach — just a ten minute walk from the central harbour.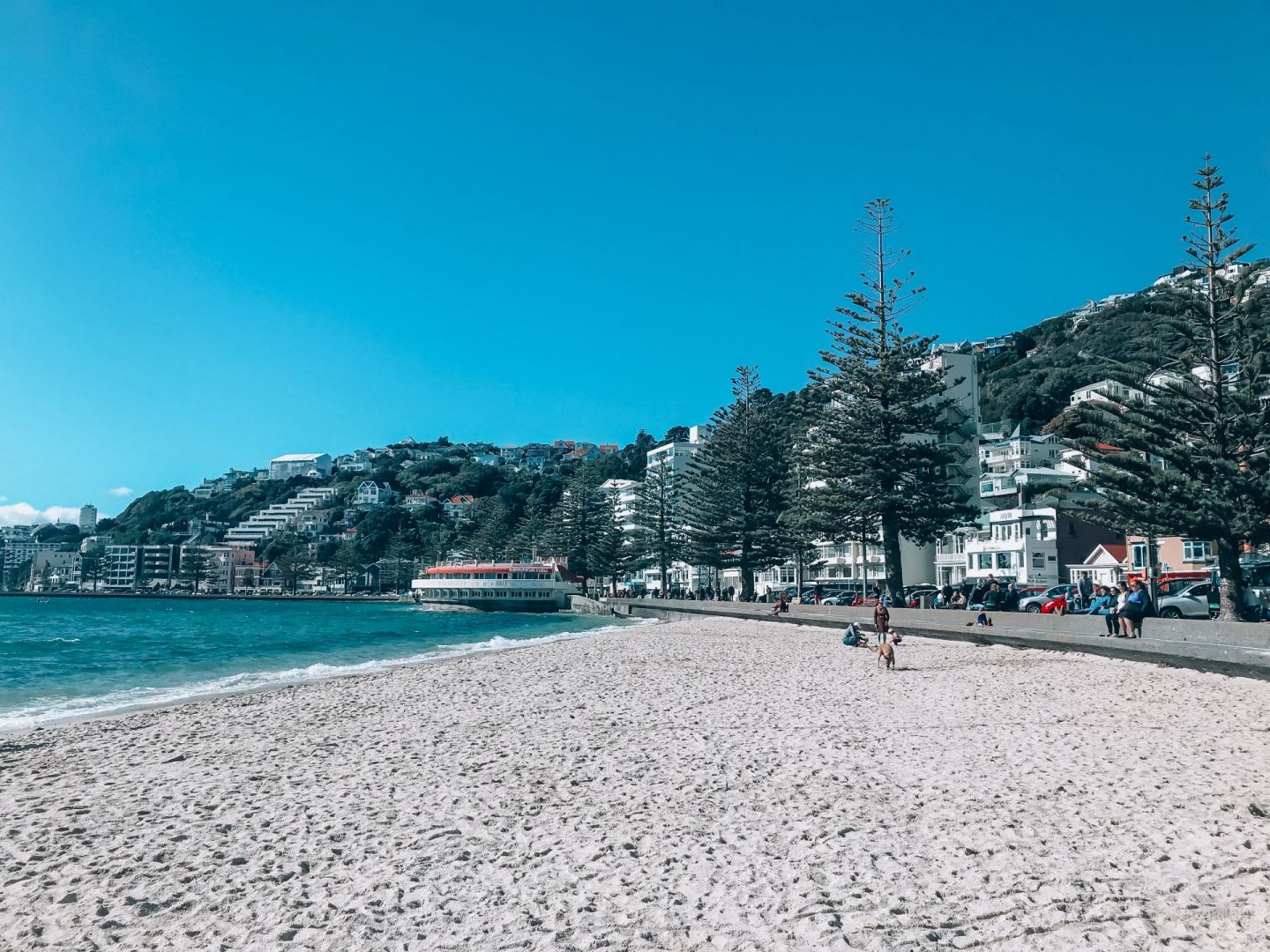 4. Visit the Mount Victoria Lookout and Brooklyn Viewpoint
You simply can't visit Wellington without seeing it from up high. You can do this by checking out the Mount Victoria Lookout point that's around a ten-minute drive from the CBD.
Alternatively, or if you have more time, you can venture to the Brooklyn viewpoint.
This is the highest point in Wellington that also has incredible views. 
And it holds a special place in my heart because it's where I got engaged on Christmas Day 2019!
5. Visit Te Papa Museum
Spanning six floors, the Museum of New Zealand Te Papa Tongarewa is the country's national museum.
Known simply as Te Papa or "Our Place," there is so much amazing art, wonderful artefacts and enthralling exhibitions to check out.
In fact, you might just find yourself spending a whole day there!
6. Go to Wellington Zoo
Located in Newtown just outside the CBD, Wellington Zoo features a variety of animals that you can see and sometimes even touch!
And it also has a cracking view of the city.
7. Walk Up Cuba Street
Cuba Street is one of the most prominent streets in Wellington CBD, mostly because it has a unique and distinctive bohemian feel.
As well as vintage shops and independent stores, you'll also find cute cafes, pubs and restaurants galore.
8. Shop Until You Drop at Lambton Quay
Speaking of shopping, the street of Lambton Quay is home to some of New Zealand's most-loved high street chains and department stores.
In fact, you could easily spend half a day getting lost in some much-needed retail therapy.
9. Visit Zealandia
If you enjoy the great outdoors, spotting wildlife and hiking the day away, you must visit Zealandia.
For those of you who might not know, Zealandia is the world's first fully-fenced eco-sanctuary. It's a 500+ acre conservation project that has reintroduced 18 species of wildlife back into the area, some of which were absent from mainland New Zealand for 100+ years.
And it's amazing how this mostly untouched piece of land is plonked right in the middle of Wellington's CBD!
10. Rent a Car and Drive Around the Bays
Newsflash: Windy Welly is wondrous (if you haven't already realised that from this Wellington travel guide).
That said, outer Wellington is just as awe-inspiring.
If you get the opportunity, be sure to rent a car and drive around its many bays, from Oriental Bay all the way around to Red Rocks.
And, on the way, stop off at these charming little villages with compact yet picturesque beaches:
Shelly Bay
Scorching Bay
Lyall Bay
Island Bay
Owhiro Bay
Trust me, you won't regret it.
11. Check Out the Government Buildings
Situated a five-minute walk from Lambton Quay in Pipitea on the way to Thorndon are the New Zealand parliament buildings.
Made up of the Parliamentary Library, Parliament House and the Beehive, you can wander around them yourself or go one of the free, daily, one-hour guided tours.
Either way, these buildings are sure to impress.
12. Visit the Lord of the Rings Hotspots
One of the things I love most about New Zealand that I had to include in this Wellington travel guide? It's that you're essentially stepping into middle earth. 
There are various things dotted around the country that will satisfy even the biggest Lord of the Rings fans, particularly "Wellywood".
Wellington earned this nickname because it's home to the following:
Weta Cave in Miramar, where props were made for the trilogy
Hobbit Hideaway, the filming location on the Mount Victoria Summit where the hobbits hid from a Black Rider in the Fellowship of the Ring
Stone Street Studios in Miramar, where Peter Jackson and his team completed post-production on each film of the trilogy
If you don't have access to transportation and you'd rather let someone else do all the hard work when it comes to driving you around the hotspots, not to worry — there are many Wellington-based Lord of the Rings guided tours.
Bottom Line: Is Wellington Worth Visiting?
Is the grass green? Does the earth rotate on its axis? Is the sky blue?
In other words, heck yes, Wellington is worth visiting.
In fact, you'll probably fall in love with it as much as I did.
And let me tell you, if you spend a good amount of time there, eat well and cover off the best things to see and do, it's a love affair that will last a lifetime.
Have you been to Windy Welly before? Did you enjoy this Wellington travel guide?
Katie Davies is the Yorkshire-based freelance writer who founded Trendy Tourist. Since 2017, she has written for over 100 companies on a range of subjects, from fashion to marketing. When she's not producing content, you can find her shopping, exploring a new place or sitting somewhere having a cup of builder's tea.