Disclaimer: this post contains affiliate links, which means I receive a small commission when you purchase the product at no extra cost to you! All affiliate links will be marked with an asterisk (*) and help us to run this site so we really appreciate your support. To read our full privacy policy, click here.
Streetwear is still tipped to be a big trend in 2021. And it's no surprise seen as though most of us have recently been living in joggers for our socially-distanced walks and trips to the supermarket.
But in the aftermath of the (still ongoing) year of working from home, lockdowns and self-isolating, how can we make streetwear feel different to our daily uniform of a hoodie and sweats?
Step forward: the humble trainer. 
The perfect mix of style and stability, 2021's trainers are a million miles away from those dodgy two-stripes you wore for PE in year 9. Here are our top picks for the best fashion trainers for women right now.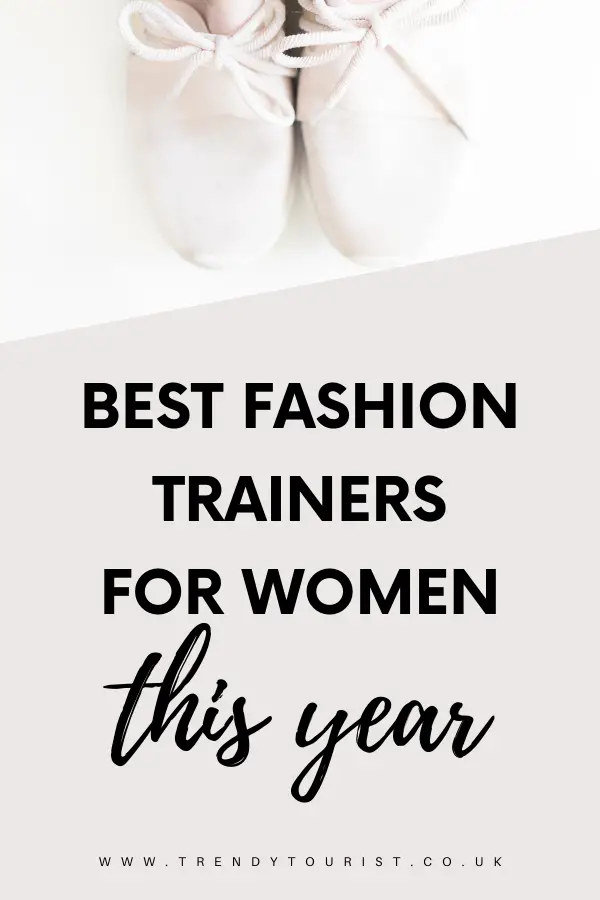 1. The Throwback
Hot on the heels (see what we did there?) of the athleisure trend that's still going strong, tennis shoes and low sneakers are making a comeback this year, taking inspiration from 1970s track shoes.
The seventies are having a bit of a moment throughout fashion right now, and this is reflected in the footwear we're seeing out there.
And that's fine by us – we're completely here for it!
Reebok Classics (*)
2. The Sporty Ones
A "sporty trainer" might sound like a misnomer, but those chunky, athletic trainers that you'd actually wear to the gym are still going strong in 2021. 
Born from Balenciaga, this practical style is perfect for multi-tasking, running errands or exercising. If your budget for the best fashion trainers for women in 2021 doesn't quite stretch that far, you're in luck as you can pick this style up from your favourite sportswear brand.
Wear these trainers with whatever you like – workwear, dresses or actual sportswear.
Nike Air Max (*)
3. High Tops
This basketball-inspired footwear is perfect for pairing with skirts and dresses for a relaxed, casual style. We predict high-tops are going to be a big hit this Spring/Summer. 
Candy-coloured pastels were seen on the catwalks for lots of Resort 2021 collections and coloured trainers are earmarked as an upcoming trend. Therefore, why not bring all three together for the ultimate dose of summer shoe fun?
Vans Soft Leather Sk8-Hi Tapered Shoes (*)
4. Designer Collabs
Stella, Gucci, Victoria Beckham; all of these designers are collaborating with sportswear brands this year in a trend that's been growing for a while. 
We're looking forward to seeing who else might be bringing out some more affordable branded sneakers that might just be the best fashion trainers for women in 2021 too! 
While they still aren't the most budget-friendly option for footwear, it's a great way to snap up a designer for less than the main line.
Adidas by Stella McCartney Treino Shoes (*)
5. Retro Canvas
If you've been living in TOMS, Converse and VANS this whole time anyway, you're going to love this next trainer.
Retro canvas versions are officially in style in 2021. They're easy to wear, comfortable and go with pretty much anything. So what's not to like (except when someone steps on them)? 
This move back to canvas footwear fits with the seventies trend that's looking like it might just dominate 2021. Pair your canvas with flared jeans or trousers and a sheepskin coat for a real seventies vibe that's right on trend.
New Look White Canvas Plain Lace Up Trainers (*)
6. Sports Luxe
Last year saw brands like Alexander McQueen, Stella McCartney and Saint Laurent bring out simple, minimalist styles of (generally) the white trainer. They might have had an understated logo, or feature a monochrome design, but they weren't too flashy.
The shape varied from brand to brand, but they definitely existed in the same fashion family. This simple, pared-back trend looks like it's continuing in 2021. 
Wear with denim and fitted jumpers – another key trend for 2021 – for an easygoing, casual look.
7. Texture
Different textures on your trainer is going to be big this year.
Whether it's mesh, metallic, teddy-bear, wool, corduroy or even Gore-Tex, we're seeing more and more women's trainers that have way more going on than just leather. 
Take extra care with these to keep them looking fresh, and maybe let your trainers do the talking when it comes to styling.
8. A Splash of Colour
We alluded to this when we talked about high-tops earlier, but you definitely don't have to stick with basic black or white trainers in 2021. Pops of colour and colour-blocked trainers are in. 
If you're not someone who tends to incorporate a whole lot of colour into your wardrobe, then adding a splash of colour with your footwear is a great way to do this and be on trend. 
We definitely like. 
9. Noughties Style
Canvas belts and baggy jeans made an appearance from the noughties last year.
It looks like we're slowly moving away from the nineties fashion nostalgia that's dominated in recent years and taking it forward a decade. The noughties are back with trainers too. 
As a result, Nike Shox and mesh styles are on their way back in as we hit the 2020s. Who said fashion runs on a twenty-year cycle again?
Nike Shox Enigma (*)
10. Tech Trainers
There's a surprising amount of tech that goes into trainers. Or maybe not, when you consider their roots in sport rather than fashion.
As sportswear brands look to innovate and improve their performance footwear, we get great performance shoes with techy additions far more advanced than your old LA Gears.
3D printing is starting to be available, as are self-lacing additions. We're really interested to see how this progresses in 2021!
Nike Adapt BB-2 Basketball Shoe (*)
Best Fashion Trainers for Women With All Tastes 
In short, trainers are here to stay in 2021 but they definitely don't need to be basic. 
Play with textures, colour, styles and retro flavours to match with your personal style.
Fashion and comfort don't always go hand-in-hand but we're loving the move towards streetwear and casual styles that's being reflected in our footwear too.
Lucy Thorpe is a freelance writer and marketer from the UK. She specialises in writing about beauty, fashion and lifestyle (with a bit of marketing thrown in for good measure). In her spare time you can find her reading, cooking or heading off to explore nature from her home at the edge of the Peak District.