Cancun: a Mexican city bordering the Caribbean Sea that's renowned for its beautiful beaches, bustling nightlife and luxury resorts. (And it's also a popular destination for American college students during the infamous spring break period.)
Whether you've been once or several times, there's always a new hotel, bar or restaurant to check out. Not to mention, the local people are so warm and friendly.
That said, having recently visited for the second time, here are the top things to do in Cancun that never get old.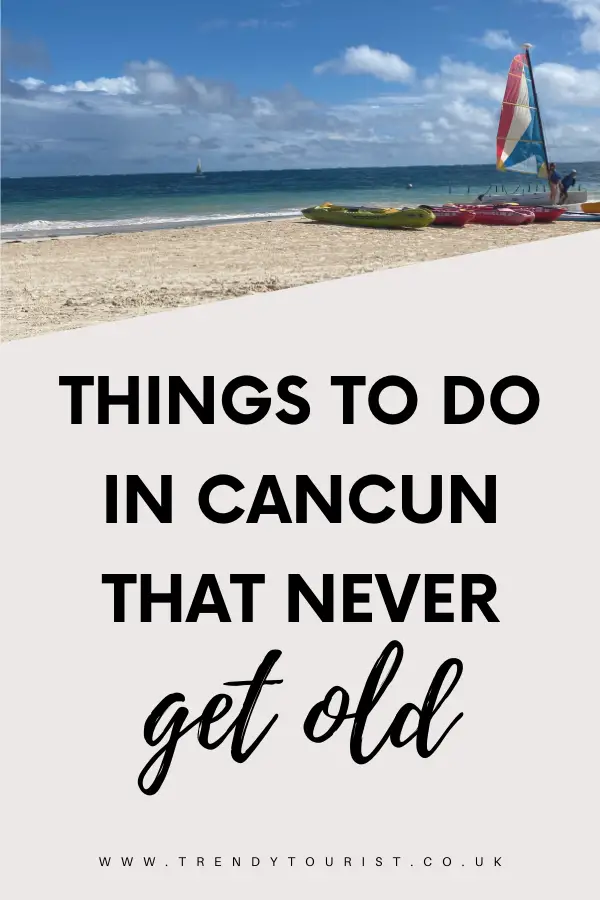 How to Get to Cancun
First things first, getting to Cancun from the UK is relatively straightforward in normal times.
You can usually grab a direct flight regularly with TUI Airways from London, Manchester and Birmingham all year round.
Seasonally, you can also fly there from Bristol, Sheffield, Edinburgh, Glasgow, and Newcastle.
How to Get Around Cancun
Once you're in Cancun, most of your time will probably be spent in your resort or the touristy Hotel Zone, otherwise known as "Zona Hotelera."
Some of the hotels are rather spaced out, but you can easily get around using one of the below transportation methods.
Airport Shuttles: These can be booked in advance or easily found by following the transportation signs. It's around a 25-minute drive to the Hotel Zone and you can expect to pay US$40-50 for one-way trip.
Taxis: These can be found in abundance in the city if you wish to travel to downtown Cancun. (Note that Uber isn't widely used because of the taxi unions in Mexico.) However, keep in mind that taxis don't run a metered service and you have to negotiate a price at start of a trip.
Buses: These run from the Hotel Zone to downtown and prices start at $0.70 for one-way trip.
Where to Stay in Cancun
Wondering where to stay during your time in Cancun? Lucky for you, there are various options:
Zona Hotelera, which is lined with beaches, restaurants and shopping. Therefore, this is the most popular area for holidaymakers to stay by far.
Downtown, which is perfect for those who want to be close to the beaches but have a bit more variety. (Let's be honest though, who goes to Cancun and doesn't want to stay near the beach?)
Then there are a couple of areas close to Cancun worth considering:
Puerto Morelos, which is further south down the coast from Cancun and about 15-20 minutes' drive from the airport and much quieter.
Playa del Carmen, where the beaches are just as pretty with slightly fewer crowds.  Given that you'll get more young adults in Cancun compared to Playa del Carmen, it's a bit more family friendly.
Cozumel, which is an island off the coast near Playa del Carmen (about 100 km south of Cancun). It has gorgeous beaches, good night vibes and is rich in Mayan culture. It's also an ideal area for divers and nature lovers.
The choice is yours!
Top Things to Do in Cancun
If you've never been to this Mexican city before, I've got you covered with the best things to do in Cancun.
1. Lounge Around on the Beach
Things to do in Cancun 101: head to Chac Mool Beach in the Zona Hotelera region.
Why? Well, I've never seen the colours so vibrant on a beach before in my life! The water is just so blue. 
The beaches are also lovely a bit further down the coast as if you're heading to Puerto Morelos or Playa del Carmen. Just don't forget your suncream because the temperatures can easily reach 30 degrees Celsius in the winter and 35 degrees Celsius in the winter (coupled with high humidity).
2. Go to Coco Bongos
In non-pandemic times, Cancun has an exciting nightlife with the ultimate highlight being the Coco Bongos club.
You mean, there's a place on earth that's a cross between a nightclub and a theatre show where you can dance on tables and play with balloons? Sold.
Seriously, even if you don't do anything else while you're in Cancun, go to Coco Bongos. You can buy your ticket ahead of time which includes entry and all of your drinks – and it's honestly one of the best nights out I've ever had!
3. Walk Around Punta Cancun
Coco Bongos is situated in a touristy area called Punta Cancun where you can find plenty of bars, restaurants and even a McDonald's. There's also a shopping mall should you feel the urge to grab a bargain or two.
This neighbourhood is great to have a leisurely walk around (as and when you can stand the heat, of course).
In fact, sunset can be the perfect time to explore given that the temperatures start to cool down and the sky offers up stunning views.
4. Eat!
Another of the top things to do in Cancun is eat out at one of their many restaurants. The food is as cheap as chips and it's seriously better than you can ever imagine.
I wasn't sure what to expect with how much things would cost in Cancun but I was pleasantly surprised. The exchange rate from pounds to pesos is better than dollars to pesos at the moment so I found that the local food was less expensive than I imagined (which meant that I could have more of it!). #Winning
Before I visited Cancun for the first time in 2016, I'd always wanted to have an authentic Mexican meal as I'm a big lover of fajitas, quesadillas and enchiladas. And trust me, the food was just as good (if not better) this time around!
5. Drink!
Along with stuffing your face with delicious Mexican cuisine, don't forget to have an authentic Margarita on your trip.
Quick disclaimer: the tequila will be strong and you'll have to be careful if you have more than one, but it's got to be done. When in Mexico, right?
Not to mention, holidays are ultimately for relaxing and having fun!
6. Visit the Mayan Ruins
Cancun isn't just praised for its beaches and partying. Thanks to the Maya civilisation and logo-syllabic script that became the most sophisticated and highly-developed writing system in pre-Columbian Americas, it's rich in culture.
There are many famous Mayan ruins in Mexico. However, Chichen Itza (and the notable El Castillo pyramid) is a common day trip for travellers staying in Cancun.
And did you know that it's one of the New Seven Wonders of the World? Seriously cool.
7. Stay in an All-Inclusive Resort
Lastly, it's possible to stay in a budget hotel and still marvel in all that Cancun has to offer. That said, if you can afford it, opt to stay in one of the city's highly-praised all-inclusive resorts instead.
In essence, because the cost of living is lower in Mexico than the UK, you can get extremely good value for money with your accommodation. In other words, you can stay somewhere fancier than you would have been able to in your home country (for the same price!).
As someone who stayed in a budget hotel during her first trip and then an all-inclusive during her second trip, I'm telling you that it's worth doing for the incredible standard of service, facilities and food you get. I'd happily do it again!
Keeping Safe and Living it Up in This Mexican City
With so many fun things to do in Cancun on offer, let's face it, it'd be very difficult not to enjoy your trip.
Keep in mind that crime can be an issue if you stray too far from the touristy areas. Having said that, due to Cancun's limited access (it has one entrance and one exit) and heavy security, it's generally considered safe.
Personally, I've made some memories there that I'll never forget.
Have you been to Cancun before? What are the top things to do in Cancun, would you say?
Katie Davies is the Yorkshire-based freelance writer who founded Trendy Tourist. Since 2017, she has written for over 100 companies on a range of subjects, from fashion to marketing. When she's not producing content, you can find her shopping, exploring a new place or sitting somewhere having a cup of builder's tea.