AW18 Fashion Trends You'll Fall In Love With
September 12, 2018
A fair few AW18 fashion trends might have already trickled their way onto the UK high street, but they'll likely be coming in thicker and faster within the coming days. 
After all, the weather is starting to get colder, which means we're starting to push summery pieces to the back of our wardrobes and embrace knitwear with open arms.
Are you already tired of transitional dressing? Ready to jump in at the deep end when it comes a new season of clothes? Want to know the key AW18 fashion trends that we're all going to be wearing soon?
If so, not to worry – I've got you covered. Just keep reading!
Heritage Checks
AW18 fashion trends 101: it's finally acceptable to dress like we belong in the cast of Clueless. 
(90's kids, rejoice!)
Whether it was plaid, Prince of Wales or tartan, heritage checks were all over the AW18 catwalks like a rash that you simply can't get rid of. 
If you're feeling brave, why not go head-to-toe tartan a la Emilia Wickstead? Alternatively, if you prefer something more understated, take inspiration from Erdem or Gucci and inject some checks into your outfit through a tailored blazer or tunic-length pea coat.
Either way, keep in mind that it's hip to be square this season.
Stripes Galore
Perhaps the most unoriginal of the AW18 fashion trends, stripes are sticking around following SS18. 
But you know what? That's A-OK by me, as I love good striped top.
In fact, I've already invested in several snuggly knitted jumpers with stripes to take me through Autumn/Winter, taking inspiration from Alexander McQueen and Louis Vuitton.
Not usually a fan of stripes? No problem – horizontal variations make this trend super accessible for AW18.
That said, if you feel like making more of a style statement, consider vertical pinstripe overalls following in the footsteps of Calvin Klein.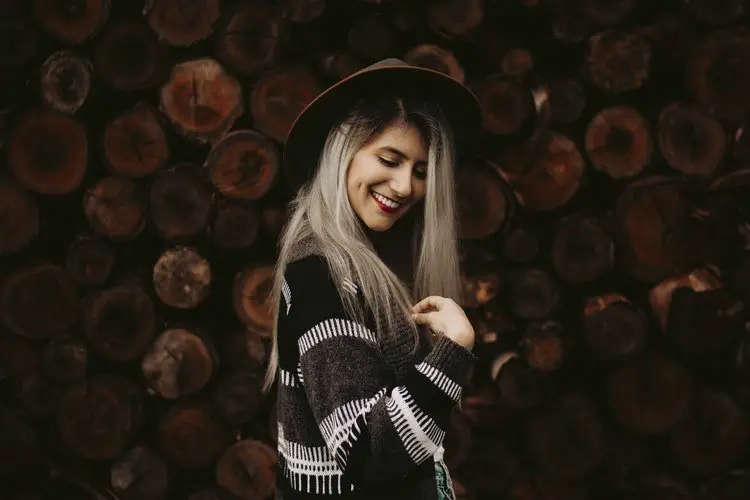 Wintry Hues
Along with AW18 fashion trends, there's a new season of colours for us to experiment with. Hurrah!
For example, mustard reigned supreme at shows like Valentino, where floor-length coats made the utmost impact. We also saw a lot of burnt orange through cute A-line skirts at Chloe and bold boiler suits at Calvin Klein. 
More of a tomato red person? You're in luck. Versace, Gucci, Simone Rocha and Valentino (to name a few) were all championing this captivating colour.
There was also an influx of emerald green via leather trench coats at Givenchy and jumpsuits at Missoni.
Oh, and let's not forget camel. This neutral shade is going to be huge for AW18, thanks to designers like Miu Miu and De Vincenzo.
In fact, this Brown Bobble Knit Cardigan from River Island is ideal for throwing on over high-waisted jeans and a graphic tee. It's just as cosy as it is sophisticated. 
And that's a combo I can get on board with.
Glossy and Glamorous
If you're not into "out-there" AW18 fashion trends then look away now.
This season, it's going to be acceptable to shine bright like a diamond through majestic metallics and glossy fabrics. Whether it's vinyl, latex, plastic, leather or sequins, the rule is: the glitzier, the better!
From two-piece silver suits at Balmain and Tom Ford to patent separates at Simone Rocha and Fendi, it's time to embrace your inner maximalist and put your best reflective foot forward.
Shine on, my friend!
1970s Bohemia
Newsflash: the 1970s is the decade that just keeps on giving on the style-sphere, and the AW18 fashion trends reflect this.
For instance, I absolutely loved the bell sleeve crop tops and flares that were present throughout Spring/Summer. Therefore, I'm really happy that these key pieces are getting re-vamped through different fabric choices for Autumn/Winter.
Thanks to Roksanda, Miu Miu and De Vincenzo for bringing the 70s back with a bang!
Animal Print Magic
From zebra print to leopard print to snake print alike, fashionistas worldwide seem to be going animal print crazy right now.
Why not take inspiration from Givenchy and wear a faux fur leopard print coat to keep you warm in the wintry months? Alternatively, rock a zebra print midi-length dress for a smart social event a la Halpern to stand out for all the right reasons.
Confession time: I'm slightly afraid of too much animal print. However, I can't resist these Snake Print Flared Trousers by PrettyLittleThing that seem to be all the rage at the moment.
Teamed with a long sleeved black vest top and strappy heels, this piece would be traffic-stopping for a family meal out or drinks with friends.
So, I think it's about time we all brought out our inner animal, am I right?
Smart Suiting
Finally, one of my favourite AW18 fashion trends is feminine suiting.
Whether you channel a co-ordinated two-piece a la Bottega Veneta or tailored silk pyjama separates inspired by Peter Pilotto, as long as you're suited and booted then you're doing this trend right!
Either way, suits when teamed with complimentary pieces can create a striking ensemble ideal for work or play. 
AW18 Fashion Trends for All
Whether you're an avid trend follower or prefer to mix and match different looks according to your personal style, make sure you at least experiment with various AW18 fashion trends.
After all, there's a perfect mix of serious and playful to satisfy the tastes of each and every fashionista.
Happy shopping!
(Please note that this post uses affiliate links, which help me to run this blog. For my full privacy policy, please click here.)
Last Updated on