One of the toughest decisions a self-professed travelista can make is what to wear to the airport.
Obviously, comfort and practicality for hours aboard a flying tin can is the main priority. But a trip away starts at the airport, so I don't blame you for wanting to make an effort with your outfit in preparation for those long-journey selfies.
Looking good goes hand in hand with feeling good, after all. And you deserve to feel your best on holiday so you can have the best time!
That said, here are 11 airport outfit ideas ideal for lounging around a plane or departure hall in style.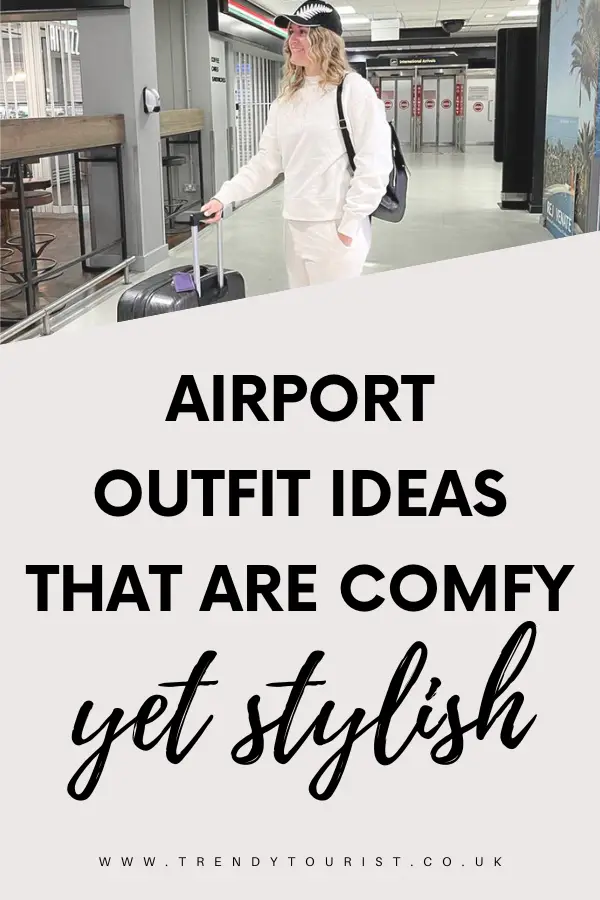 1. Sports Luxe
Airport outfit ideas 101: the sports-inspired look for an experienced long-haul jetsetter who wants to prioritise function over fashion. It's made up of an oversized sweatshirt, stretchy leggings and chunky trainers.
(Hello, loose-fitting fabrics that feel wonderfully soft on the skin!)
Add a utilitarian backpack with a cool cap for early morning starts or bedheads and you have a travelling aesthetic that attracts attention.
Product details:
2. On-Trend Travelista
Like to follow trends? Good news — this airport outfit idea features some SS22 key pieces influenced heavily by designer runways. For Spring/Summer 2022, I'm talking about the nineties-inspired bucket hat, iconic Marc Jacobs tote bag and collared co-ord, to be specific.
To complete this outfit, add suitable footwear for your final destination, whether it's flip-flops, sliders, heeled mules, platform sandals or simple trainers. Now, that's what I call playful yet contemporary chic.
Product details:
3. The Cosy Lounger
This is one of those airport outfit ideas ideal for those lengthy journeys when you just want to chill and nap — don't worry, an eye mask is included!
It consists of a sassy yet snuggly loungewear set, whether it's a hoodie and long joggers or a jumper and sweat-shorts. (Bonus style points if both pieces match.)
I'm currently loving tie-dye co-ords complete with a duffle bag and sliders, all of which you can throw on in a hurry for a 3am airport wake-up call. Winning.
Product details:
4. Biker Chick
This look is inspired by laid-back American fashion and fits the bill for short-haul flights to warm destinations without being overly fussy.
Given that oversized graphic t-shirts and bike shorts are all over social media right now, this combo has tons of style appeal, especially when teamed with a sporty cap, sharp trainers and a designer backpack. 
Did someone say effortless luxe?
Product details:
5. Jumpsuit Queen
There's nothing like a ribbed, stretchy, wide-legged jumpsuit to make you feel like you can breathe and move for an endless plane journey. The super flattering ones have a V-neck and waist-tie to define your silhouette for a fashion-forward look.
Team with on-trend Dad-esque sandals, a floppy tote and your trusty denim jacket for casual Spring/Summer airport style.
Product details:
6. Cute and Cool
Heading to a hot destination? An open blouse and short shorts combo will get you there while looking carelessly elegant in the process.
Put a fun crop top underneath for a stamp of nineties-inspired nostalgia. Add twist slide sandals and bold earrings for a polished finish.
Product details:
7. Modern Simplicity
Jeans-and-a-tee is a classic clothing uniform that never goes out of style. That said, make it airport-appropriate by swapping jeans for their comfier counterpart — jeggings — and choosing a longline white tee that will cover your butt. 
Throw on an oversized plaid shacket to combat the chill that comes with plane air-con.
High-top Converse complete this modern take on a timeless aesthetic, along with a slouchy shoulder bag and simple hooped earrings.
Product details:
8. Summertime Chic
For shorter-haul flights where you're likely to be sunbathing by the end of the day, it doesn't hurt to dress accordingly.
In this case, one of my fave airport outfit ideas is the comfy jersey maxi dress with a trendy button-up shirt that you can wear open if you need an extra layer. If you don't, simply tie it around your waist as you try to find your gate.
Pull this sun-worthy yet sophisticated ensemble together with thin-strapped sandals, a designer handbag and a statement hat. And prepare to turn heads.
Product details:
9. Y2K Baby
The noughties are making a huge comeback for SS22 so why shouldn't your airport outfit reflect that?
Nod to the era with a sleeveless racer-neck crop top, cargo trousers and combat boot ensemble. Add a skater-influenced handbag, sunglasses, and a gold chain to amp up the attitude.
Product details:
10. Work It Out
Recent world events have taught us that activewear doesn't just belong in a gym. Rocking your workout gear as part of your casual wardrobe is not only acceptable — it's encouraged for top performance any time you're on the go.
The same rules apply for an airport run. Try high-waisted gym leggings with a protective sports bra and a loose, open plaid shirt to tie it all together. 
Don't forget a duffle bag, sliders and a cap to stick with the theme. Bonus points if you opt for soft pastels or neutrals to produce a look that's just as pretty as it is practical.
Product details:
11. Sporty Femininity
Lastly, this airport clothing idea is perfect if it's a mad dash to leave the house. It consists of a sporty t-shirt dress with coordinating trainers and a denim jacket for a potentially breezy destination.
Add Birkenstocks for tired feet, oversized sunnies to hide bagged eyes and a crossbody for free hands. It couldn't possibly feel any easier to put this outfit together (or look any smoother!).
Product details:
Adopting These Airport Outfit Ideas
Sometimes long journeys or multiple flights call for function over fashion. Travelling can be stressful so it's important to feel as relaxed as possible as you make your way to your destination.
Hopefully, these airport outfit ideas have given you some much-needed inspo so you can start off your next trip stylishly. Just remember to adapt them based on the items you already have in your wardrobe, what's the most suitable for point A (and point B!) and your personal style.