Disclaimer: this post contains affiliate links, which means I receive a small commission when you purchase the product at no extra cost to you! All affiliate links will be marked with an asterisk (*) and help us to run this site so we really appreciate your support. To read our full privacy policy, click here.
There's a hot new accessory that's got everybody talking this Spring/Summer 2018. It's cute, it's sassy and it looks like a total dream with just about anything.
Step forward, straw bags.
Popular with even the least fashion-conscious crowd, straw bags have earned their style stripes through the abundance of bloggers and influencers rocking them from the very start of the season.
Whether you love 'em or hate 'em, you can't deny their current power in the fashion world.
If you're looking for one of these pieces of arm candy to call your own, don't sweat it – we've got you covered. Prepare to be amazed by the following influx of sexy straw bags.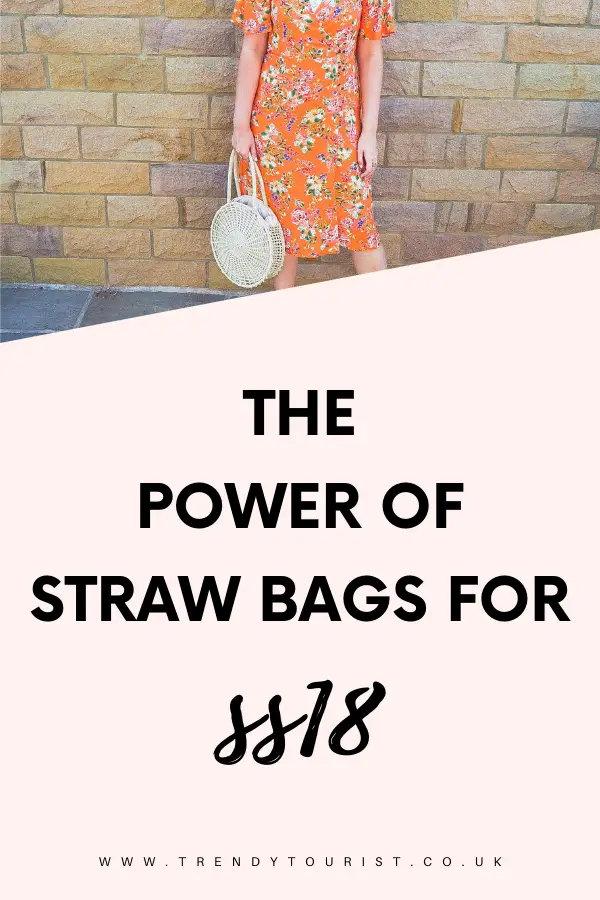 1. Circular
Topshop – £30 – similar here (*)
Firstly, the circular straw bag is perhaps the most popular shape at the moment. We've had our eye on this one for a while now.
Sure, we wouldn't usually pay £30 for a seasonal bag. However, it was love at first sight!
Plus, straw bags are an investment because you can guarantee that they'll make a comeback in future Spring/Summer seasons.
2. Black

ASOS (*) – £17
For those who prefer black straw as opposed to natural, rustic-looking straw, ASOS has got it right again with the wonder that is the Ellen & James Stella Handmade Black Straw Bag.
A cute honeypot shape with a crossbody strap, this straw bag serves as the perfect grab-and-go option for days where you're rushing to leave the house.
It also instantly dresses up your outfit for a well put-together, sharper look. We're obsessed.
3. Unique Detailing
Missguided (*) – £15.40
Lastly, if you want to make a serious style statement this season, opt for straw bags with unique detailing. Like, for instance, this Nude Pom Pom Tassle Shopper Bag by Missguided.
Ideal for summer holidays and prolonged days in the sun, this bag will take you from drab to fab in a heartbeat.
It's also big enough to fit in all your beach essentials. Win-win.
Use Straw Bags to Stand Out in Style
In summary, if you want to stay ahead of the style pack this season, invest in one of these incredible straw bags.
Having said that, be sure to shop around and experiment to find what works for you in terms of your personal style and budget. Then it won't be long before you're standing out from the crowd for all the right reasons.
(Matching straw hat optional.)
Are you into straw bags too? Which one is your favourite from this post?
Katie Davies is the Yorkshire-based freelance writer who founded Trendy Tourist. Since 2017, she has written for over 100 companies on a range of subjects, from fashion to marketing. When she's not producing content, you can find her shopping, exploring a new place or sitting somewhere having a cup of builder's tea.