A south Florida island city, Miami Beach is the perfect place to go on holiday.
Why? Well, there's just so much going for it. From endless sunshine to tall palm trees and a glorious beach — what more could you ask for?
Miami Beach is also renowned for its Art Deco Historic District, touristic Ocean Drive and pretty pastel-coloured buildings that pop against a clear blue sky.
For all of these reasons, I was excited to visit for the first time with my sister in June 2016 and then for the second time with my husband in December 2020.
How to Get to Miami Beach
First things first, getting to Miami Beach from the UK is pretty straightforward in normal times.
You can grab a direct flight from London through Virgin Atlantic, Norwegian Air and British Airways. Alternatively, you can take two flights from Manchester and connect via Dublin, Atlanta, New York or Paris.
Either way, you'll arrive at Miami International airport after somewhere between nine and fifteen hours. Then it's a 25-30 minute cab or Uber ride to Miami Beach (but oh-so-worth the journey!).
When to Travel to Miami Beach
The best time to visit Miami Beach is in springtime between March and May. This time of year is ideal because the sun is shining but it doesn't get too hot and humid. In fact, the temperatures usually fall between 20 and 30 degrees Celsius.
In terms of peak times of the year, these are typically around Christmas and New Year, Spring Break and in the summer. (Sweating hell!)
How to Get Around Miami Beach
Once you're in Miami Beach, it's easy to get around in the following ways:
Car rentals, such as Avis, Hertz, Enterprise, Alamo or Budget
Rideshare, via Uber, Lyft or taxis
Metrorail, which is a 25-mile system connecting Miami Airport to South Beach and running through downtown

Fares start at $2.25
Need to buy a rechargeable EASY card or an EASY ticket that can be purchased at the ticket offices
No cash allowed
Unlimited one-day, seven-day and 30-day passes are also available

Buses, which cover 95 routes with fares starting at $2.25
If you'd like to see more of the area around Miami Beach, there are some other modes of transportation:
Metromover, which is a monorail system that services the downtown area for free
Miami Trolleys, which have a few routes that connect popular areas around the city for free, including North Beach Loop, Middle Beach Loop, South Beach Loop and Collins Express (which links the Middle and Northern routes)
Handy, right?
Pro traveller tip: Try to make the most of public transportation and rideshares and only drive into Miami Beach if you really need to. Parking can be expensive in prime locations and cost you around $40 per day.
Where to Stay in Miami Beach
The wonderful thing about Miami Beach is that there are several options in terms of where to stay in the surrounding region, whether you're looking for a budget hotel, Airbnb or luxury complex.
Miami Beach, which is central for all travellers and family-friendly
South Beach via Collins Avenue, Ocean Drive or Washington Avenue, which has shopping malls, celebrity-chef restaurants and lots of bars and clubs, attracting a younger crowd
Downtown Miami, where there are tons of up-and-coming art galleries, museums, entertainment complexes and shopping outlets
Coconut Grove, which consists of many waterfront bars and restaurants and is home to several festivals
Needless to say, where you decide to stay all depends on the type of holiday you want. Keep in mind that because Miami is so beautiful, it's unlikely you'll be in your hotel room for anything but to sleep!
7 Highlights of Miami Beach
Now that you know how to get there, how to get around and where to stay, let's talk about the key highlights of Miami Beach.
1. South Beach
Stretching along the entire east coast of Miami Beach, the soft white sand and crystal-clear blue waters of South Beach make it one of the most stunning and well-maintained beaches I've ever laid eyes on.
During the day, you can expect it to be packed with all nationalities, ages, shapes and sizes up for letting their hair down and having a good time. It will also make you do the heart-eyed emoji at sunrise and sunset.
Even though it's busy every day, there's plenty of space to put down your towel, apply suncream and soak up the rays. However, you also have the option of renting a sun-lounger or umbrella from numerous sellers down the sand.
Pro traveller tip: Grab a selfie or standard photo with one of the lifeguard towers for an "I'm in Miami B*tch"-inspired social media post.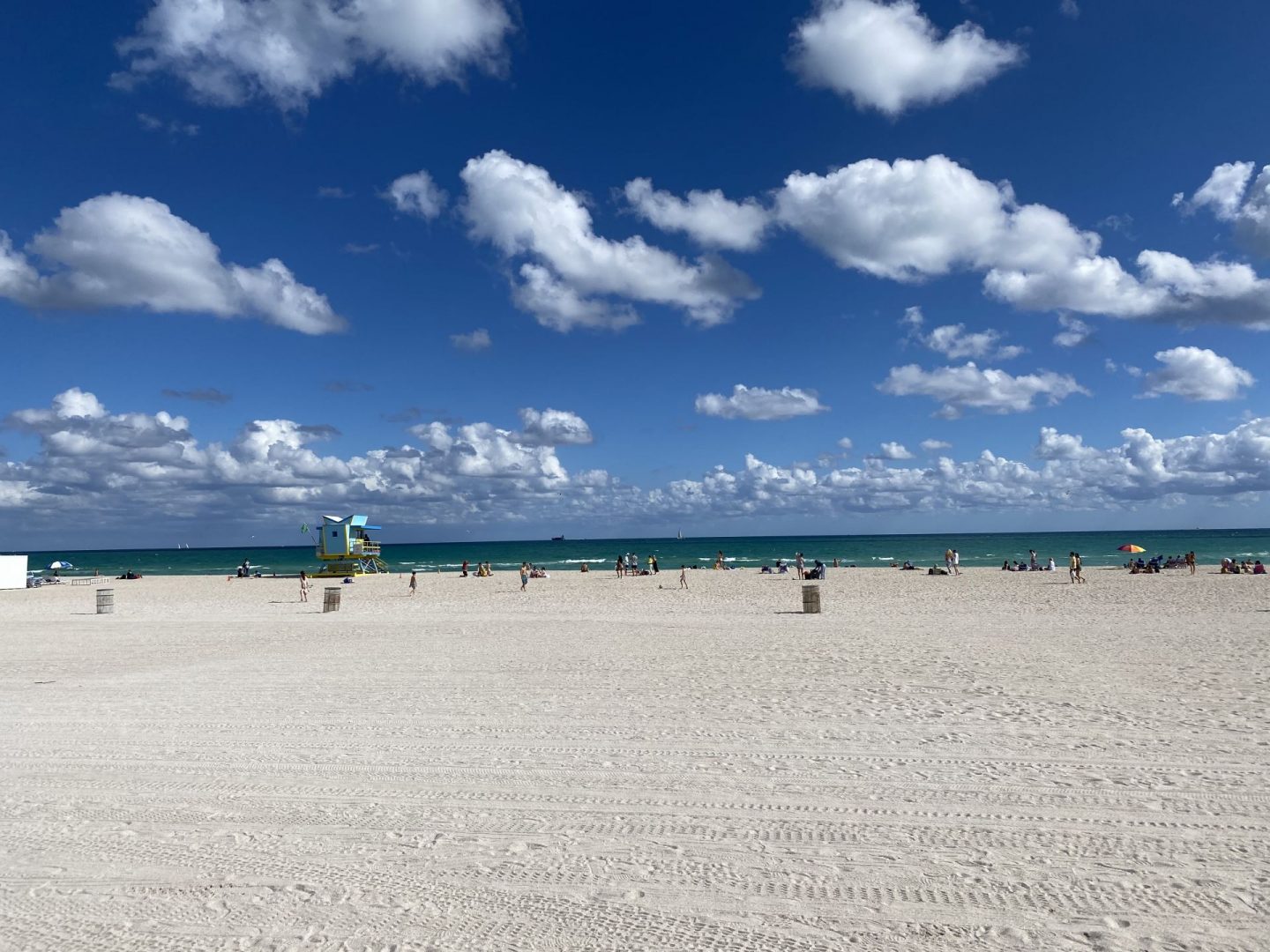 2. Ocean Drive
Ocean Drive is the main road that's lined in palm trees overlooking South Beach and the Atlantic Ocean on one side with an array of hotels, bars and restaurants on the other side.
It's right in the heart of the Art Deco District, an area containing 960 historic buildings that's well-known for being the place of residence of Italian fashion designer Gianni Versace.
Oh, and did I mention that the cafes, bars and restaurants are incredible in terms of food, drink and atmosphere? The only thing is, be prepared to pay for the location.
Pro traveller tip: Miami Beach is expensive in general. It's not really the type of place you can or want to backpack around. Go into it thinking that it's a luxury holiday and you won't be crying into your purse wondering where all your money went at the end of your trip. (Me circa 2016.)
3. Shopping
Whether you choose to shop until you drop in the luxury boutiques down Collins Avenue or in the high street stores at Lincoln Road's outdoor mall, Miami Beach offers a diverse variety of shopping.
As well as all your old favourites (American Eagle Outfitters, Forever 21, ZARA, H&M, Sephora, etc.), there are many independent stores where you can buy decent swimwear, beach outfits and Miami souvenirs.
And the good news? All the stores are pretty walkable (and exploring them is a fun way to spend the day!).
4. Española Way
Just North of 14th Street between Washington and Pennsylvania Avenue is a pedestrian-only street called Española Way. Built in the 1920s, it was originally designed to capture the essence of Mediterranean villages in France and Spain.
Nowadays, it's full of quirky drinking, dining and shopping establishments and essentially a spot where locals and travellers come together to celebrate life amongst historic architecture.
Take a stroll down there day or night and you'll be amazed by the delightful sights, sounds and smells. Trust me!
5. Nightlife
Granted, the Miami Beach nightlife is quite similar to Las Vegas in terms of exclusivity. That said, it's worth trying to make contact with the right promoters because they'll look after you and put you on their free guest lists.
Pro traveller trip: FYI, you can sometimes just be approached on the beach or in the street. Or just search "Miami Promoter" on Instagram.
My sister and I went to LIV nightclub to see Steve Aoki DJ during my first trip to Miami Beach — and it was such a special experience! We also got to go to Justin Bieber's PURPOSE world tour official after-party at STORY nightclub, which certainly made for a night to remember.
6. South Pointe Park
Located at 1 Washington Ave at the tip of the island, South Pointe Park is definitely one of the highlights of Miami Beach.
As well as gorgeous greenery, it offers panoramic views of the breathtaking South Beach shoreline. A 20-foot-wide walkway lines the park where you can jog, bike, rollerblade or stroll until your heart's content.
You can also head down the South Pointe pier to fish or grab some more great views of the coast — all for free!
7. Duck Tours
Lastly, another of my top highlights of Miami Beach? A duck tour.
What is a duck tour, you ask? Well, it's basically a tour in a duck boat so that you get to see the city by land and water. Cool, huh?
We paid something like $30 and had a very pleasant afternoon on our duck tour, which picked us up from Lincoln Road Mall. Available at different times throughout the day, the tour allows you to soak up the mesmerising scenery while your guide performs what can only be described as a one-man-show.
It was such a laugh, as well as being educational, and definitely something I would recommend to anyone visiting Miami Beach for the first time.
Miss the Highlights of Miami Beach, Miss Out
The truth is, Miami Beach is such a fun place that you have to visit at least once in your lifetime. Although, keep in mind that it's quite a small area so it constantly feels busy and overflowing with tourists.
In other words, just a few nights exploring is often enough for most travellers to enjoy themselves and get a true feel for the Miami vibe.
All together now… "Party in the city where the heat is on, All night, on the beach till the break of dawn, 'Welcome to Miami', 'Bienvenidos a Miami'!"