Disclaimer: this post contains affiliate links, which means I receive a small commission when you purchase the product at no extra cost to you! All affiliate links will be marked with an asterisk (*) and help us to run this site so we really appreciate your support. To read our full privacy policy, click here.
Imagine waking up in a different destination every day, working while you're travelling full-time and getting to escape the 9-5 corporate grind. For those who have been living under a rock, this is known as the digital nomad lifestyle – and needless to say, it has many benefits.
Glorified by social media, this way of living is the ultimate dream for a lot of people in the Information Age.
(What, you mean I can make money with my laptop from anywhere in the world? Why, yes, mate – you can. And you can do it all while wearing a skimpy bikini and drinking cocktails by the pool if you really want to.)
That said, like with anything projected on Instagram and the like, the digital nomad lifestyle isn't always as it seems.
Since I moved to New Zealand in February, I've been living the said digital nomad lifestyle – and there are definitely some home truths that you need to know about.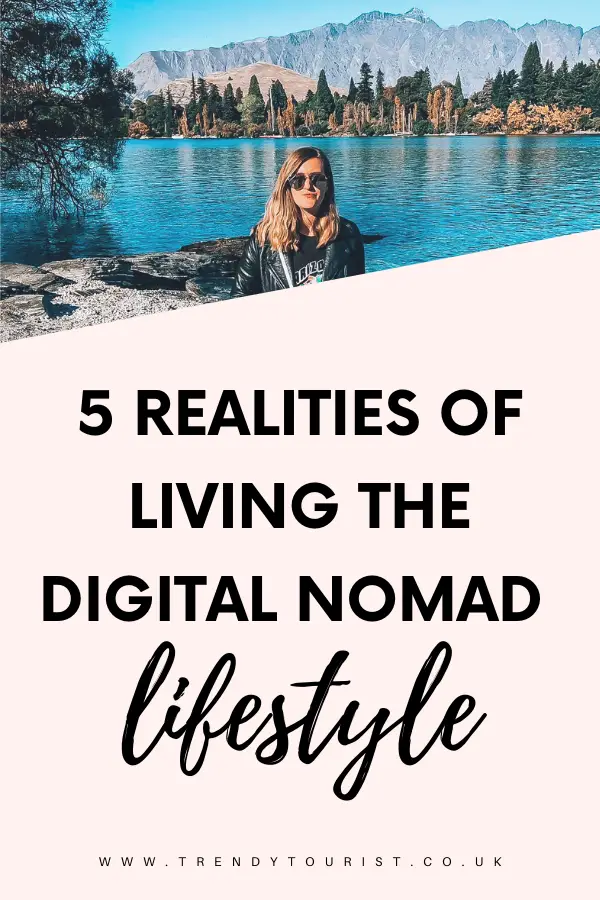 1. It's Impossible to Work By the Pool in Hot Countries
Let's just address the aforementioned "you get to work from the pool and/or beach" aspect of the digital nomad lifestyle.
All my eagle-eyed readers know that I went to Bali for a week on my way to New Zealand. But could I work from the pool and/or beach in 36 degrees Celsius? Could I heck.
Not only is it impossible to try and write when you're sat in (what feels like) a real-life oven and you're sweating so much that you're dripping, but if you value your laptop, you might want to avoid overheating it in the sun.
I mean, it is your ticket to being able to put food in your mouth, after all.
2. Having to Rely on WiFi is Hard
Likewise, when fellow digital nomads are bragging about how amazing their lives are and hashtagging #LifeGoals left, right and centre, they're clearly ignoring the fact that wifi is like gold dust to us all.
Put it this way: you're extremely fortunate if you can get through a morning of non-interrupted work relying on a cafe's connection.
Got a personal hotspot sorted with your phone company? You're one of the lucky ones.
Either way, you'll never know the struggle of having to scramble to find wifi when you've got a 2pm writing deadline and it's 1.45pm and you need the internet to be able to email it to your client – unless you're a true digital nomad and not just a wannabe.
3. The Time Difference is Not Your Friend
Speaking of digital nomad lifestyle struggles, don't get me started on the time difference. The fact that the UK is currently eleven hours behind me in Queenstown creates all kinds of havoc – and let's not even talk about the USA being 19 hours behind me on the west coast.
When you're trying to run a business on the other side of the world, the time difference is definitely one of your main enemies as a digital nomad.
Having said that, it is possible to work around it if you're a good planner, always open and honest and can successfully manage your clients' expectations.
SLEEVELESS TEE – THE WAREHOUSE, NZ – similar (*) / JEANS – THE WAREHOUSE, NZ – similar (*) / JACKET – TOPSHOP / BAG – BALI STALL – similar (*) / TRAINERS – THE WAREHOUSE – similar (*) / SUNGLASSES – PRIMARK – similar (*)
4. You Spend What You Earn
Another big reality check when it comes to living the digital nomad lifestyle is the fact that it's practically impossible to save anything when you're travelling around western countries.
In less wealthy countries, this isn't a problem. However, in the rest of the world, you tend to spend anything you earn almost straight away.
Why? Well, you're likely only to be in that one place for a short amount of time – so you want to make sure you see as much of it as you can. Am I right? Hence, any money that you earn as a digital nomad ends up going down like water – and maybe even your savings too. Sob.
5. You Miss the Routine and Stability of Regular Work
Newsflash: the digital nomad lifestyle is chaotic. In addition to coordinating your travel plans, you also have to coordinate what's going on with your business.
And do you know what this means? It's double the hard work.
If you're anything like me (who thrives from routine), you'll start to miss the stability of running your business from one place.
Even so, it's true that you'll never get bored being a digital nomad. There's often too much going on all at once and it definitely keeps things interesting.
The Digital Nomad Lifestyle Isn't For Everyone
What have we learned here? The digital nomad lifestyle is more challenging than you initially realise. Don't let the picture-perfect imagery on Instagram lure you into thinking that this is the best way to live.
I mean, nobody's life is perfect. We all have ups and downs – and that's just the way it goes.
Even though this type of lifestyle won't be for everyone, I can't deny how much I'm enjoying myself.
But do you know what? I'm secretly looking forward to the day where I can bring a better routine, savings and a solid wifi connection back in my life. Shush, don't tell anyone.
Are you a digital nomad? Were you aware of these realities of living the digital nomad lifestyle?
Katie Davies is the Yorkshire-based freelance writer who founded Trendy Tourist. Since 2017, she has written for over 100 companies on a range of subjects, from fashion to marketing. When she's not producing content, you can find her shopping, exploring a new place or sitting somewhere having a cup of builder's tea.