The Republic of Ireland, Europe: medieval architecture, rolling hills and lush landscapes aplenty. After all, they don't call it the "Emerald Isle" for nothing.
Alongside captivating countryside, Ireland also has the quaintest towns and backstreets. In other words, it's a country that oozes charm, from the places to the people.
And what better way to experience it than on a 7 day Ireland road trip?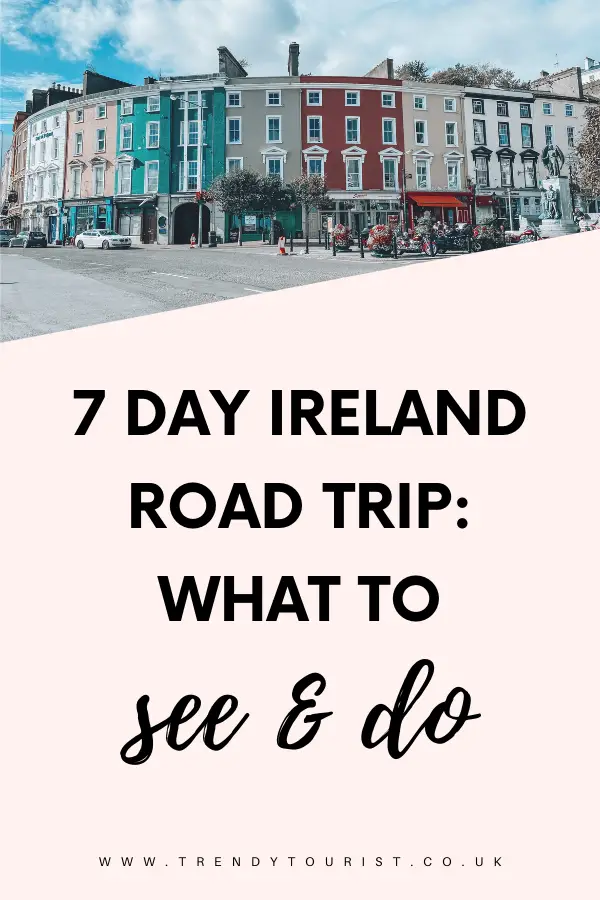 How to Get Ireland from the UK
Before you can begin your epic car journey, you need to get to the Republic of Ireland.
The good news is that there are many direct flight options to Dublin from the following cities:
Birmingham
Manchester
Leeds
Bristol
Newcastle
Edinburgh
Glasgow 
If you didn't want to start your 7 day Ireland road trip in the capital, you could fly to Shannon instead for easy access to Galway or Limerick. There are direct flights available from London, Birmingham, Edinburgh and Manchester.
Alternatively, you could fly to the second-largest city in Ireland, which is Cork, from the following airports:
London
Birmingham
Bristol
Manchester
Glasgow
Liverpool
Either way, you can expect a short and straightforward flight, usually with Aer Lingus or Ryanair.
How to Get Around Ireland
One of the best things about Ireland is the public transportation links. There are a variety of buses and trains that can get you around the country easily.
A couple of the most used coach companies are Irish CityLink and Bus Éireann.
You could also use the DART in Dublin that runs from Malahide (to the north of the city) as far south as Greystones in County Wicklow. Its route takes you through the city centre where you can conveniently hop off and see the sights.
Pro tip: Apply for a Leap Card for cheaper fares and which will include the DART and some commuter trains.
In terms of the other cities, most of them are very walkable.
That said, it would be ideal to have a car for the freedom and flexibility of being able to go wherever you like, whenever you like.
For me, there's nothing like getting off the beaten track, which is impossible to do if you don't drive. Right?
Dublin
The truth is, you can't do a 7 day Ireland road trip without visiting Dublin city centre.
When my fiancé and I did this road trip, we started in Dublin and circled back to Dublin. This was because we could only get a direct flight from Leeds-Bradford airport to Ireland via Dublin.
However, I'd certainly recommend this route. Because there's so much going for Dublin, it starts your trip off on a high.
What to See in Dublin
There's so much to see and Dublin that I could write a 2,000-word blog post on the city alone. Therefore, I'll just stick with the most popular attractions.
Dublin Castle, which is located in the heart of the city and centuries-old
Guinness Storehouse, where you can see where the famous stout is brewed
Temple Bar area, which is home to many copycats but set yourself a challenge and try to find the original!
St. Stephen's Green Park, which is a beautiful park with flowers, fountains and sculptures in abundance
City centre shopping, whereby you can find lots of high street and independent stores to explore
Wicklow National Park, which is the shooting location of P.S. I Love You that lies south of the city (you can get a basic bus tour for 22 euros that includes lunch)
Howth, which is a small village on a peninsula that's a 30-minute train ride from the city with lovely cafes, a lighthouse and a castle
There's just such a good vibe in Dublin, you're sure to enjoy it as much as we did (even with COVID restrictions!).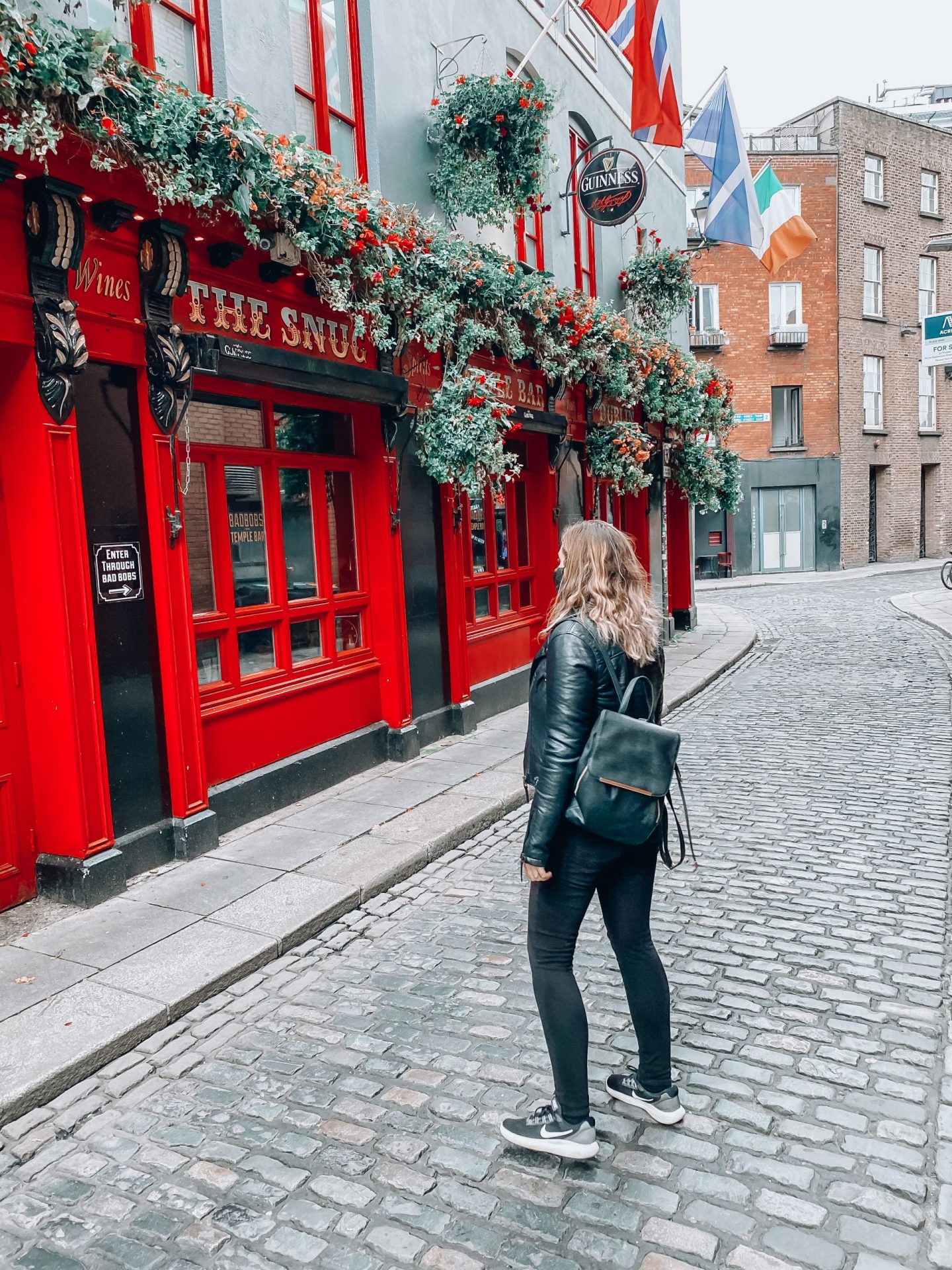 Where to Stay in Dublin
To be honest, Dublin and its surrounding suburbs are so well-connected that you'll still be able to get to the city centre even if staying central is too expensive (which is what we found).
City Centre — There are endless options and everything you need is either in walking distance or a short DART/bus ride away
Drumcondra — Just north of the city centre on the edge of the National Botanic Gardens, this town has its own unique feel
Swords — A 30-minute bus ride north of Dublin via the Swords Express, this cute town has a large shopping centre, a castle and many pubs, restaurants and parks
Malahide — The DART's northmost stop which has cute shops and cafes, a castle and extensive waterfront
Pro tip: Keep in mind that Airbnbs in Dublin are just as expensive as hotels. However, staying in an Airbnb would end up being cheaper because you can buy cheaper food at the supermarket and cook for yourself instead of eating out every day.
Kilkenny
Kilkenny is a gorgeous medieval city in southeast Ireland with windy lanes, pretty canals and busy backstreets. It's a must-do on your 7 day Ireland road trip, even if you just drive through it to check out the castle!
What to See in Kilkenny
You don't need to spend too long in Kilkenny to see what it has to offer. In fact, one night would suffice.
Kilkenny Castle — Built in 1195, this building is super impressive whether you do the 8 euro self-guided tour or simply gawk at it from the outside (like we did)
Dunmore Cave — North of the city by 13-minute car journey, it costs just 5 euros for a guided tour of this cave
Jerpoint Abbey — Another site south of town by about 20 minutes, this Abbey dates back to the 12th century
Shopping — There are so many offbeat stores to check out in the centre
Pubs — The live music scene is supposed to be amazing here (pre- and post-COVID)
To be honest, I'm gutted that we didn't get to sample the latter!
Where to Stay in Kilkenny
Staying somewhere central would be the best idea when you're in Kilkenny.
After all, most of your time will be spent exploring the city.
There are plenty of fine hotels, B&Bs and Airbnbs to choose from. Having said that, our biggest issue was finding a spot with free car parking.
Cork
Another stop on your 7 day Ireland road trip should be Cork, even if you only venture there for one night.
Located in the south-west, the county of Cork is home to Blarney Castle and the charming village of Cobh.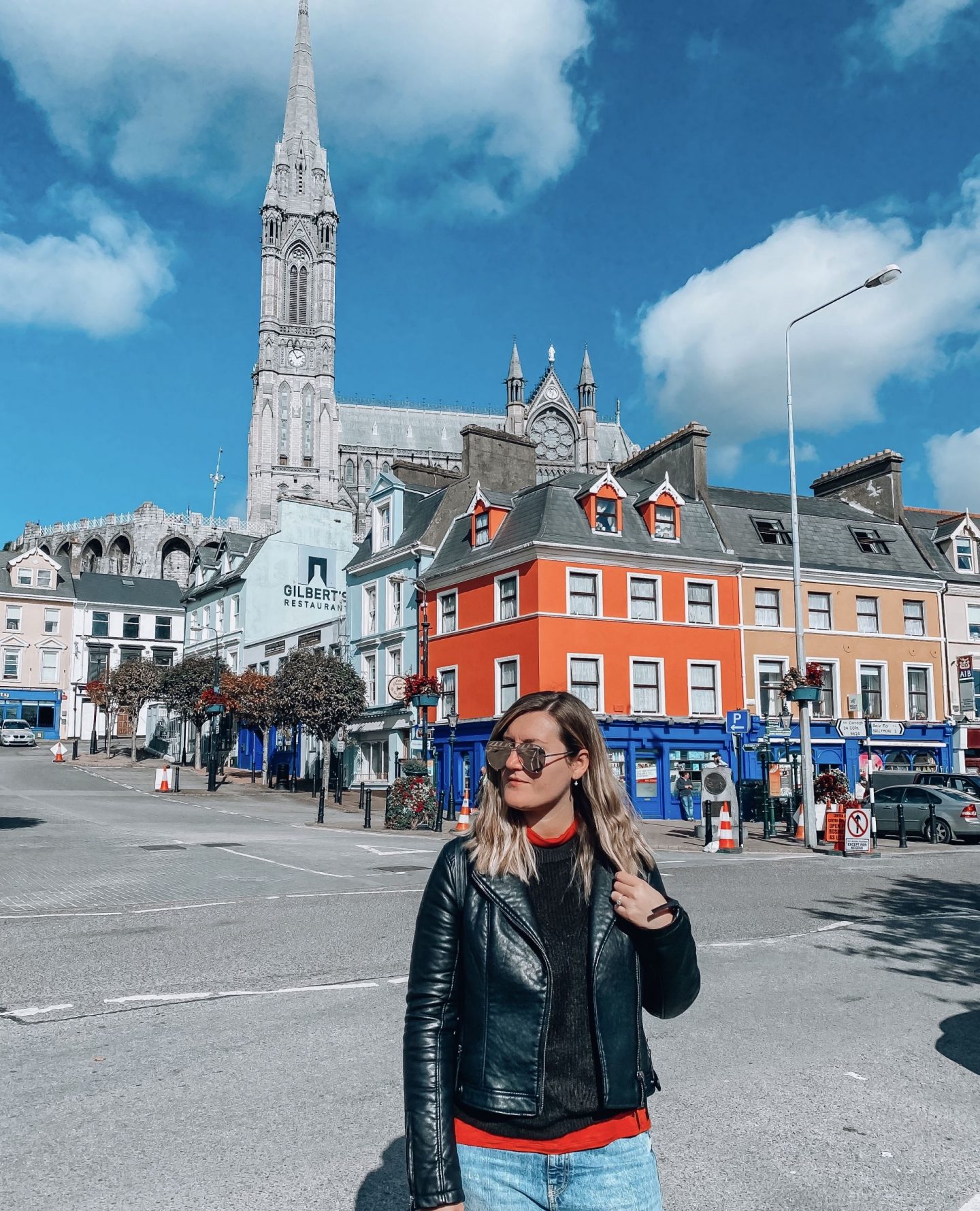 What to See in Cork
I'd recommend spending the morning in Cork City Centre checking out the following before moving on to seeing what the county has to offer:
St Patricks Street — This is the main central shopping street that has lots of interesting backstreets and stores, including the English Market.
Shandon Bells in St Anne's Church — An original 18th-century bell used in the church, this is located at the top of a hill where you can take in some incredible views of the city.
Cobh — A 25-minute drive from Cork, this colourful town is famous for being the last port of call for the Titanic and has an impressive cathedral.
Blarney Castle — Home of the famous Blarney Stone, this beautiful castle and garden is more than 600 years old.
Pro tip: If you're as much of a coffee addict as I am, you're going to love the coffee in Cobh. You can also use Squaremeal to find out where the best restaurants and chefs in Ireland are located.
Where to Stay in Cork
You have a couple of options when it comes to where to stay in Cork. For example:
City Centre, whereby you can sample the city's quirky pubs and restaurants and bustling atmosphere
Cobh, which is ideal if you want to stay on the coast in a smaller town with less people
Blarney, which is great if you prefer a country escape that's just a short distance from Cork
We stayed in the centre but I think I would have been quite happy with any of these options.
Killarney
Killarney is a town in southwest Ireland's County Kerry that's home to the entrancing Killarney National Park.
And spoiler alert: it was my favourite stop on our 7 day Ireland road trip. Wink-wink.
What to See in Killarney
The truth is, you're going to need a couple of nights in Killarney to be able to soak up its stunning scenery and the following:
The Ring of Kerry — A three-hour drive on the Wild Atlantic Way, this loop is one of the prettiest sightseeing adventures you will take in your life full of mountains, lakes, greenery and coastal views.
Killarney National Park — The majestic mountains are a must-see, as well as Muckross House and Gardens, Ross Castle, Torc Waterfall and Ladies View.
The town centre — This small area is packed full to the brim with shopping outlets, restaurants, pubs and cafes.
In fact, I'm doing the heart-eyed emoji just looking back on our time there.
Where to Stay in Killarney
Not going to lie, Killarney accommodation is pretty pricey.
There are tons of options for hotels, B&Bs and Airbnbs in the city. We stayed in a central Airbnb which was really convenient, but it'd be cheaper to stay more towards the National Park.
Either way, Killarney is a great base for the Ring of Kerry and I wouldn't recommend staying elsewhere on this route. Loved it!
Galway
A harbour city on Ireland's west coast, Galway is situated where the River Corrib meets the Atlantic Ocean.
And there's just something about it that is very special.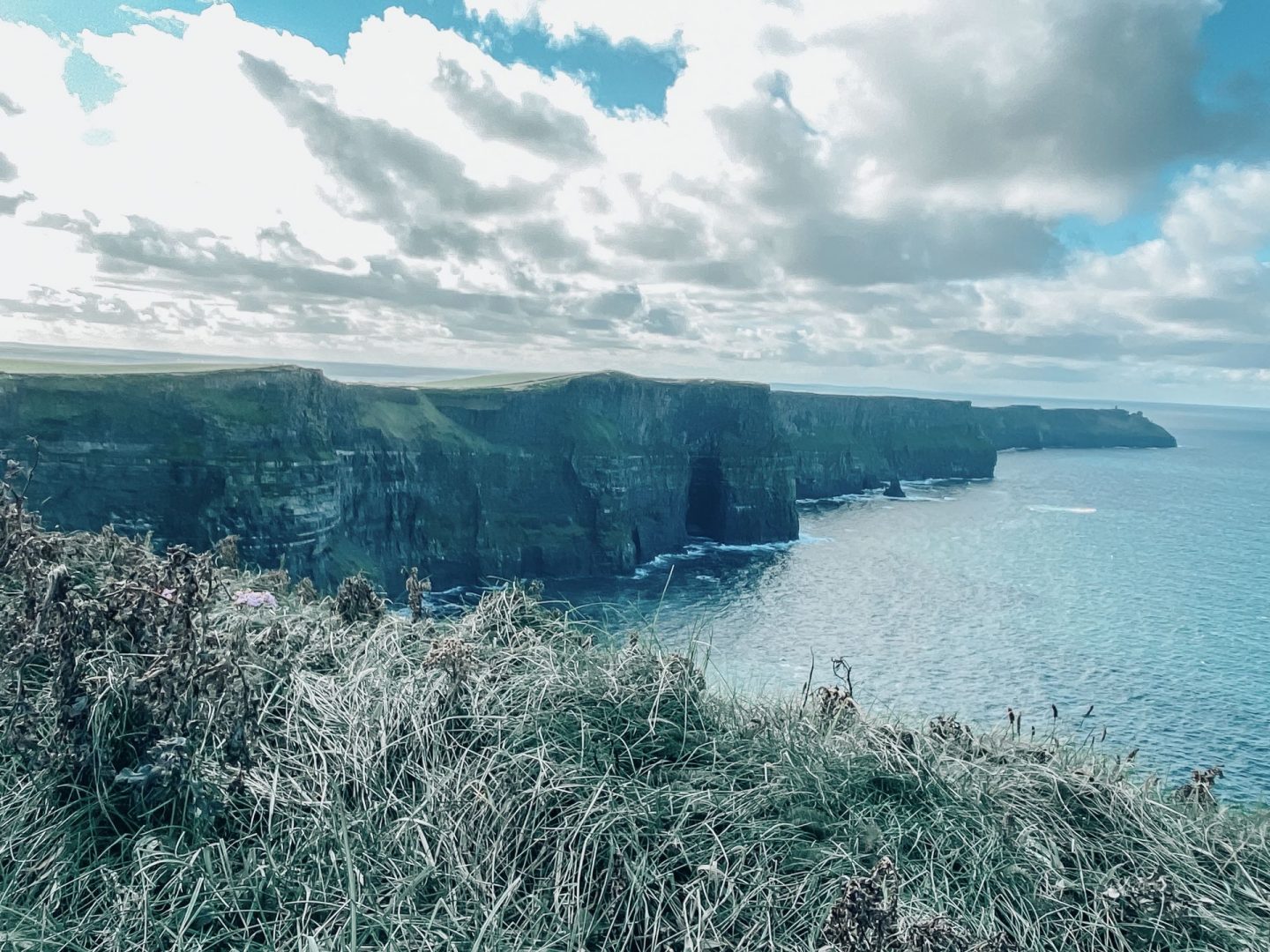 What to See in Galway
You probably need a couple of nights on your 7 day Ireland road trip to experience Galway properly, especially if you want to take the trip to the Connemara National Park like we did.
(Do it!)
Latin Quarter — This is a series of cobbled stone streets that are packed with shops, bars, restaurants and pubs.
Spanish Arch — This is where you can see the remnants of 16th-century defences.
Salthill Promenade — Take a nice scenic walk along the bay from the city centre and end up in Salthill village, which has a Promenade lined with cafes and shops.
Connemara National Park — Northwest of the city, this National Park is well worth driving to thanks to its wonderful landscapes, lakes and mountains.
Clifden — Drive all the way through Connemara National Park to Clifden and loop the Sky Road for breathtaking scenery.
Cliffs of Moher — Just over an hour's drive north of the city, these impressive sea cliffs reach a maximum height of 214 metres and are well worth a nosy!
Because there's so much to do around Galway, I'd personally recommend splitting your time between Galway City Centre and then the last three suggestions.
Where to Stay in Galway
The best place to stay in Galway is the city centre, without a doubt.
I mean, you'd be at the heart of everything with anything you could ask for just beyond your doorstep!
That said, if central accommodation is too expensive for you, opt for Salthill instead. It's just south of the city and a 30-minute walk to the centre with the sea air on your face. Bliss.
Other Stops on Your 7 Day Ireland Road Trip
Truth be told, there are some other stops you could make on your 7 day Ireland road trip.
My fiancé and I also stayed overnight in the following cities, but I think you could just drive through them or spend a couple of hours there to allow you to prioritise the other stops.
Waterford
Waterford is Ireland's oldest city overflowing with Viking history.
The Viking Triangle including Reginald Tower — Originally part of a Viking fort dating back to the 11th century, this area has a Viking museum and would be appreciated by history buffs.
The House of Waterford Crystal — Given that Waterford is known for its spectacular crystal, this is where they create 45,000 crystal pieces each year.
I was in awe of the latter!
Limerick
Limerick is a cool little city that has the River Shannon flowing through it.
The centre is quite compact but full of medieval history, including the below:
King John's Castle, which was ordered to be built by King John in the year 1210 and is a wonderfully preserved castle
St Mary's Cathedral, which was founded in the 12th century and is the oldest monument in the city
Milk Market, which is a farmer's market with over 20 permanent shops and 50 stalls
The nightlife also seems like it would be great in Limerick (even though we couldn't sample it because of lockdown restrictions). Sigh.
Wexford
Admittedly, my fiancé and I didn't visit Wexford on our 7 day Ireland road trip due to lack of time.
However, when we were researching beforehand, Wexford was a place that kept popping up.
Founded by the Vikings at the start of the 9th century, this town in southeast Ireland sits at the mouth of River Slaney.
These are the supposed must-dos:
Irish National Heritage Park, which is a top tourist attraction that depicts 9,000 years of recreated Irish history
Selskar Abbey, which is a historical landmark dating back to the 12th century
Main Street, where you'll find shops, restaurants and cafes aplenty
Curracloe Beach, which is a 30-minute drive east from the city centre with golden sand
Johnstown Castle, which is a 10-minute drive from the city centre that charges 9 euros for entry to its gardens and museum
Even so, you'd have to visit the above for yourself to see whether they're worth doing!
Planning an Irish Road Trip to Remember
It goes without saying that there's a lot you could cram into your 7 day Ireland road trip.
In my experience, I like to be as busy as possible so that the money spent on renting a car and accommodation stretches further.
That said, you might prefer to take these places at a slower pace — and that's totally fine!
Either way, you're bound to have a trip to remember on the enchanting Emerald Isle.
Have you been on a 7 day Ireland road trip before? Which stops do you like the sound of? Comment below!