A port city in North Carolina, Wilmington is renowned as being the gateway to Cape Fear Coast beaches like Wrightsville and Carolina.
Oh, and did I mention that it's beautiful?
My sister and I decided to venture there during our first tour of North America in 2015.
Sure, this was mostly to visit the filming locations of some of our favourite TV shows, including One Tree Hill and Dawson's Creek. But we were pleasantly surprised with what else we found.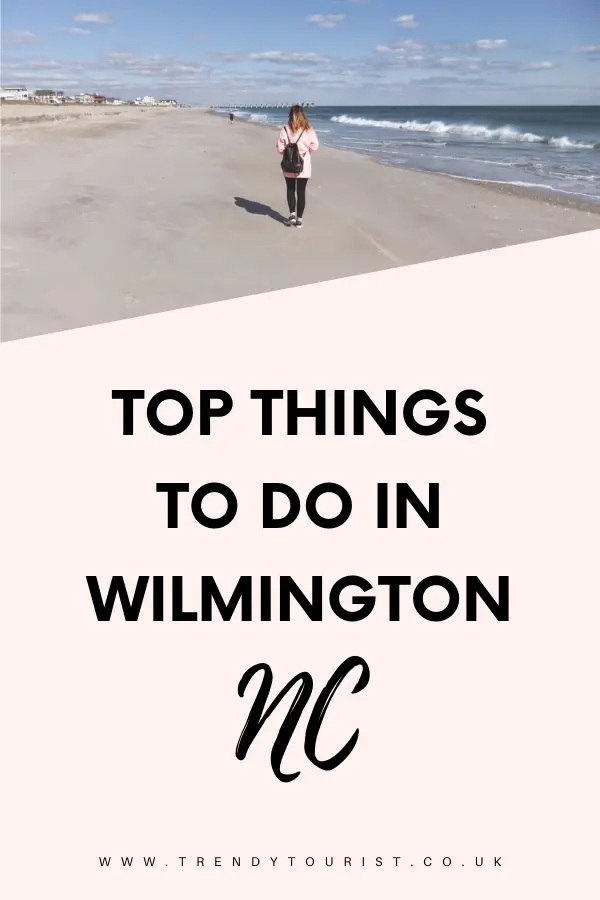 How to Get to Wilmington
Firstly, to get to Wilmington from the UK, you have to take a flight to Charlotte in North Carolina.
Then from Charlotte, you can take a bus to Wilmington. The price of this averages $53 and takes approximately 6 hours and 45 minutes.
From elsewhere in the US, you can fly to Wilmington via New York, Washington, D.C., or Philadelphia.
How to Get Around Wilmington
Once you've arrived in Downtown Wilmington, it's pretty easy to get around because everything's walkable.
However, the following transportation may be needed for the beaches, which are around 10 miles away from the city.
Uber or Lyft
Taxi
Rental (Enterprise Rent-A-Car, Hertz Car Rentals)
Wilmington Bus (Wave Transit)

$2 flat fee for Adult one way fare
$5 for one day pass (unlimited use)
$20 for 7 day pass (unlimited)
$20 for an Adult 10-ride pass
You can also ride the Wilmington Trolley around multiple downtown districts for FREE! (Find the schedule here).
Top Things to Do in Wilmington NC
If you're about to head there for the first time, here are my top 5 things to do in Wilmington NC.
1. Have Breakfast at the Waffle House
Things to do in Wilmington NC 101: Start off your first day right by visiting the Waffle House on Market Street. Not only are the waffles yummy and reasonable in price, but you can unlimited filter coffee for under $2.
Winning.
2. Do the Hollywood Film Location Walk
Are you a fan of One Tree Hill, Dawson's Creek, A Walk To Remember, We Are The Millers and/or Iron Man 3? If so, get yourself on the two-hour Hollywood Film Location Walk.
Your tour guide will show you filming locations of a multitude of TV shows and films around Downtown Wilmington.
And do you know what? It's actually a lot of fun.
3. Visit Wrightsville Beach
For those of you who don't know, Wrightsville Beach is where they shot multiple scenes in Dawson's Creek. (This includes the famous opening credits montage under the pier.)
On the day of our mission to get to Wrightsville Beach, we were told which bus to get, where from and when to get off. What the bus driver failed to mention to us was the fact that the beach was an hour and a half's walk from where we were dropped off.
Once we'd figured out where we were going, we eventually got there and – luckily – it turned out to be incredible worth it!
Lesson learned though: always get an Uber.
4. Have a Wander Around Downtown Wilmington
Downtown Wilmington is quite small but big enough to fill a few hours. It's on the river front so it's very pretty, and there are tons of adorable little shops, bars and restaurants to explore.
We went to the cutest café for brunch along Cape Fear River and ended up staying there for three hours! It had fabulous food, good music and an even greater atmosphere.
Needless to say, we fell in love.
5. Explore the Nightlife
Lastly, we met someone in LA on our earlier travels who was from Wilmington NC. He told us to head to The Whiskey where there was often live bands playing.
We ended up seeing The Flannel Rebellion and had the best night meeting locals.
In fact, the whole downtown area was packed full of people drinking, laughing and having a good time, which is what makes the nightlife so enjoyable!
The Takeaway: Wilmington Has Heart
All in all, my sister and I had an amazing time in Wilmington and felt really sad when we had to leave via Charlotte.
I'd love to go back to Wilmington someday. Having said that, I'd give Charlotte a miss as there wasn't a lot to see or do (in my opinion).
Either way, the memories we made will last a lifetime and I'll always be grateful to the people who we met and showed us just how much heart this port city has.
Have you been to North Carolina before? What are your top things to do in Wilmington NC? Thanks so much for reading!
Katie Davies is the Yorkshire-based freelance writer who founded Trendy Tourist. Since 2017, she has written for over 100 companies on a range of subjects, from fashion to marketing. When she's not producing content, you can find her shopping, exploring a new place or sitting somewhere having a cup of builder's tea.