If you're into fashion as much as I am you'll probably get asked by your partner to dress him all the time. My husband Nathan is constantly asking for outfit advice, and I'm only too happy to help. It makes me feel good that he values my opinion.
But, this also means that I feel like I need to keep up with the world of menswear as well as womenswear. Fortunately, I've done the research so you don't have to.
Whether you're getting your partner's holiday gifts in order or you just want to help them feel and look their best, here's a curated guide to the AW23 menswear trends that are currently taking the spotlight.
1. Timeless Tailoring
Firstly, there's a surge of appreciation for classic tailoring, signalling a return to elegant, structured 'fits. Whether it's a double-breasted blazer or sharp trousers, the signature pieces from the past are back in the limelight, but with modern twists. 
Craftsmanship is celebrated, and the suit is not just for the boardroom but an everyday staple. The good news is, they can be dressed down with tees, jumpers and trainers so they don't feel as formal and/or stuffy.
2. Pops of Colour
Monochromatic outfits, while always in vogue, are getting a lively interruption. Splashes of vibrant colours – think electric blues, hot pinks and lively greens – are making their presence felt, breaking the monotony and adding a fresh dimension to winter wear.
It's not just about standing out but radiating positive vibes during these dreary cold months. Cadbury purple is actually the hue of Autumn/Winter 23/24 for menswear, according to GQ. 
If your partner is more into neutrals (black, white, navy, grey, brown and beige), he could tap into this trend with a colourful accessory until he builds up his confidence. This could be a tie, bag, piece of jewellery or scarf, for instance.
3. Texture Play
Materials are not just about the feel but the look. Velvets, corduroys and heavy knits are dominating the style scene, introducing depth and dimension to outfits. These textures not only provide warmth but also create visual interest, ensuring that winter clothing is not just functional but also fashion-forward. 
Nathan currently loves a good corduroy shacket over a long-sleeve tee with jeans or chinos and trainers or boots depending on the occasion. Then he swaps the long-sleeve tee for a chunky knit during those especially chilly days.
4. Stylish Swimwear
Moving slightly away from the winter theme, but crucial nonetheless for visits to the indoor pool or going on a winter vacation, swimwear has seen a significant shift. Gone are the days of standard trunks; now, it's all about individual expression. 
High-waisted men's designer swim shorts, with prints ranging from minimalist to eccentric and varied lengths, offer choices aplenty. Neutrals are versatile when paired with vests and tees on holiday, but there's something so fun and quirky about an unusual colour and pattern that pops against a clear blue sky.
5. Utility and Practicality
Utility wear is here to stay. Think cargo trousers and bomber jackets with multiple pockets, alongside shoes designed just as much for comfort as they are for style appeal. Some examples include trainers, lace-up boots and chunky loafers. (Nathan is currently living in his Converse.)
This is one of those AW23 menswear trends with a strong nineties influence. In fact, the grunge theme championed by the likes of Nirvana is coming through quite prominently through ripped jeans, slashed jumpers and baggy cardis. Rock on.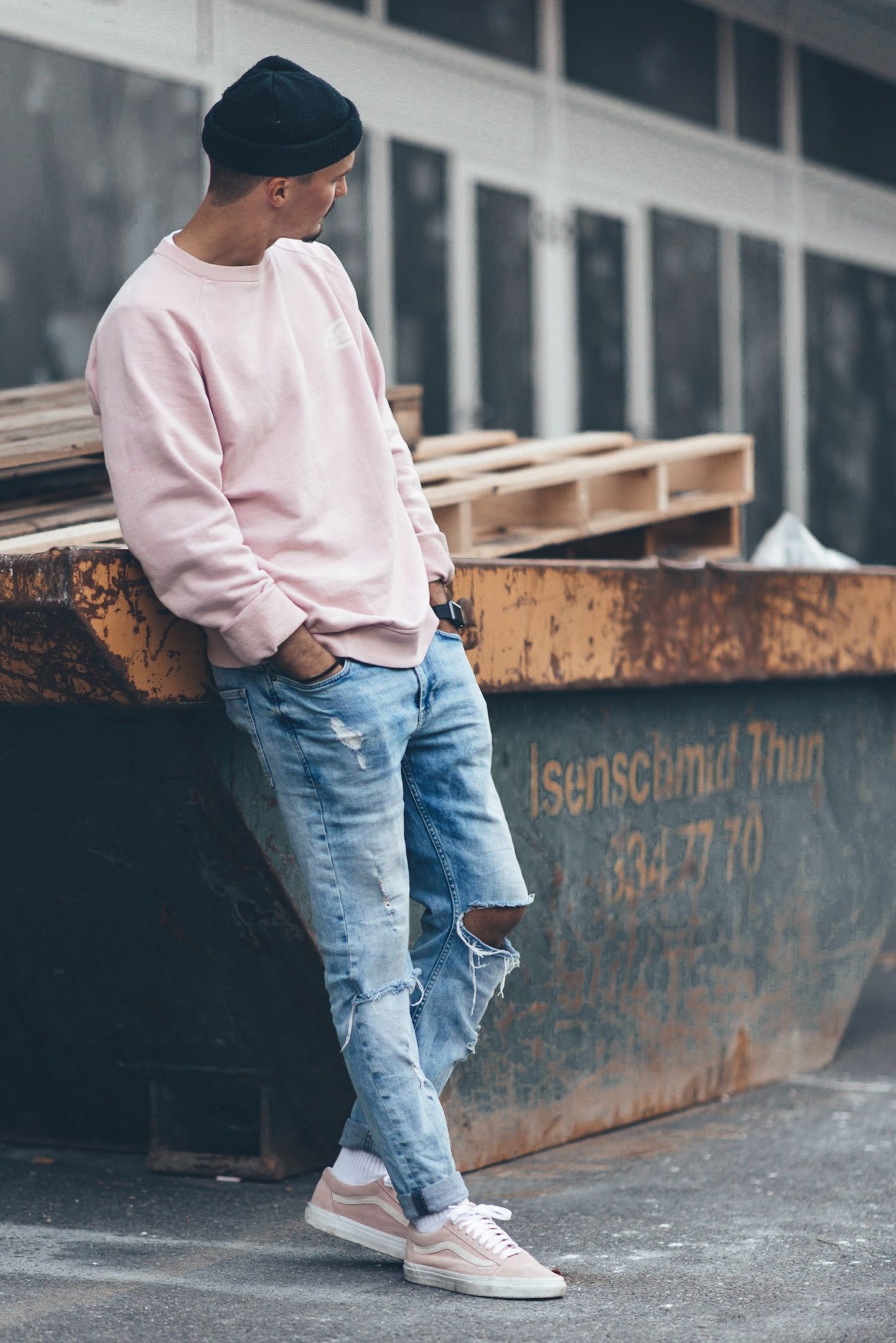 6. Layering Mastery
Layering has always been a winter essential, but AW23 takes it up a notch. It's not about simply piling on clothes but artfully combining pieces to create unique ensembles.
A long-sleeve turtleneck top worn under a v-neck jumper with a sleeveless puffer over the top looks effortlessly cool for casual occasions if you polish it off with jeans and trainers. Likewise, a chunky jumper can be worn under a slick blazer and pea coat with chinos and ankle boots for a smart-casual aesthetic that will capture attention.
Either way, mastering the art of layering is worthwhile as it ensures that you are prepared for any weather, while looking impeccably stylish. 
7. Oversized Everything
Just like oversized garments are at height of popularity in womenswear, AW23 menswear trends indicate that the hysteria has spread. This comes from the need to feel cosy and comfortable for working from home or being outdoors in the freezing cold temperatures after the last few years. Health is wealth.
The maxi-length overcoat is having a moment, as are exaggerated collars and shapes. Nathan is swapping his body-hugging tees for looser fits and straight leg trousers for wide legs to nod to this trend. However, the trick is to start with a key piece until you realise just how freeing oversized garments are — then you'll likely be wearing them head to toe.
8. Sustainable Choices
Lastly, with the increasing awareness of environmental challenges, sustainable fashion is more than a trend — it's a necessity. Brands are exploring eco-friendly materials, ethical manufacturing and transparency in sourcing. This season, it's not just about looking good, but also feeling good about the choices you make.
Here are some quick tips for how you can be more sustainable with fashion:
Choose quality over quantity
Check fabric labels and descriptions prior to buying to assess whether the item will last the test of time, or just bobble after one wash
Think about what a wardrobe needs rather than what you want to avoid unnecessary impulse purchases
Try on items in store so you know they fit — it's easy to forget about returning items that don't fit and this will avoid them sitting in your wardrobe and never being worn
Pass along all of this info to your partner so he can benefit too.
Pin this article for later:
Final Thoughts on AW23 Menswear Trends
AW23 is shaping up to be a memorable season for menswear. With a nod to classics, an embrace of new ideas and a push towards sustainability, there's something for every man.
Whether your partner is a seasoned fashion enthusiast or just starting to explore personal style, these AW23 menswear trends provide a roadmap for a wardrobe that's both timely and timeless. And remember, he's more likely to try something out of his comfort zone if you give it to him as a gift.
Happy shopping!