The Yorkshire Golden Triangle is an area of West and North Yorkshire between Harrogate, York and Leeds in England. At its centre lies Wetherby, a market town on the River Wharfe where my parents have lived for years!
That's why I can vouch for the fact that the Yorkshire Golden Triangle is full of scenic beauty (hey, they don't call Yorkshire "God's Own Country" for nothing).
Whether you're visiting for a week or just a couple of days, there are many fun things to see and do in the area. In fact, you're bound to fall in love with the historic cities, charming countryside and picturesque towns.
How to Get to the Yorkshire Golden Triangle
First things first, how do you get to the Yorkshire Golden Triangle? Well, the good news is that it's easily accessible by car from other parts of the country.
In terms of public transportation, Harrogate, York and Leeds all have their own train stations. Knaresborough, another popular town in the Yorkshire Golden Triangle, also has its own train station.
Wetherby can be a little bit trickier to get to if you don't have your own vehicle. That said, there are many bus routes that run between each town or city. (Hurrah!)
How to Get Around the Yorkshire Golden Triangle
I'd recommend driving around the Yorkshire Golden Triangle so that you can cover more ground in less time. Plus, some of the best attractions (and views) are out of the way.
If you did want to hop on a train, you can travel between Harrogate, Leeds, Knaresborough and York stations quickly and easily.
In terms of bus routes to Wetherby, these are the main ones I know of:
From York, you can get the 412 bus with Harrogate Coach Travel
Starting at Harrogate, you can get the 7 bus with Transdev or the X70 bus with Harrogate Coach Travel
From Knaresborough, you can get the X1B to Christ Church with Road Runner Bus & Coach and then change onto the 7 with Transdev
Also coming from Knaresborough, you can take the X1B all the way to Harrogate Bus Station with Road Runner Bus & Coach and then get the X70 with Harrogate Coach Travel
All of these bus journeys will last between 30 and 60 minutes between pickup and dropoff.
Where to Stay in the Yorkshire Golden Triangle
As I mentioned earlier, it's relatively straightforward to travel between the main towns and cities in the Yorkshire Golden Triangle. Therefore, it makes sense to stay in one of the hotspots.
However, you may want to stay on the outskirts of York, Harrogate, Knaresborough, Wetherby or Leeds to make the accommodation cheaper. After all, the Yorkshire Golden Triangle is known for its expensive real estate. 
If you don't fancy a hotel and want more of a local experience, not to worry — there are plenty of Airbnbs in the area.
What to Do in the Yorkshire Golden Triangle
There are countless things to do in the Yorkshire Golden Triangle, but here are 10 of my personal favourites.
1. Spend a Day in York
Let's face it, you can't come all the way to the Yorkshire Golden Triangle and not visit the grand city of York.
Known for its 13th-century Gothic cathedral, medieval walls and Viking heritage, it's a big part of British history. To make the most of York, check out the following:
York Minster
The City Walls
The Shambles
River Ouse
York Castle Museum
Jorvik Viking Centre
The city centre also has good shopping and a bustling nightlife!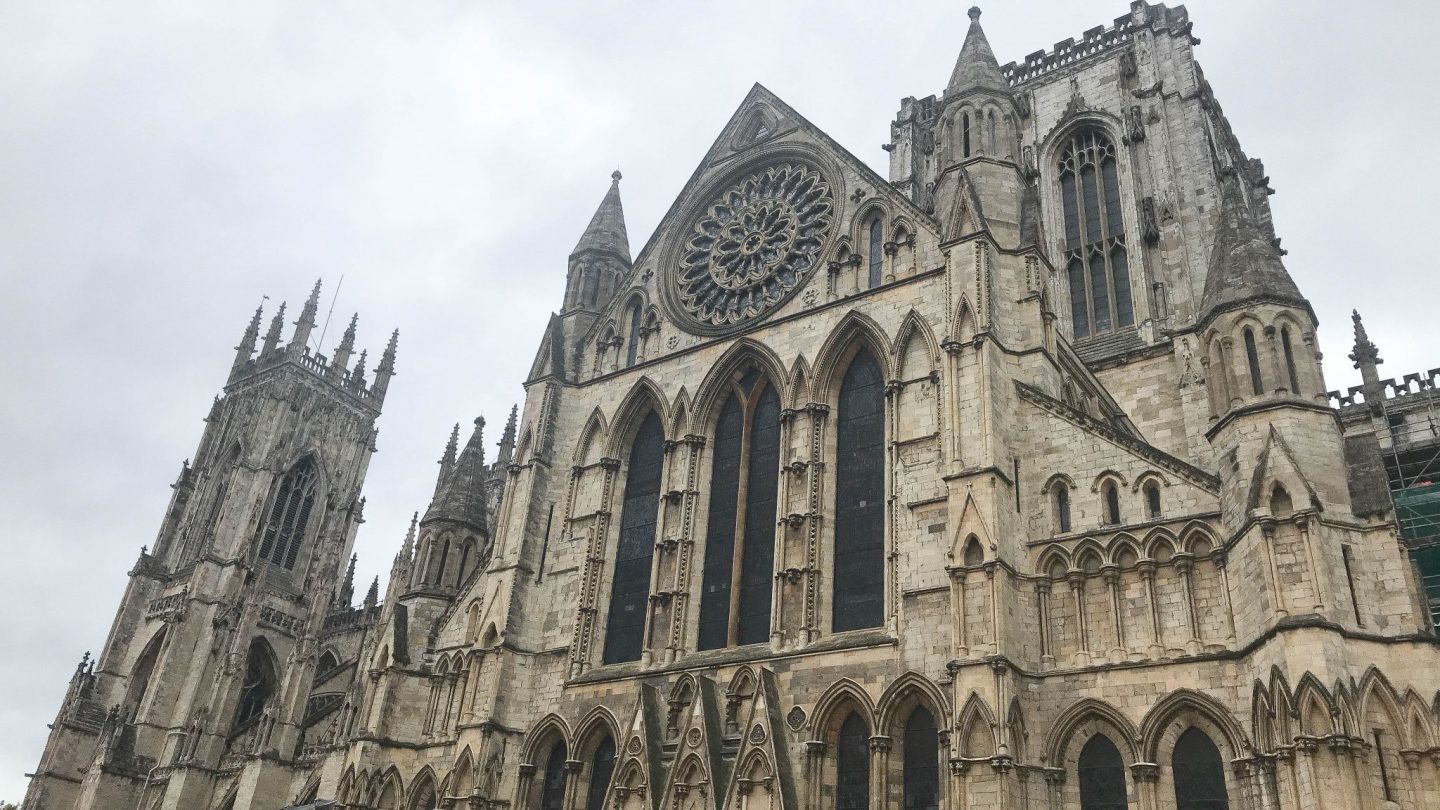 2. Have Afternoon Tea in Harrogate
Harrogate is like York's little sister. Famous for its restored, Moorish-style Turkish Baths and Spa, it has beautiful buildings, gorgeous greenery and yummy food.
Oh, and did I mention that it's home to Bettys, one of England's most-loved tea rooms?
Head to Harrogate for the day, grab a coffee at one of its cute cafes and do some shopping. Then, before you leave, treat yourself to a quintessentially British afternoon tea.
Trust me, you won't regret it.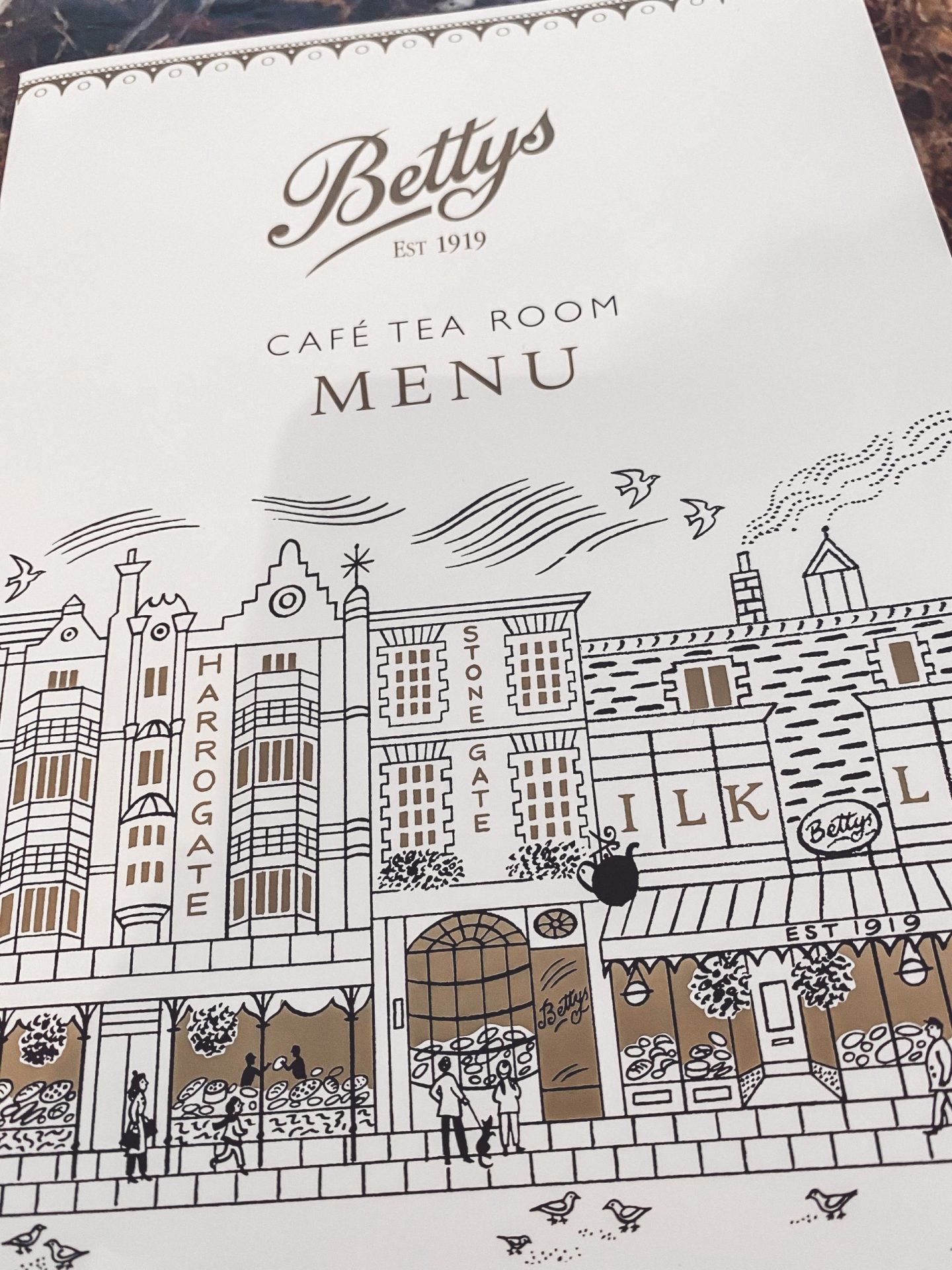 3. Have a Bottomless Brunch in Leeds
Leeds is the largest city in the county of West Yorkshire on the south bank of the River Aire, and it's a cultural hub of museums, shops, restaurants, cafes and bars.
One of the most enjoyable things to do in Leeds is go for a bottomless brunch or day drinks with my gal pals, especially at one of the following places:
Sky Lounge
Banyan Bar & Grill
Manahatta
Dakota Hotel
Neighbourhood
Call Lane and Greek Street are two of the busiest streets for partying in the area. There are also some lovely restaurants, such as Bibis Italianissimo and San Carlo.
(My mouth is watering just thinking about them!)
4. Go Shopping in Leeds
As well as the nightlife, the shopping in Leeds is spot-on. There's just so much variety!
From the luxury stores at Victoria Quarter to the market stalls in the Corn Exchange, there's something to suit every style and budget.
Personally, I love Trinity Centre, Victoria Gate and the outdoor shops on Briggate street.
5. Have a Stroll Through Wetherby By the River
As I said before, Wetherby is at the centre of the Yorkshire Golden Triangle. It's an adorable little town that has unique stone buildings, sweet cafes and quaint backstreets.
Speaking of cafes, my current favourite is Kofi&Co.
You should also take a stroll down by the River Wharfe under the Wetherby Bridge. You can get some cool photos and find a few moments of calm by the rushing water. Bliss!
6. Grab Some Bargains at York Designer Outlet
McArthurGlen is a shopping centre on the outskirts of York. It offers discounts on both international and national designer and high street brands.
Actually, every time I go, I can't leave without buying something!
For womenswear, I'm a fan of M&S, Adidas and Joules. For menswear, my husband likes Ted Baker, Ben Sherman and Nike.
Alongside the stores, there's also a food court upstairs where you can grab a bite from some of England's much-loved restaurant chains, such as Pizza Express, Bagel Nash and Wagamamas.
7. Take Photos of the Knaresborough Viaduct
Knaresborough is a market town on the River Nidd three miles east of Harrogate. Just like Harrogate feels like York's little sister, Knaresborough feels like Wetherby's slightly older cousin.
Its viaduct is a popular place for a photo or two — and you can even take a rowing boat ride underneath it! Even so, the best picture of the viaduct is from the top of Knaresborough Castle.
I love to go there on a sunshiny day and lose myself in the mesmerising views. (Cue the heart-eyed emoji!)
You can also do the tranquil Riverside Walk or visit Mother Shipton's Cave for a quirkier experience.
8. Check Out Harewood House
Harewood House is a country estate just a 15-minute drive from Wetherby. Built between 1759 and 1771, it's a great day out where you can explore the house and gardens for less than £20 per person.
Additionally, visitors can enjoy:
Exhibitions of contemporary art
A rare Bird Garden
A Farm Experience
Over 100 acres of grounds
My husband and I went for the first time together pre-pandemic and we were blown away by its beauty!
9. Have a Walk Around Roundhay Park
Looking for something free to do in the area? Then. look no further than Roundhay Park on the outskirts of Leeds.
Covering more than 700 acres of parkland, lakes, woodland and gardens, Roundhay Park is one of the biggest parks in Europe. And if you catch it on a sunshiny day, it's simply stunning.
As well as strolling around the lakes and wildlife spotting, you can visit one of the cafes for lunch or a good cup of coffee.
The first cafe is at The Mansion, which is an 18th-century building in the middle of the park. Having said that, my favourite is The Lakeside because it has an outdoor terrace on the edge of the lake. It's so peaceful there!
10. Take a Day Trip to the Dales
Lastly, I couldn't finish up this list without including the Dales.
The Yorkshire Dales is one of England's largest and most famous National Parks, spanning 841 square miles. Harrogate sits on its edge, with the Vale of York to the east.
Even if you don't have the time to venture deep within the Dales, you could always visit Bolton Abbey in Wharfedale. This is where you'll find the ruins of a 12th-century Augustinian Priory church in a pretty riverside setting.
Before you get to the ruins, you can stop off at a nice little cafe called Abbey Tea Rooms, or even visit the prestigious The Devonshire Arms for a cream tea.
Either way, this makes for a wonderful trip in the heart of the Yorkshire countryside.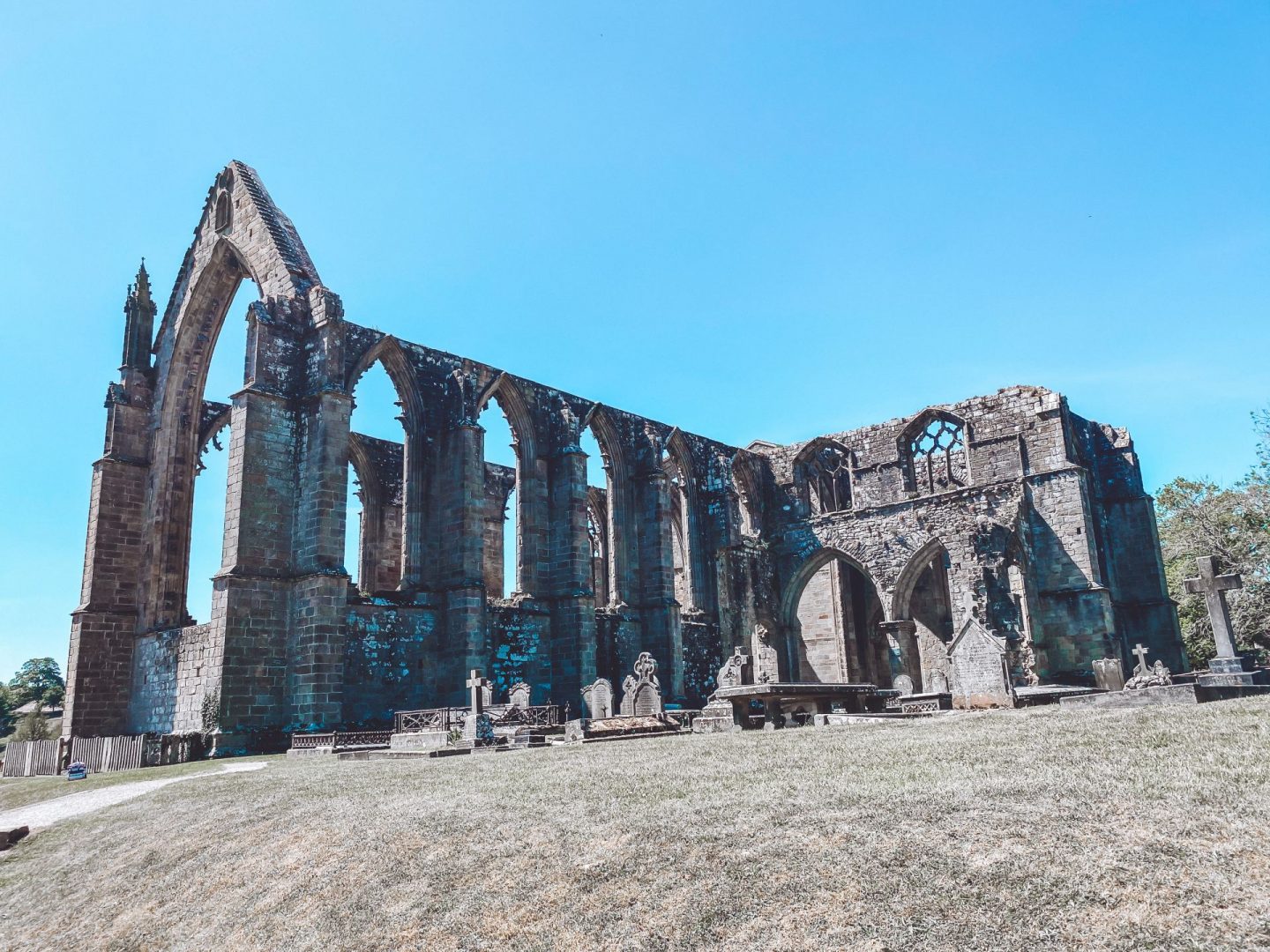 The Yorkshire Triangle: It's Golden!
If you tried to visit every stop in the Yorkshire Golden Triangle, you'd probably need a day for each place.
Although, you could couple some activities together for a whistle-stop tour. For example, here's a suggested itinerary for one week:
First day: York
Second day: Harrogate
Third day: Leeds
Fourth day: Wetherby in the morning, Knaresborough in the afternoon (or vice versa)
Fifth day: York Designer Outlet
Sixth day: Roundhay Park in the morning and Harewood House in the afternoon (or vice versa)
Seventh day: The Dales
It all depends on what you'd prefer to see and do and what you wouldn't mind skipping.
Regardless, you're going to have the best time! God's Own Country certainly leaves its mark.