Vietnam is a Southeast Asian country that's popular with budget backpackers and luxury holidaymakers alike.
From its golden beaches to its buzzing cities, there are many reasons why Vietnam is a must-visit in your lifetime.
Personally, I liked that the country isn't as commercialised as parts of Thailand, which makes it feel much more laid-back, untouched and serene.
Although I didn't have the opportunity to travel the entire country, here are my recommendations for the best places to visit in Vietnam. Thank me later.
1. Hanoi
The best places to visit in Vietnam 101: the capital city of Hanoi. It's especially known for its historic architecture and unique culture, which is a fusion of Southeast Asian, Chinese and French influences.
In addition to the temples dotted around the city, there's the Old Quarter that has super narrow streets full of stalls and trinkets. Nearby, there's also Hoàn Kiếm Lake which is exceptionally pretty to stroll around and take some photos.
Do you like museum-hopping? National Historical Museum and Vietnam Fine Arts Museum make for a very interesting afternoon.
You can also find some amazing cafes and eateries in the centre of Hanoi, like Joma Cafe (which makes one of the best vanilla lattes I've ever had!).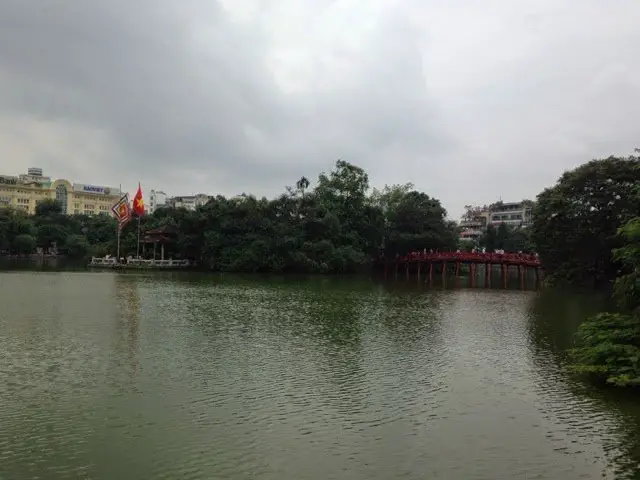 Pro tip: If you're on a budget, stay in Central Backpackers hostel in Hoàn Kiếm. There's a free beer hour in the evening – and nothing brings people together quite like free beer.
2. Ha Long Bay
Ha Long Bay, for those who don't know, is a series of rocks, islets and islands in the middle of the sea off the North East coast of Vietnam. And it's somewhere that everybody should see if they get the chance because it's gorgeous!
There are many travel companies that offer overnight junk boat trips for tourists for a reasonable price, so we decided to hop on board.
The first day of our trip we went to the caves and then kayaking around a fishing village in the middle of the bay. This was only my third time kayaking so it took me a while to get into the flow of it but it was still enjoyable. On the second day, our group were all a bit hungover from the party on the boat the night before. Therefore, only a couple of people did the rock climbing that was on the schedule. Then we travelled to a private island just across from Cat Ba where we stayed overnight in a beachfront bungalow before heading back to Hanoi.
The whole area was honestly so stunning that I can't even put it into words!
Pro tip: If you have time after your Ha Long Bay adventure, head to Sapa. It's a French-built village in the mountains which is supposed to make for an incredible trip.
3. Hue
From Hanoi, you can travel down the East Coast of Vietnam to Hue on a 13-hour train.
Sure, it's such a long trip but it's impossible to complain when you're sat next to the window watching the beautiful Vietnamese countryside fly past right before your eyes!
After being in the hustle and bustle of the capital city for so long, Hue was quite a refreshing change as there were less people, less traffic and less going on.
Head to the Citadel first, the palace where the Royals used to live. You can then mooch around the town, pop in the stalls and check out the cool bars and restaurants.
Pro tip: Go to the DMZ bar where you can sign the wall and play Jenga amongst other tourists! Oh, and be careful when you're crossing the road. Yes, there are motorbikes everywhere and it feels quite chaotic – but it's Vietnam. You can't expect anything less.
4. Hoi An
The absolute best of the best places to visit in Vietnam is Hoi An.
From Hue, you can get to this charming little town via a half day bus tour where you travel through Hai Van Pass. This road is famous for it's views of mountains and beaches and I have to say – it didn't disappoint!
Now, what else can I say about Hoi An apart from it's absolutely wonderful?
Built on the river and made up of little streets and back alleys, this location is so quaint and got a really cutesy feel to it.
There are tons of cute independent shops, including hundreds of custom made tailors.
You can also head to the beach, which is an absolute spectacle. There's white sand that stretches out at each side as far as the eye can see – and then beautiful turquoise water that sparkles in the sun.
My favourite part of Hoi An though? The bridge over the river, particularly at night when it features lit-up lanterns. When you walk on it, it's like starring in your very own real-life version of Tangled.
Pro tip: Even though I enjoyed visiting the nearby city of Da Nang, give it a miss if you're short on time. Other than a breathtaking beach, it has limited restaurants and shops. That said, don't miss out on Highlands Coffee. This is one of my top coffee chain recommendations around the globe. Try the "Jelly Freeze" Frappuccino if you want to make your tastebuds do a little happy dance.
5. Ho Chi Minh City
Finally, I'm told that Ho Chi Minh City is one of the best places to visit in Vietnam. But I can't really comment as I haven't had the chance to go there yet.
Formerly Saigon, Ho Chi Minh City is known for its French colonial landmarks and Vietnamese War history museums. You can also crawl through the Củ Chi tunnels, which were once used by Viet Cong soldiers.
I hope to go one day in the future to soak up more of the Vietnamese culture and check out the history of the city. Watch this space!
Planning the Best Places to Visit in Vietnam
Situated on the South China Sea, Vietnam is one of the most beautiful countries I've ever visited and I felt sad to leave after my 10-day trip.
I would have especially liked to have done Sapa in the North and then Ho Chi Minh City before flying onwards, but I ran out of time. It's a good excuse to go back though!
Make sure you learn from my mistake and plan to be in the country at least two weeks to make the most of everything on offer.
Have you visited this Southeast Asian country before? What would you say the best places to visit in Vietnam are? Let me know in the comments!
Katie Davies is the Yorkshire-based freelance writer who founded Trendy Tourist. Since 2017, she has written for over 100 companies on a range of subjects, from fashion to marketing. When she's not producing content, you can find her shopping, exploring a new place or sitting somewhere having a cup of builder's tea.