An island nation situated in the heart of Indonesia, Bali is known for its golden beaches, volcanic mountains and historic rice paddies.
In addition to being home to religious sites, like the Pura Tanah Lot and Uluwatu Temple, it's loved by tourists and locals alike for its abundance of yoga and meditation retreats.
I was lucky enough to visit this amazing place for the first time in 2014 with my sister and then again in February 2019 with my boyfriend. Both times, I got to explore more of the island and soak up more of the Balinese culture.
If you're travelling to Bali for the first time and you're wondering where to stay in Bali and what to do – I've got you covered. Read on for the ultimate Bali travel guide for first timers.
When is the Best Time to Go to Bali
Bali travel guide information 101: the months of July and August are considered high season, along with December when the Australian schools are on holiday. If you want to avoid the summer rush, try heading to Bali in April, May, June and September – before and after the peak months.
What's the weather like in Bali, I hear you ask? Well, Bali is considered hot for us Brits all year round.
Even though they have two seasons: dry (from May to September) and wet (from October to April), the temperature on the island is pretty consistent.
The lowest annual temperature tends to be in the mid-twenties (Celsius). However, the humidity easily makes it feel like it's in the mid-thirties. Then in the summer, prepare yourself for a scorcher in the form of 35 degrees plus.
How to Get to Bali
From the UK, the most direct way to get to Bali is to take a flight to Singapore (around 12 hours). Afterwards, you can hop on a plane from Singapore to Bali (around 3 hours).
Needless to say, don't forget your flight socks!
Where to Stay in Bali
Any other Bali travel guide will tell you that the most popular resort towns are Kuta and Seminyak.
Kuta is essentially "backpacker central" and one of the most touristic parts of the island. Here you'll find lots of shops, bars and restaurants nestled down charming roads and quaint back streets.
Sure, it's very affordable to stay in this area (try the Ida Hotel for £24 per night including breakfast). But you can expect a lot of hustle and bustle and a crowd who likes to party.
On the other side of the coin, Seminyak is considered the "luxury" area of Bali. With upmarket boutiques and sweet brunch spots aplenty, it's a lot more family and couples-orientated. That said, this area has just as many bars and restaurants as Kuta, but at higher price points.
Additionally, Seminyak is home to multiple villa resorts for those who want to reward themselves on holiday for working hard all year. (I've stayed in both Mutiara Resort & Villas and Alam Warna Villas and can highly recommend both!)
Either way, there's no denying that Bali has a lot of diverse villages and many areas where you can stay. Having said that, one thing remains the same: the locals are always super welcoming.
Where to Eat in Bali
There are many great eateries that I could list in this Bali travel guide. If you want to sample some of the local cuisine, you can do so in the countless independent restaurants around the island.
However, if you're more inclined to stick with what you know, the following western-style restaurants in Seminyak are especially wonderful.
Sisterfields: An Australian-style all-day cafe opposite the shopping mall with amazing brunch, juices and coffee.
La Lucciola: A hut-style Italian restaurant on the beach with some of the best seafood I've ever tasted in my life.
Ku De Ta: A restaurant, bar and beach lounge with an incredible a la carte menu and sunset views.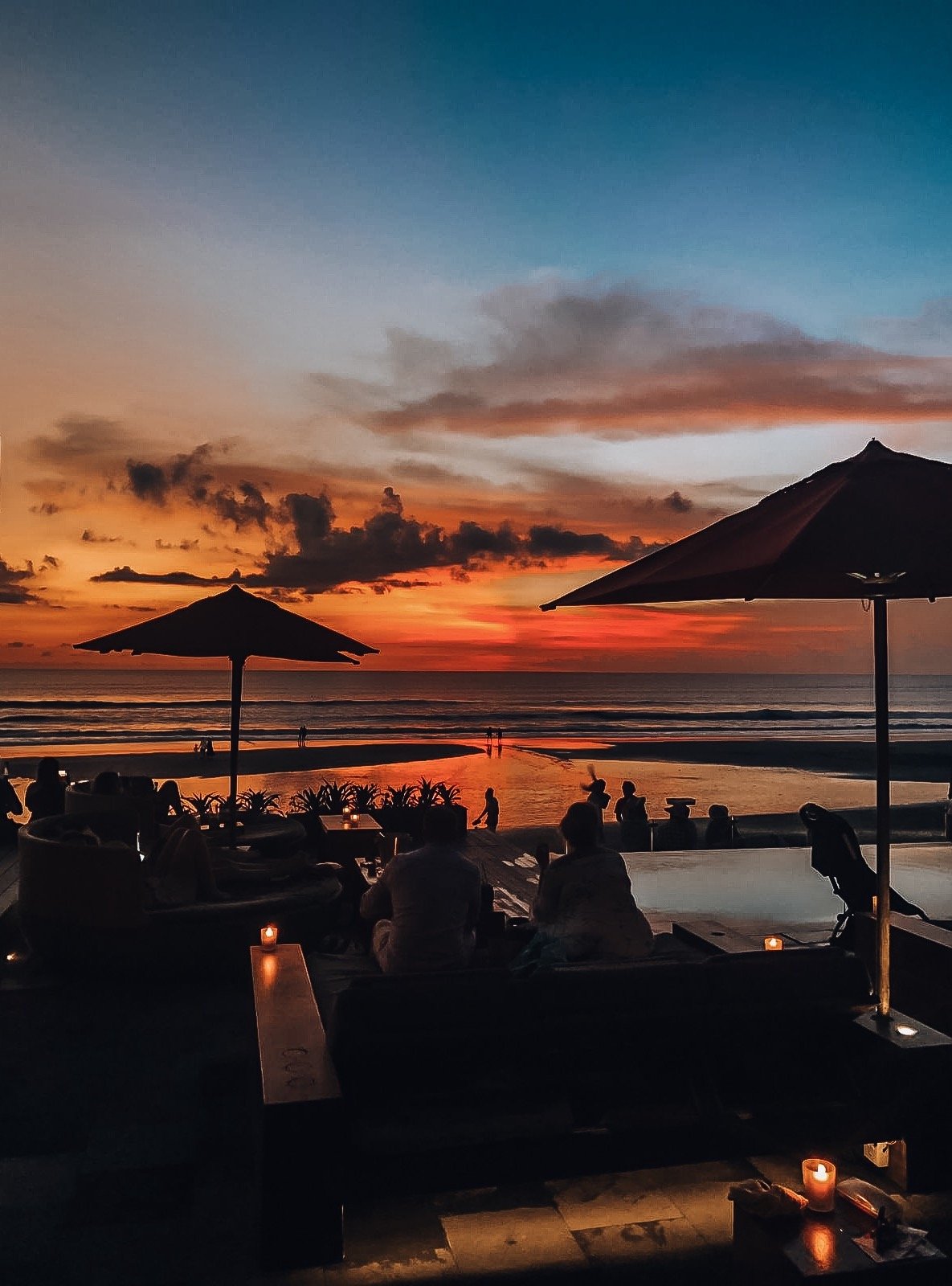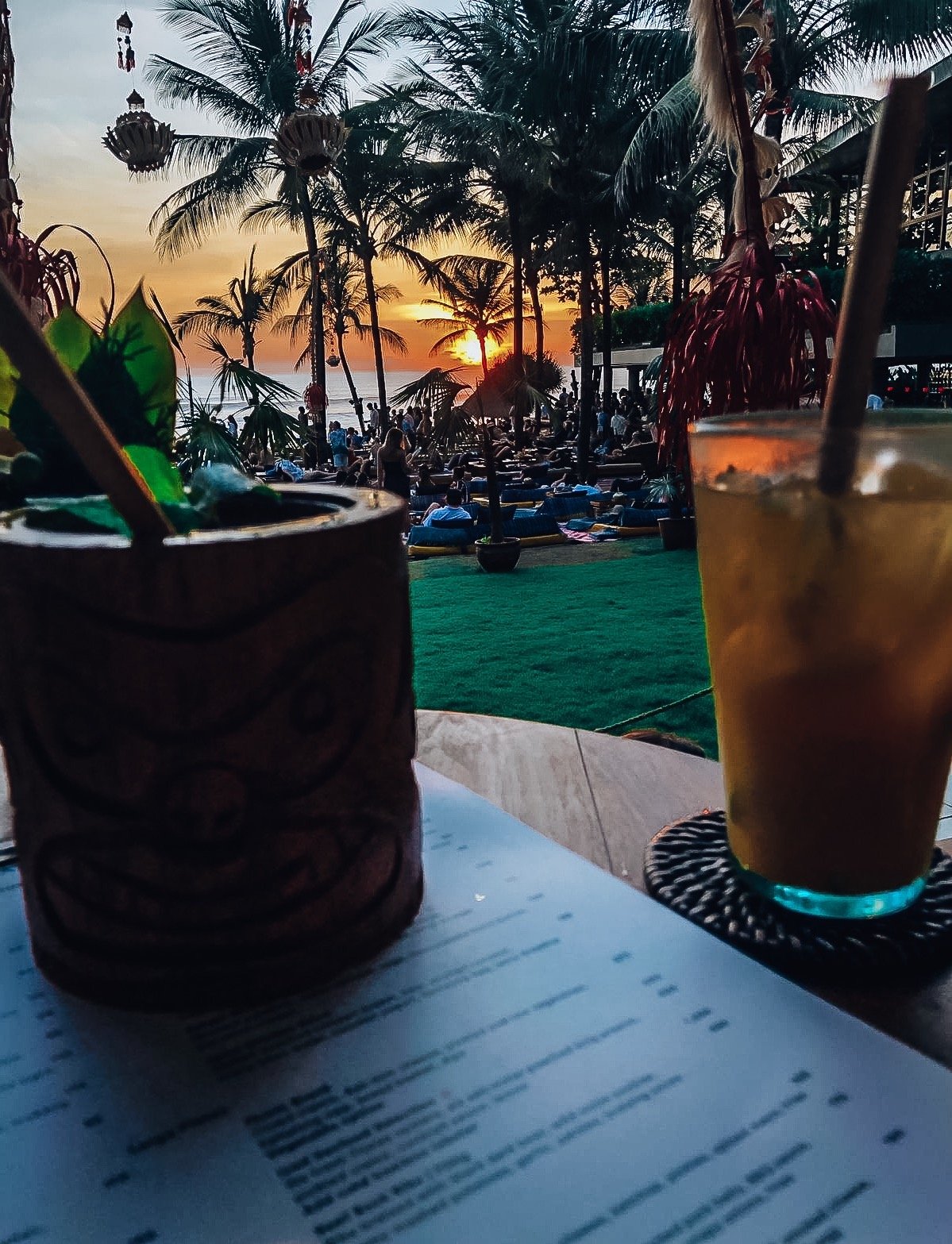 In any case, just make sure you have a Nasi Goreng before you leave. Nasi Goreng consists of noodles with chicken and seafood and it's the Indonesian meal of champions.
Trust me, you won't regret it.
What to Do in Bali
There's a reason why any other Bali travel guide will tell you that the island one of the most common honeymoon spots. There's just so much to see and do!
Make sure you add these activities to your Bali trip planning.
The Beaches
From the busyness of Kuta Beach to the calm serenity of Petitenget Beach in Seminyak, the golden sands that are lined with luscious greenery and stretch into deep blue water are not to be missed.
That said, don't expect to be able to sunbathe at any point for more than 10 minutes at a time.
The humidity of the island means that being in the shade or water throughout the day is imperative – unless you don't mind showering in your own sweat.
Tegenungan Waterfall
Before visiting Tegenungan Waterfall, I was told it was one of the most beautiful waterfalls on the island – and it didn't disappoint.
Situated near Ubud, you have to trek down some stairs in the thick of the Balinese jungle to get to it – and watch out for sharp rocks in the shallow pool surrounding it. But it's so worth it. A true scenic beauty.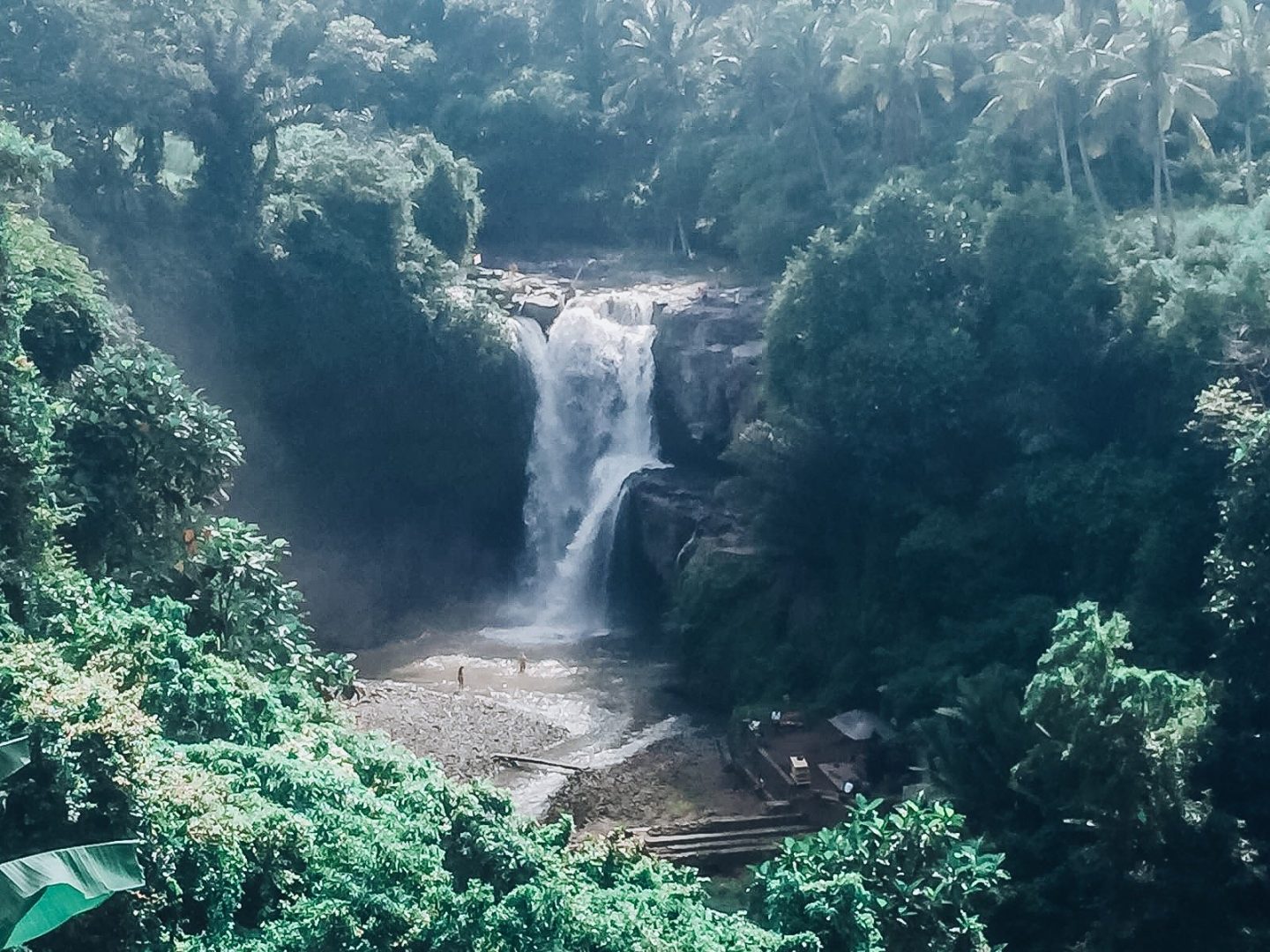 Ubud
When I went to Bali the first time around, I did a day tour that included a visit to both Tegenungan Waterfall and the nearby rice paddies before finishing up in Ubud. This was so my travelling buddies and I could see the Royal Palace and famous shopping markets.
Just as endearing as Kuta and Seminyak, it's fun to just walk around and explore the artistic village of Ubud.
Whether you choose to pop in and out of the cute cafes, visit the creative art galleries or grab yourself some bargains at the market, you're sure to have a pleasant afternoon.
Potato Head Beach Club
It's no secret that Bali is famous for its stunning sunsets.
If you're looking for a good time on an evening, head to Potato Head Beach Club in Seminyak for their sophisticated cocktails and soulful music overlooking the beach. It's perhaps the best experience I've ever had watching the sun go down. And the views were out of this world.
A Traditional Balinese Massage
Finally, you can't go all the way to Bali without indulging in a traditional Balinese massage. I've had two now, and I've never felt so relaxed as I do once my hour is up.
Try it and I guarantee you won't be disappointed.
Following My Bali Travel Guide for First Timers
Let's just get one thing straight here. Bali is beautiful, no matter which area you visit and whichever way you look at it.
When you initially think of Bali, you think of an exotic location half a world away. You think of long stretches of golden, sandy beaches, palm trees and laid-back island life – and that's before you've even ventured there. Once you've visited, you come to the realisation that it's all of the above – and so much more.
Whether you choose to follow my Bali travel guide for first timers or just do your own thing, I know you're going to love it. After all, nothing beats the chilled vibes of island life!
Have you ever been to Bali? What do you think of my Bali travel guide? Do you have anything to add?
Katie Davies is the Yorkshire-based freelance writer who founded Trendy Tourist. Since 2017, she has written for over 100 companies on a range of subjects, from fashion to marketing. When she's not producing content, you can find her shopping, exploring a new place or sitting somewhere having a cup of builder's tea.