How to Style the Karl Lagerfeld Tokidoki Necklace
December 15, 2013
The Karl Lagerfeld x Tokidoki necklace is a collaboration between Karl Lagerfeld and the Japanese-inspired lifestyle brand known for its bold aesthetic and quirky characters.
Available in select Karl Lagerfeld retail locations since August, it combines the concept of high fashion jewellery with a watch function to create an innovative digital timepiece.
The character of the necklace is Karl himself with his trademark dark sunglasses and white ponytail. When you push the buttons either side of his glasses, the time displays digitally on the front.
It's really quite clever and incredibly cute.
However, because it's a standout piece, styling it can be quite tricky.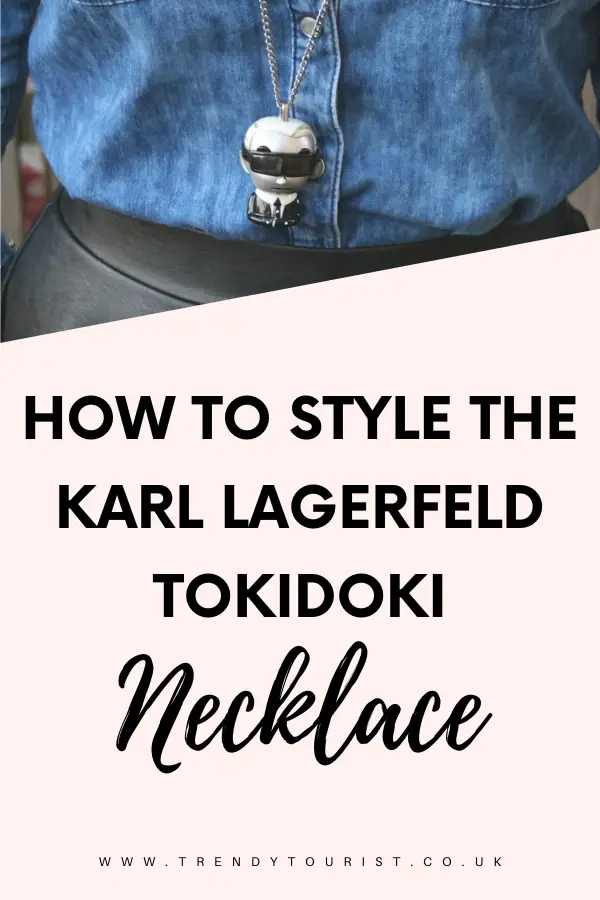 Karl Lagerfeld Tokidoki Necklace x Leopard Print
As the pendant is rather eye-popping, I thought I'd tone down the rest of my outfit with simple cuts and colours.
I decided to team my button-up denim shirt with a black leather A-line skirt and cutout boots. This would allow the necklace to take centre stage and stand out for all the right reasons.
That said, it was a rather chilly day so I needed an extra layer. Therefore, I thought I would add interest to the outfit through a leopard print coat.
Denim Shirt – ASOS / Leather Skirt – Topshop / Black Glittery Tights – M&S / Cut Out Boots – eBay / Leopard Print Coat – eBay (originally from NEXT)
A Match Made in Heaven
This leopard print coat is perfect for keeping toasty during the cold winter months and produces a fun, quirky look when combined with the Karl Lagerfeld Tokidoki necklace.
Finally, I decided to add a neutral, woolly scarf for comfy, cosy chic.
A warm and fashion-forward OOTD featuring a charismatic pendant that also tells the time? I'm onto a winner here.
Do you like the Karl Lagerfeld Tokidoki necklace? And my new leopard print coat? Let me know in the comments!
Katie Davies is the Yorkshire-based freelance writer who founded The Trendy Tourist. In the last three years, she has written for over 100 companies on a range of subjects, from fashion to marketing. When she's not producing content, you can find her shopping, exploring a new place or sitting somewhere having a cup of builder's tea.