When it comes to setting up a fashion blog in the digital age, there's so much to think about.
Contrary to popular belief, it's not just a matter of coming up with an idea and typing out the words. You also have to perform extensive research, source or produce attractive images, optimise posts for SEO and then continuing to promote the heck out of them.
Then there's the blog itself. It needs to be functional, but it also needs to be aesthetically-pleasing if it's going to stand out in an already overcrowded marketplace.
And all of this doesn't just happen overnight. You have to work at it.
However, it's worth it if you want to successfully make a living doing something you love.
Brand new to blogging and need to set up and grow your fashion blog? Read on for my top tips.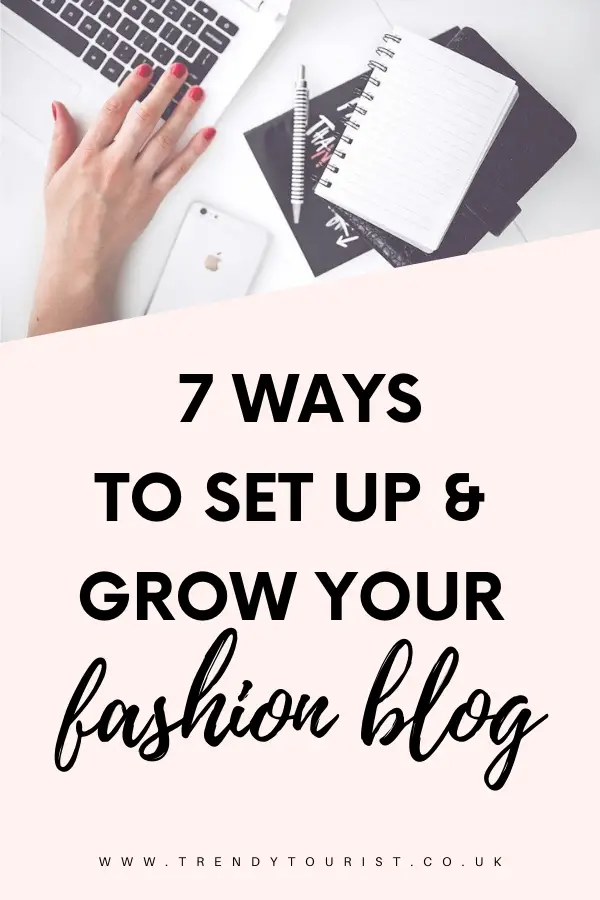 1. Decide on a Website Host
To grow your fashion blog, the first thing that you need to do is decide on a website host.
Are you going to use a platform like Blogger or WordPress.com that's free to use and aimed at beginners who just want to blog for fun? Or do you have big plans for your blog and want to grow it into a sustainable business one day?
If you're thinking the latter, you might want to think about self-hosting. For a small charge per month, you can sign up with a self-hosted platform which has the following benefits:
You completely own and control your blog
You don't have to worry about your platform suddenly shutting down and losing all your content
You can customise just about anything you want
You have constant, on-hand help from your platform's readily available team of experts.
A popular self-hosting platform to check out is WordPress.org via SiteGround*, which I use and love.
Why? Well, A) because the customer service team is amazing. And B) they make the transition process so easy!
You could always get started using a free platform and then switch to self-hosting later on in the game. However, when you do switch over, make sure you choose SiteGround*.
Trust me, you won't regret it.
2. Buy a Domain Name
Alright, so you don't have to buy a domain name if you're using a platform such as Blogger and WordPress. It just means that you have a rather untidy extension to your blog name (i.e. http://www.blogname.blogspot.com).
And this isn't ideal when you're trying to look authoritative!
Buying your own domain name is quick, easy and practically painless. All you need is a few quid per year.
You can use websites like GoDaddy to grab a quick domain name. Alternatively, if you're self-hosted, your platform will offer this service as part of a package or for another small charge.
I definitely recommend that you buy your own domain name if you want to grow your fashion blog, whether you're using your platform for personal or professional purposes, mainly because it just looks so much better!
(Don't you think?)
Oh, and because you're going to be working in the fashion niche – try to pick something creative to reflect your upcoming content. Let's face it, www.fashionblog.com doesn't exactly scream "click me"!
3. Have Regular Brainstorming Sessions
Okay so you've got your blog basically set up, you've chosen an awesome domain name, and you're ready to start publishing!
Now comes the fun part – let's get brainstorming blog post ideas.
What kind of content are you feeling? Outfit posts, trend reports, how-to guides? The choice is yours!
Either way, make sure that you have a place for writing down all your ideas (whether it's in a physical notepad or on your computer). Then pick the best ones to develop into actual blog posts.
Also, try to make your ideas as unique as possible. This will be difficult because the fashion blogging world is extremely oversaturated, but there is only one blogger like you and that's your superpower.
Live by this mantra.
4. Create Killer Content
To successfully grow your fashion blog, you need to create posts that people are actually going to want to read and that tie into your personal brand.
Aspiring bloggers, take note: content is always king!
Choose exciting topics that are original, develop copy that delivers value to the reader and use media to break up the huge chunks of text in your posts. (By media – I'm talking imagery, videos, screenshots, etc.)
In addition, make the post easily accessible and digestible to the reader, which will also help your posts rank better in terms of SEO. (That's Search Engine Optimisation, for newbies!)
A little tip? Spend time creating and perfecting your posts, especially in the early days. Don't ever compromise your blog's content because you're short on time or you simply can't be bothered that day.
Start how you mean to go on – and take it slow. Blogging isn't a race! In fact, quite the opposite – it can take quite a long time to get results.
(I'm talking years.)
5. Promote Your Posts
Once your fashion blog is up and running and you're creating a steady stream of helpful content for your reader, you have to promote your blog posts.  Otherwise, your blog will never grow.
Social media is the greatest tool ever for this.
Be active on Facebook, use Twitter, utilise Instagram – and hey, even email your Great Auntie Maureen. Whatever works to spread the word about your fabulous new blog post – do it!
When it comes to Twitter and Instagram, you can use certain hashtags that are specifically designed for the fashion blogging community to help generate engagement. Some examples include:
Fashion – #fbloggers #fashionbloggers #fbloggersuk #ukfashionbloggers #fashionbloggersuk
Fashion also fits under the "lifestyle" umbrella, so you can also use the following:
Lifestyle – #lbloggers #lifestylebloggers #blogginggals #bloggerstribe #lblogger
The trick is to initially promote your posts once they go live – and then continue to promote them on a consistent basis.
Whether you can only afford the time to do this once per week, once per month, or even once per year, it's okay. Just keep in mind that your killer content deserves to be read and appreciated – and try to take your shyness out of the equation!
6. Engage with Relevant Blogging Communities
As well as creating and posting killer content and promoting each post that you publish, it's important to regularly engage with the fashion blogging community if you want to grow your fashion blog.
Not to worry, they're a lovely bunch, and they're happy to comment on your blog posts if you comment on theirs.
That said, make sure that you get yourself out there! It's all about that self-promo!
Use the hashtags mentioned previously to search for blogs you might like, give them a visit and then leave them some love via social media. The chances are, your generosity will be reciprocated!
You can also participate in Twitter chats, which run like clockwork every week based on a topic announced beforehand. Here are a few that you could get yourself involved with:
Fashion, beauty and lifestyle – #fblchat on Tuesdays at 8-9pm GMT
Fashion – #fbloggers on Sundays at 8-9pm GMT
Lifestyle – #lbloggers on Wednesdays and Sundays at 7-8pm GMT
Essentially, if you're serious about growth and achieving all your blogging goals, then it's time to get chatty!
7. Post Regularly
The final tip I have for you in terms of how to grow your fashion blog is to post regularly on your blog once it's up and running. After all, it's the only way that you're going to keep and increase your audience.
Don't be one of those bloggers who posts regularly for a couple of months and then disappears. I mean, it's not fair to build your audience and a loyal following only to abandon them for months at a time. This will result in losing trust with your readers and, therefore, undo all your hard work.
Hint: consistency is the key!
Decide on a content schedule and stick to it. Then, and only then, you will start to see the results of your growth through your blog's statistics and engagement level.
Plus, if you're looking to turn your blog into a source of income, you might start getting approached by brands around this point – and that's when it gets really exciting!
Having the Patience to Grow Your Fashion Blog
As with anything in life, blogging is a long-term game. It takes time to figure out the logistical side of things, such as setting up your blog, as well as the marketing side of things via social media.
However, if you persevere and you're serious about it (and more than willing to put in the work) then there's no reason why your blog can't be a raging success.