Disclaimer: this post contains affiliate links, which means I receive a small commission when you purchase the product at no extra cost to you! All affiliate links will be marked with an asterisk (*) and help us to run this site so we really appreciate your support. To read our full privacy policy, click here.
In the busy digital age, we have a lot on our plates. Between going to work, maintaining a home and socialising with loved ones, our schedules are hectic, which means that it's difficult to find time to exercise as often as we'd like.
And this is especially true for travellers spending months abroad, who feel like it's pointless joining a gym when they'll soon be moving to a new destination. Right?
That said, undergoing aerobic activity on a regular basis is so important. In addition to improving your physical health, the endorphins that your body releases during exercise also have a significant effect on your mental health.
Can't get to a gym or exercise class anytime soon? Not to worry — we've got you covered. Read on for 3 types of cardio you can do in your room as a beginner, either before work, after work or on a break from work.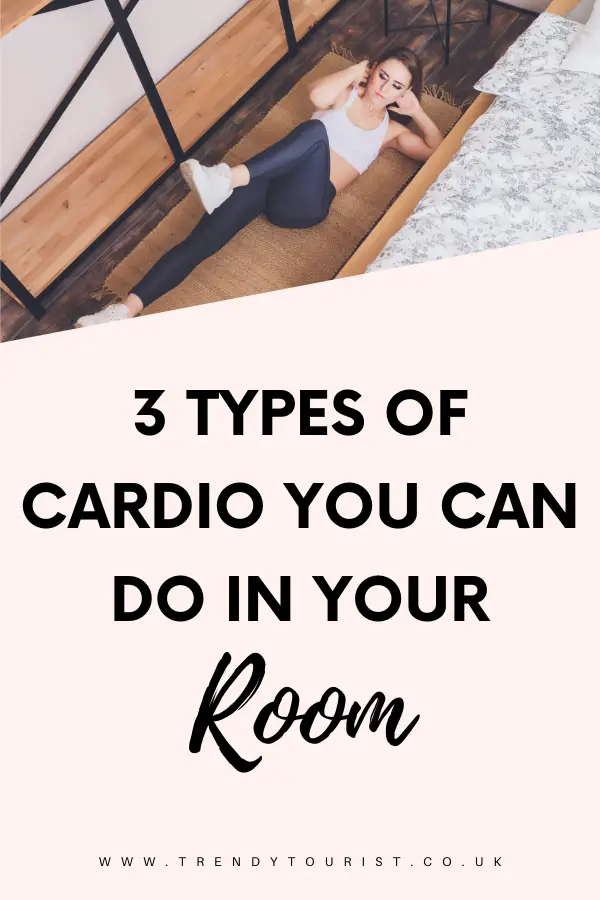 1. High-Intensity Interval Training
Cardio you can do in your room 101: High-Intensity Interval Training, or HIIT.
This involves doing a short burst of intense anaerobic exercise in between less intense recovery periods.
And for those of you who may not know, anaerobic activity is a type of exercise that breaks down glucose in the body without using oxygen. It's harder but shorter than aerobic activity, which uses oxygen to meet the energy level required for this type of exercise.
Some of the benefits of HIIT include:
Burns calories
Boosts your metabolism
Builds and maintains lean muscle mass
Boosts your energy levels
Improves your heart health
Protects your joints
Builds fitness level
And a bonus? HIIT doesn't require any special equipment. Just choose a YouTube workout and away you go!
One of our favourite instructors is Joe Wicks, who has an abundance of "sweat challenges" you can do alongside him on The Body Coach TV YouTube channel.
Having said that, you can just type "HIIT workout" into YouTube's search box to find different instructors and workouts that you might like. The choices are endless!
2. Zumba
Another type of cardio you can do in your room is Zumba.
Never heard of Zumba? If not, it's a Latin-style dance workout that originated in Columbia in the 1990s. And with each class lasting 45-60 minutes, it has a variety of health benefits.
Some of which consist of:
Improves cardiovascular health (including your heart)
Burns calories (approximately 400 to 600 per class)
Releases stress
Increases muscle strength and flexibility
Improves co-ordination
And do you know what else? It's really good fun!
Even if you're not the best dancer, you can find beginner Zumba classes on YouTube to follow along with. 
That said, one of our favourite Zumba workouts ever is the Super Cardio Dance Party (*) from the official Zumba DVD by creator Beto Perez.
Oh, and if you're feeling a little shy while doing it for the first time, don't sweat it. You're at home where no one can see you!
Plus, the more Zumba you do, the better you become at it.
3. Aerobics Classes
Lastly, an aerobics class is a type of aerobic activity (hence its name) that's a great workout for your heart, lungs and body.
In addition to improving your physical fitness level, this type of exercise can burn calories, lower your blood pressure, reduce inflammation and raise "good" HDL cholesterol.
In the long run, it can even reduce your risk of stroke, heart disease, depression, type 2 diabetes and some forms of cancer.
Whether you prefer a dance variation or a simple workout made up of several cardio exercises, such as squat jumps, jumping jacks or mountain climbers, just type "aerobics class" into YouTube to find something suitable for you.
Alternatively, Davina McCall's "Fit in 15" (*) DVD has a cardio section that we find works perfectly for increasing your heart rate and burning fat at home!
Just try it for yourself.
Committing to the Cardio You Can Do in Your Room
Sometimes life gets in the way and we're not able to exercise as much as we'd like.
Having said that, these types of cardio you can do in your room really help you squeeze in a workout while you're at home. Especially because most of them are only 15 to 45 minutes long!
Experiment with various options to find out which ones you enjoy and benefit from the most.
Either way, be sure to follow the advice of health organisations, who recommend that you get at least 150 minutes of moderate aerobic activity or 75 minutes of vigorous aerobic activity each week. This way, you're sure to see results — and fast.
Have you ever done any of these types of cardio you can do in your room? Do you have any workout recommendations?
Katie Davies is the Yorkshire-based freelance writer who founded Trendy Tourist. Since 2017, she has written for over 100 companies on a range of subjects, from fashion to marketing. When she's not producing content, you can find her shopping, exploring a new place or sitting somewhere having a cup of builder's tea.