Disclaimer: this article contains affiliate product links, which means we receive a small commission when you make a purchase at no extra cost to you! All affiliate links will be marked with an asterisk (*) and help us to run this site so we really appreciate your support.
There's no doubt about it, New Year's Eve is one of the most exciting nights of the year. Although we initially had high expectations, multiple parties to attend and countless people to see, current lockdown uncertainty means that we may have to opt for a smaller, more socially responsible gathering. (Wah.)
Even so, dressing up for the occasion is a must, just in case this is the last event we get to attend for a while! Right?
Having said that, dresses are fun, feminine and appropriate attire to start 2022 in. Whether you're a fan of sparkles or prefer something more understated, we've got you covered with the best New Year's Eve dresses to stand out in style this season.
1. The Sequin Dress
First things first, you can't go wrong with sequins at a New Year's Eve party. This staple is considered one of the best New Year's eve dresses for celebrating the most glamorous night of the year, helping you kiss goodbye to 2021 with pizzazz.
In fact, sequin dresses are always a winner during the holiday season. Even if you don't currently own one and you have to invest, rest assured that you will get your money's worth for holiday seasons to come.
We'd recommend pairing this In The Style x Lorna Luxe Emily Dress (*) or this H&M Sequined Mini Dress (*) with a glitzy clutch, OTT makeup and big, bouncy curls for the ultimate show-stopping look.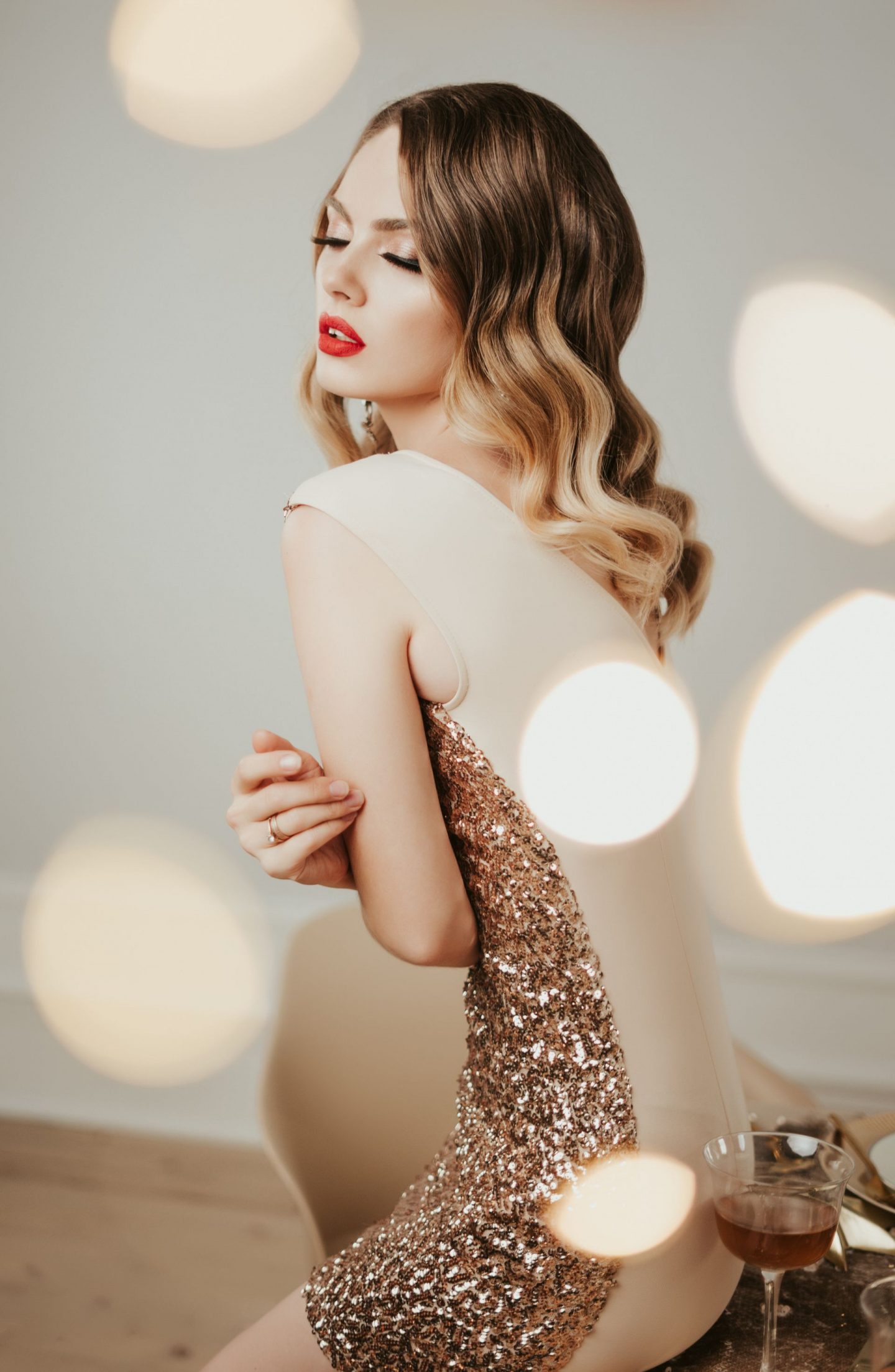 2. The Puff Sleeve Dress
It's no secret that puff-sleeve dresses and blouses have been lusted after for the past few seasons. Though this may seem like a summer trend, it's actually set to be one of the hottest AW21 styles.
Instead of opting for floral prints and pastel fabrics, embrace richer colourways, moodier patterns and sheer fabrics for the best New Year's Eve dresses with puff sleeves. Perfect for anyone who wants to add a touch of drama to their outfit, keep makeup and accessories minimal and add strappy heels to make maximum impact. 
We're loving this Zara Short Printed Dress (*), as well as this ISAWITFIRST emerald green beauty (*) with captivating cutout detailing.
3. The Animal Print Dress
Trends come and go, but animal print is forever. This iconic pattern will always look fierce at a party, making it one of the best New Year's Eve dresses to embrace this winter season.
From classic leopard print styles to more alternative zebra print dresses, we're a fan of exotic mini dresses when paired with heeled black boots, a crossbody bag, and plenty of attitude. For example, these ASOS Design (*) and Mango (*) dresses are completely roar-some, don't you think?
4. The Maxi Dress
Mini dresses are very common for New Year's Eve parties, but nobody's saying that you have to rock a short hemline! In fact, maxi dresses also pack a festive punch, especially in a slip dress style.
Team this ASOS Design Batwing Sleeve Wrap Dress (*) or this Zara Satin Camisole Dress with a chic oversized blazer and some sleek stiletto heels to epitomise contemporary fashion at its finest.
5. The Sultry Mini Dress
The sultry mini dress is a classic look for a big NYE celebration. Whether you opt for a bodycon or a skater shape, this hero piece is perfect for dancing the evening away.
Popular mini dress trends for AW21 include block colours, square necklines and slip dresses with funky prints. Complement yours with big hair, chunky platform heels and a mini shoulder bag for a cool, modern ensemble.
We're obsessed with this H&M Short Satin Dress (*) and ASOS Design Black Mini Dress (*) that will both turn heads.
6. The Jumper Dress
For many of us, New Year's Eve is a colder time of year. If you don't feel like freezing off your wotsits in a "barely-there" sequin mini, you may want to opt for a cosy knitted jumper dress instead.
This type of dress works well as a midi length for optimal warmth when the countdown starts. Pair this Mango turtle neck (*) or M&S funnel neck (*) version with thigh-high boots for extra comfort (and sass)!
7. The Midi Dress
Struggling to decide whether you want to wear a maxi or mini dress? Welcome to the stage, the midi dress!
The midi dress offers ample coverage for those cold December nights, but doesn't reach your ankles as a traditional maxi option would. This is a great New Year's outfit for anyone who wants to ooze glamour and a readiness to celebrate.
Midi dresses are currently trending in deep colours and velvet fabrics, which are ideal for the winter season. Pair yours with a smoky eye and high stiletto heel for a look that's worthy of a Love Island bombshell.
Our top picks include this Zara Velvet Midi Dress and this Mango Velvet Knot Midi Dress (*).
8. The Asymmetric Dress
Dare to try something different? The asymmetrical dress trend is one for the fashion-forward, not the faint-hearted. It features bold silhouettes and is perfect for those who want to wear a unique New Year's dress to the party.
Common asymmetric dresses feature one-shoulder designs or different hem lengths. They come in a wide range of prints, lengths, and colours, meaning that there's one for every taste. We like this mesmerising Mango number (*), or even this quirky Zara Asymmetric Drape Dress.
To show off the structural cut and unusual neckline of these dresses, wear your hair in a high pony or bun. Then add statement earrings and a bright lip for extra style points.
9. The Cut Out Dress
Want to add some extra flirty details to your New Year's look? Try a cut-out dress! 
These alluring dresses are adored by the fashion-sphere right now, particularly in a bodycon LBD design a la:
Keep in mind that this is an extremely versatile dress that can be put with any hairstyle or accessory colour palette. It can be worn for years to come so that you get a better return on investment.
10. The Ruffle Dress
Lastly, ruffles are another trend that's been on the fashion-sphere for a while now but isn't showing any signs of disappearing. 
However, for AW21, ruffle dresses are taking a darker turn. Instead of bright colours, ruffles are now dominating in sheer, dark fabrics, giving an almost gothic aesthetic. 
These New Year's dresses are super elegant for an evening event and can be combined with metallic accessories and sparkly eyeshadow for a dazzling finish.
We especially adore this ASOS Design Ruffle Wrap Mini Dress (*) and this Zara Embroidered Ruffle Dress. Forget levelling-up, it's time to ruffle-up!
Finding the Best New Year's Eve Dresses to Have Fun In
New Year's Eve is one of the most fashionable events of the year, even if we can't do it quite like how we wish we could this year.
Instead of leaving your outfit planning until the last minute, these best New Year's Eve dresses can help you to curate the perfect look so that you can feel confident on the night and make the greatest memories for months to come.
Happy New Year, all! 
What's your favourite on this list of best New Year's Eve dresses?
Katie Davies is the Yorkshire-based freelance writer who founded Trendy Tourist. Since 2017, she has written for over 100 companies on a range of subjects, from fashion to marketing. When she's not producing content, you can find her shopping, exploring a new place or sitting somewhere having a cup of builder's tea.