You may be forgiven for thinking that following the latest beauty trends requires time, money and dedication.
The truth is: you can stay stylish without too much effort if you just use the tools that you already own.
In fact, here are some of the best beauty trends for SS18 that most of us can pull off using only the most basic things we've already got at home. With a little bit of practice, you can learn how to apply them and get ready in the nick of time.
Look Me in the Eyes
Let's get started with the best beauty trends for SS18.
Who doesn't remember the iconic Wonderbra ad featuring Eva Herzigova and her seductive, eye-lined look?
The good news is the graphic liner is back. This season reinvented the cat-eye, allowing for more detailed, creative and whimsical shapes than we're used to.
Thick or thin lines, underlines, flat lines or curls, even lines that follow an elaborate pattern rather than your eyelid – anything goes. There are no rules but to put the focus on your eyes as much as possible.
If you feel you're not skilful enough to get a clean line, just give it a grungy smudge to get a nonchalant, smokey look. Or, don't strive to make your lines perfect – play with shapes and forms and go for asymmetry.
(Don't) Bite Your Lips
This season, your mother's warning: "stop biting your lips!" has stopped being relevant. (Sorry, mum!)
A huge trend in lip makeup is bitten lips, which is incredibly easy to achieve.
Simply apply a bit of raspberry or cherry-coloured lipstick (or even eyeshadow) in the centre of your lips then smudge it outwards to the edges. Finally, top it off with some transparent lip gloss. For a full effect, apply blush in the same hue.
Another trend dictates sporting perfectly outlined lips in bold, matte colours.
A pale tan paired with dark lipstick is a much-coveted look, and popular colours include mulberry, cognac and reddish-brown – to name a few.
Just remember that "makeup is about balance. When the eye makes a statement, the lips should be quiet."
Beauty is (Not) Skin-Deep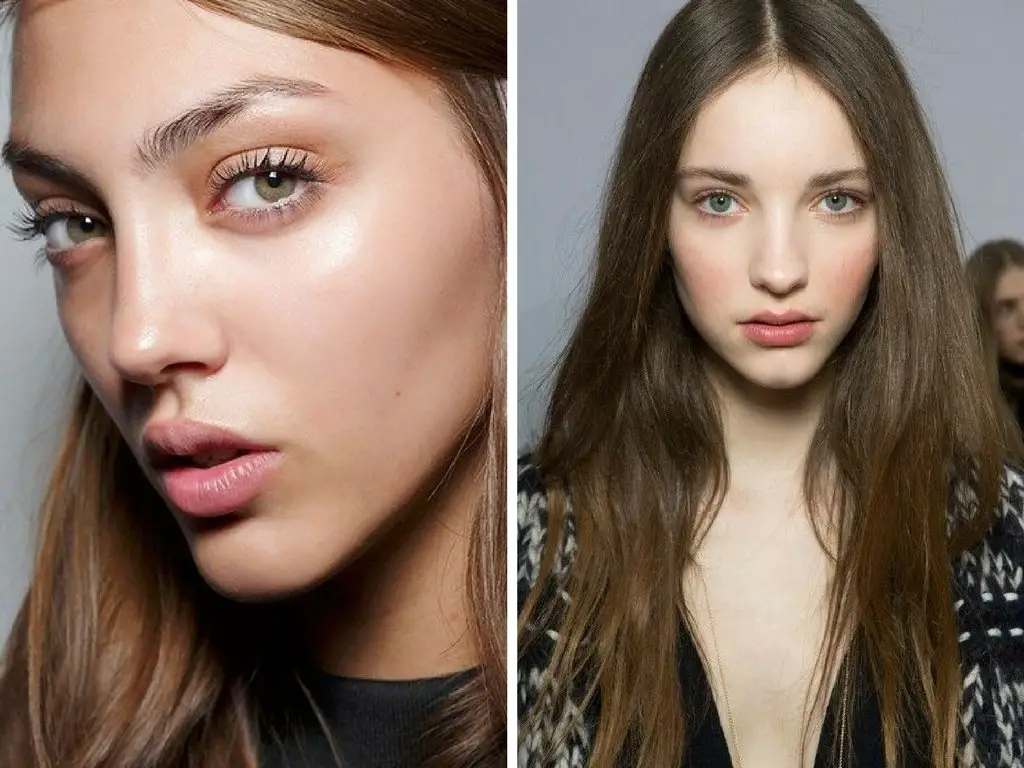 Possibly the biggest beauty trend this season is the natural, glowing skin complexion.
Having healthy skin is a must and a prerequisite for any makeup style.
While some might prefer the glossier, porcelain look and others the subdued, matte look, one thing is for sure – the age of heavy makeup and contouring is passé (and may it never return).
Considering this, skincare has never been more important. So, chuck out your foundations and primers, and start thinking about investing in skincare products that will clean, nourish and rejuvenate your skin.
Once your skin has retrieved its vibrant, youthful look, it will be easy to continue playing with your preferred makeup style.
Shine On, You Crazy Diamond
Source 1 – Unknown    Source 2
Natural-looking skin can be greatly complimented with discreet shimmer.  Strategically place it on your cheekbones, clavicles, shoulders, neck and (of course) cleavage.
To achieve this, you will need nothing more than body glitter or a shimmery body mist.
This season, you can apply glitter everywhere. I'm talking below your eyes, on your lashes or eyebrows or on your chin and cheeks to fully accentuate them.
If you're feeling bold, pair a glittery eyeshadow with an electric- or neon-coloured eyeliner – or vice versa. Or, opt for super-sized, chunky gold glitter on your eyelids.
The only rule is that you either apply glitter generously on a single spot for a full effect or spread it out evenly for a more refined look.
Neo-Romantic or Neon Punk?
Source 1    Source 2 – Unknown
Crazy hair or natural-looking hair – it's entirely up to you. This season allows for absolute freedom regarding hair, as long as it's healthy.
Anything goes: from crop and short cuts to beehives and surfer hair.
Equally popular is long, tousled or deliberately braided hair on one side and bob cuts in metallic, electric, pastel and even neon colours (particularly bright pink) on the other.
Another trendy look is a side cut in metallic shades, especially if only the longer side is dyed. (Braver girls might want to shave the other side.)
Embracing Beauty Trends for SS18
Since most of the latest beauty trends for SS18 are universal, accessible and adaptable, it's never been easier to be in style.
There are many places to browse for inspiration to effortlessly achieve a trendy look with even the most basic makeup kits. Have fun!
Scarlet Gratton is a fellow writer and regular contributor at High Style Life interested in fashion, lifestyle and health.