Don't you agree that the best thing about the Autumn/Winter season is the colours?
Let's face it, from the warm tones of tree leaves to the rich hues of pumpkins and other seasonal vegetables, this time of year is a serious treat for the eyes.
And this translates to the fashion.
The Autumn/Winter colours that are "on-trend" tend to differ every year. However, not to worry – we've got you covered with this guide to the best AW18 colour trends that you can wear all season long, no matter what the occasion.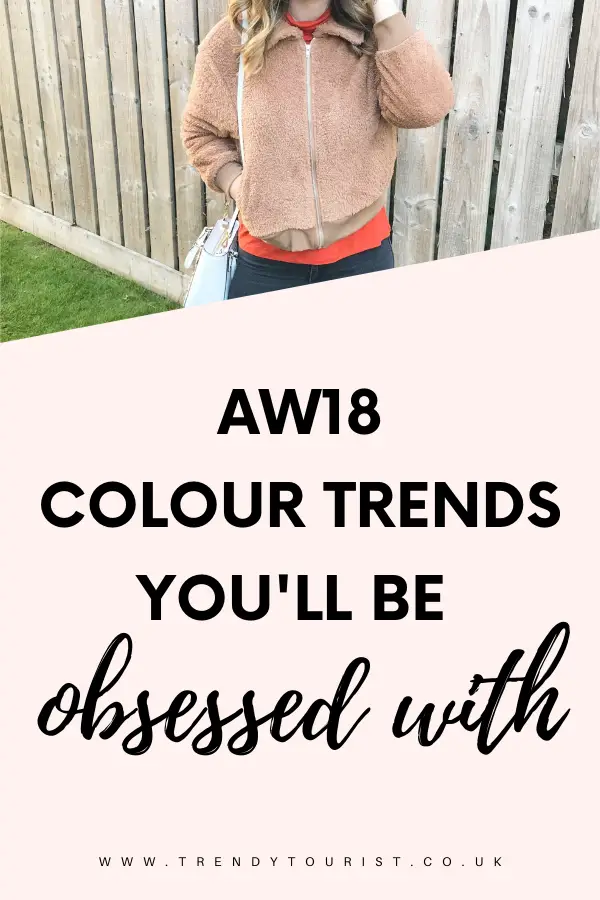 Rust 
AW18 colour trends 101: If you're a fashion lover, you've probably noticed the current hysteria around the colour rust.
Not sure what rust is? Well, it's a gorgeous orangey-red-browny hue that's been doing the rounds on the style scene recently, inspired by AW18 shows by Chloe and Calvin Klein.
Whether you wear it in the form of cute knitted jumpers, A-line mini skirts and patent heeled boots, three thing's are for sure: this trend is fun, striking and looks like autumn epitomised. 
Brown
If you're going to buy into any of the AW18 colour trends, make it this one. From coffee to beige, chocolate and taupe, everything brown is hot hot HOT for this season. 
However, the ultimate shade of brown for AW18 is actually camel.
Why? Well, it's thanks to designers such as Miu Miu and De Vincenzo. And because it's neutral in hue, it goes with pretty much anything.
In fact, camel is especially great for toning down a vibrant outfit. We're in love!
Silver
Another of our fave AW18 colour trends, silver is seriously smokin' in the form of sequinned dresses and glittery bodysuits. 
Ideal for the Christmas party season, this fad works best with glitzy, metallic or shiny fabrics. In fact, some might say the glitzier, the better!
From patent separates at Fendi and Simone Rocha to two-piece silver suits at Tom Ford and Balmain, silver dominated the catwalks just like it's set to dominate the high street.
Feeling shy? Start out with a simple jewellery piece or accessory and then build your outfit up to embrace your inner maximalist.
Neon
The most unexpected yet just as awesome of the AW18 colour trends, neon is coming out to play this season.
What do you mean, you ask? Isn't neon strictly reserved for summer? Well, the short answer is no, because it actually makes for a very quirky yet very luminous autumn/winter trend, didn't ya know?
Mostly in the form of chunky jumpers and tongue-in-cheek accessories, we can thank Miuccia Prada for this fresh take on traditional AW18 colour trends.
However, these tones aren't as garish as seasons past. Think: lime green, watermelon, lemon, fuchsia and other hues that add a much-needed pop of colour to a navy, black, grey or beige outfit.
AW18 Colour Trends for All
Whether you have a bold or understated fashion style, you're bound to fall in love with these AW18 colour trends.
Be sure to shop around to find out what suits your personal style and skin tone. However, above all, try to experiment with newness this season.
After all, the AW18 colour trends are all about stepping out of your comfort zone – and you know what they say, right? Life begins at the end of your comfort zone.
What are your favourite AW18 colour trends?
Katie Davies is the Yorkshire-based freelance writer who founded Trendy Tourist. Since 2017, she has written for over 100 companies on a range of subjects, from fashion to marketing. When she's not producing content, you can find her shopping, exploring a new place or sitting somewhere having a cup of builder's tea.