Ad disclaimer: this post was sponsored by Femme Luxe Finery and contains affiliate links, which means I receive a small commission when you purchase the product at no extra cost to you! All affiliate links will be marked with an asterisk (*) and help us to run this site so we really appreciate your support. For our full privacy policy, please click here. 
Between pumpkin spice lattes, colour-changing tree leaves and the return of Sunday roast dinners, there's not much to dislike about autumn. Oh, apart from those falling temperatures, of course. Brr!
Needless to say, wrapping up is essential to stay warm and healthy during the new season. But how can you do it in a way that looks cute and stylish?
Step forward, these 8 autumn outfit ideas.
1. The Knitted Midaxi Dress
First things first, the midaxi dress reigned supreme during the Spring/Summer 2021 season — and it shows no signs of going out of style.
What's a midaxi dress, I hear some of you ask? Well, it's a cross between a midi and a maxi dress with a length that sits demurely on your calf — and I'm absolutely obsessed with them.
The Autumn/Winter 2021 catwalks have put a fun yet functional twist on the midaxi by including them in knitted form. Whether it has a V-neck, a high-neck or a very on-trend collar, one thing's for sure: the knitted midaxi can help you create a fabulously feminine look for autumn. 
Just pair a simple design like this stone one by Femme Luxe with heeled boots to turn heads for the right reasons.
2. The Faux Leather Leggings, Oversized Shirt and Sleeveless Jumper
Another key AW21 womenswear staple is a pair of black faux leather leggings. 
First spotted on AW20 designer catwalks such as Jil Sander, Givenchy and Versace, this powerful, versatile piece can be dressed up or down. Even so, I like it best as part of a neutral smart-casual ensemble.
Case in point: these Marks & Spencer beauties (*) when teamed with an oversized white shirt and cream sleeveless jumper, also from M&S (*).
I like to include heeled boots and bold jewellery for added pizzazz on date night or for drinks with the girls. 
3. The Hoodie Dress and Sleeveless Puffer Coat
For those of you who can't resist a good old autumnal walk amongst the gorgeous leaves, this one's for you.
Come rain or shine, a little black hoodie dress (like this one from Femme Luxe) is ideal for throwing on in a hurry under a sleeveless puffer coat. Amp up the drama with chunky platform boots and plenty of attitude. 
Oh, and if the temperature isn't feeling favourable, simply add some knitted or jersey leggings and your winter woollies for a cool, casual appearance.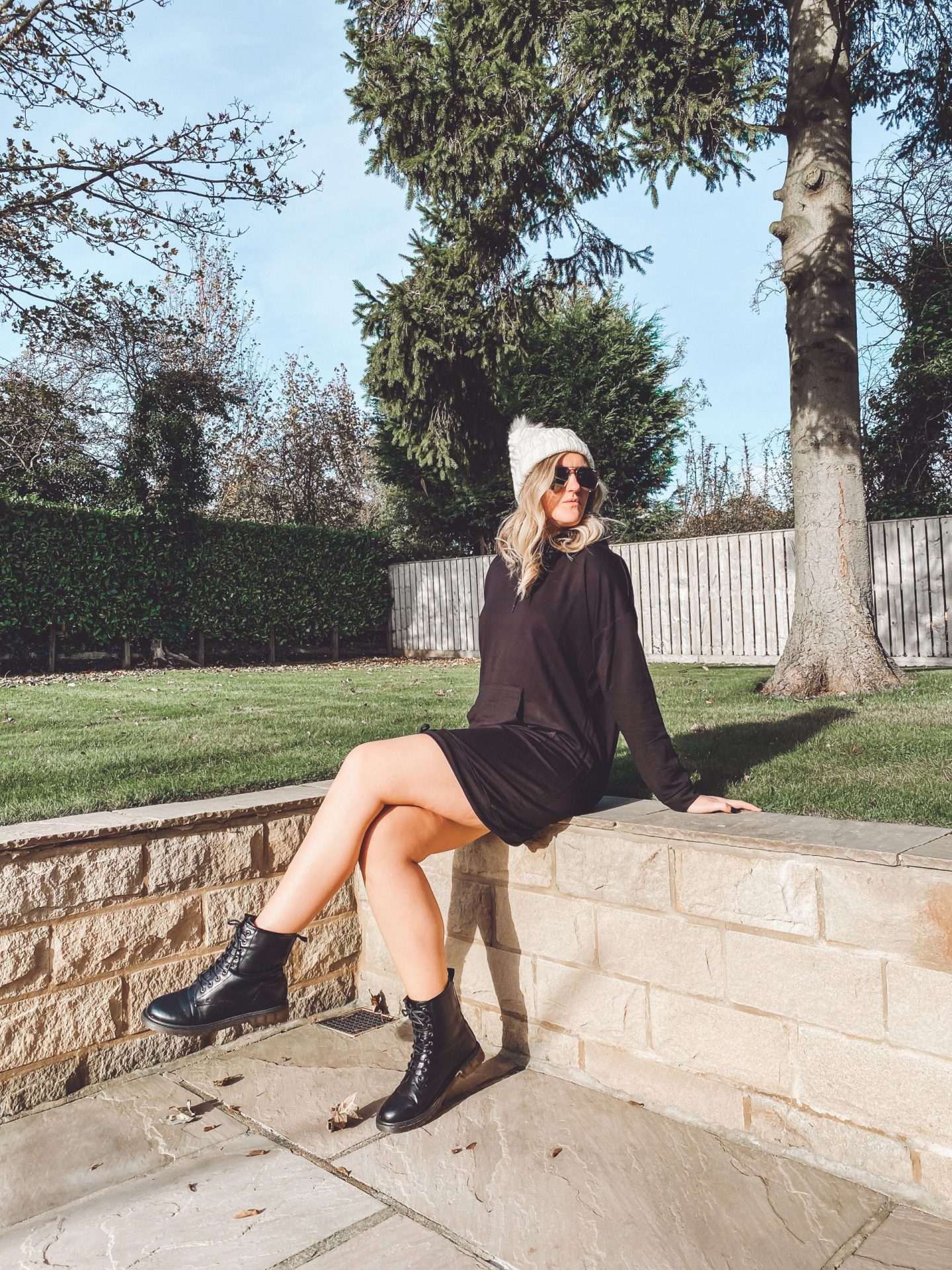 4. The Collared Jumper and High-Waisted Jeans 
Sound the alarm! Collared jumpers are all over the high street and they put a contemporary twist on even the most classic styles.
I'm loving neutral colours that you can mix and match with other muted tones in your wardrobe for a timelessly elegant look. This M&S grey version (*) is divine when tucked into high-waisted jeans like the ASOS Farleighs (*).
Just add brogues and an ageless handbag for androgynous minimalism. Or swap the brogues for heeled court shoes and the handbag for a sophisticated clutch to effortlessly take this modern aesthetic from day to night.
5. The Check Leggings, High-Neck Top and Aviator Jacket
Anyone who knows me well knows that it's rare that you can get me out of my leggings for a casual meet-up or quick errand-run. And a pair that looks as pretty as it is practical makes for the perfect combo!
For example, one of my current fave autumn outfit ideas revolves around this houndstooth printed one by UNIQLO (*). I like to wear mine with a black high-neck top, oversized aviator jacket and heeled boots for captivating cold-weather style.
6. The Three-Piece Lounge Set
Loungewear is having a major moment thanks to the global pandemic and now we're seeing the most bougie designs and statement sets. Knitted co-ords, in particular, are all over my Instagram feed and I'm 100% here for it.
For instance, this three-piece number by Femme Luxe can be paired with chunky trainers and a snugly beanie hat for popping to the supermarket. Alternatively, you can just throw it on with your favourite fluffy slippers for a chill day at your house.
Either way, that's what I call comfy chic.
7. The Chunky Jumper and Satin Midi Skirt
One of the best autumn outfit ideas for smart-casual occasions is a chunky knitted jumper juxtaposed with a fluid satin midi skirt.
I love a satin midi skirt any day of the week at this time of year, but a black one (*) is especially great for being able to create endless looks with pieces you already own. After all, black is notorious for going with everything!
You can even swap the jumper for a long-sleeved top or bodysuit and add a blazer to elevate the ensemble even further. I'm in love!
8. The Split Jumper and Jeggings 
Lastly, if feeling good during autumn goes hand in hand with looking good, then you're sure to attract compliments in this cushy teal split jumper by Femme Luxe.
All you have to do is team it with the faux leather leggings we mentioned earlier, heeled shoes and your number one designer handbag to luxe up your casualwear. On the other hand, you can rock it with jeggings and trainers for those busy days where you're constantly on the go (but you still want to ooze class).
Either way, be prepared to pop beautifully against a dreary grey sky.
Autumn Outfit Ideas for Every Occasion
Whether you're popping to the shops, meeting your mum for lunch or going OUT out for a bottomless brunch, these autumn outfit ideas have got you covered.
Don't forget that you can add an extra layer on an especially chilly day, such as tights with the dresses and a coat over the jumpers, for cosy fashion at its finest.
What are some of your favourite autumn outfit ideas?
Katie Davies is the Yorkshire-based freelance writer who founded Trendy Tourist. Since 2017, she has written for over 100 companies on a range of subjects, from fashion to marketing. When she's not producing content, you can find her shopping, exploring a new place or sitting somewhere having a cup of builder's tea.