3 of the Best Winter Casual Outfits for Lazy Days
January 16, 2019
Ever have one of those days where you just can't be bothered to get dressed?
You know, the days where you wake up late, you're unbelievably tired and you just feel like lounging around. But then you remember you've got a coffee catch up with your sister that's been planned for months or a particular errand you need to run.
Sigh.
It goes without saying that adulting can be difficult. And sometimes it's far too much effort to spend precious minutes scouring our wardrobes for the perfect outfit when all we really want to do is throw on whatever's easiest. Or been lying on the floor for weeks.
(Hey, if it smells alright, then it's good to go – right?)
For lazy days like these, winter casual outfits are a must if you want to feel comfy yet still look stylish. Try the following three on for size.
1. Tunic Jumper and Jeans
Winter casual outfits 101: Just because you're short on time/feeling lazy/running low on clean washing (delete as applicable) doesn't mean that you have to look a hot mess.
On the contrary, a colour-popping, tunic-length jumper and blue denim jeans can hit the spot quite nicely, especially when paired with Converse or some other form of a fashion-forward trainer.
Want to show that you've made a bit of effort? Add a sophisticated designer handbag or touch of bling for a colourful, chic aesthetic despite the dreary weather.
JUMPER – FEMMELUXEFINERY(*) / JEGGINGS – UNIQLO (similar) / TRAINERS – CONVERSE @ ASOS / BAG – MICHAEL KORS (similar)
2. Oversized Jumper and Leggings
If it's rather cold outside and the cosiest of winter casual outfits is needed, then an oversized jumper and leggings combo is always a winner. Especially if they're super practical sports leggings for nipping to the supermarket or battling Saturday shoppers.
Does your jumper have a roll neck? Even better – these babies are just as warm as they are snugly to combat the elements.
Then, to finish off your ensemble, simply slip on branded trainers or comfortable flats for a cool yet effortless appearance.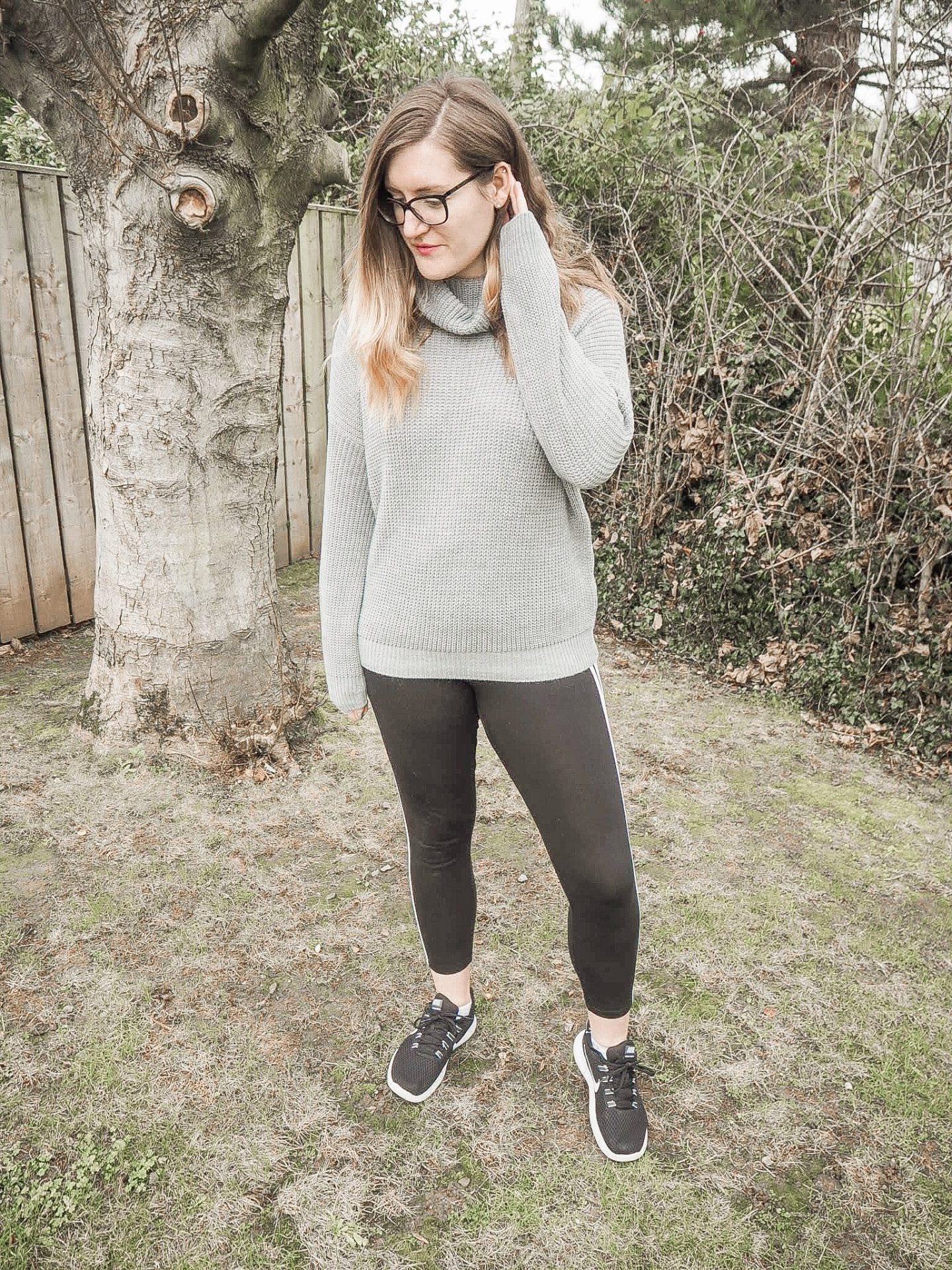 JUMPER – FEMMELUXEFINERY(*)(similar) / LEGGINGS – ADIDAS @ ASOS / TRAINERS – NIKE (similar) / COAT – Primark (similar)
3. Knitted Dress and Thigh High Boots
Looking for a slightly more girly, glamorous option? One of my favourite winter casual outfits has to be a knitted dress and thigh high boots.
Ideal for meeting up with a friend who you haven't seen for ages or going for a last-minute casual lunch with your beau, this ensemble makes it seem like you've made an effort. In reality, all you've done is put on two pieces and shown a bit of leg.
Cheeky, right?
If you want to keep this outfit looking laid-back, avoid dressing it up with jewellery. Instead, add a crossbody bag and keep your hair and makeup minimal for the maximum amount of impact.
DRESS – FEMMELUXEFINERY(*) / BOOTS – New Look (similar) / BAG – COACH (similar)
Layering Up Winter Casual Outfits
These winter casual outfits may be great for lazy days, but what are you supposed to do when it's a ridiculous number of degrees outside?
Well, I'll tell you – merely throw on the coat of the moment over the top of your ensemble.
At the time of writing this (AW18/19), the wintry cover-up of the moment is actually the teddy coat. As well as being incredibly snug, it's undeniably trendy and a treat for the eyes. Win-win.
Either way, winter is the season of opting for comfort over fashion and lazy days add another level of "can't be bothered" on top of this. Therefore, it's important you feel your best so you can look your best – and winter casual outfits are undoubtedly all about how you wear them.
Tell me about your favourite winter casual outfits in the comments below!
(Please note that this post was produced in collaboration with Femme Luxe Finery, who were kind enough to send me some women's dresses for review, and contains affiliate links. However, all opinions are my own. For my full privacy policy, click here.)
Last Updated on